The Urban Land Institute (ULI) organized its 2023 Asia Pacific Summit at The Ritz-Carlton, Millenia Singapore, from May 29 to June 1 to provide valuable networking opportunities and address the current challenges facing the global real estate markets.
As one of the foremost annual regional real estate events, the 2023 ULI Asia Pacific Summit brought together over 700 decision-makers from all corners of Asia Pacific's commercial real estate industry. It is noteworthy that ULI Vietnam wanted to highlight its presence and engagement in this year's summit edition.
The significance of this highly-anticipated event in the property industry could not be understated. It was a gathering place for innovators, professionals and visionaries to foster exceptional business opportunities and cutting-edge solutions for current challenges.
The four-day summit featured an impressive lineup of experts and world-renowned industry leaders who shared their insights on topics ranging from capital markets, housing, and property technology to social equity and sustainability.
A wide range of activities, such as meetings, workshops and forums, were held during the four days of the event. Notably, the Young Leaders Group Forum on May 29, Placemaking, Capital Markets 2023, and Infrastructure forums on May 30, and many others were open to all attendees and expected to attract massive attention from the public.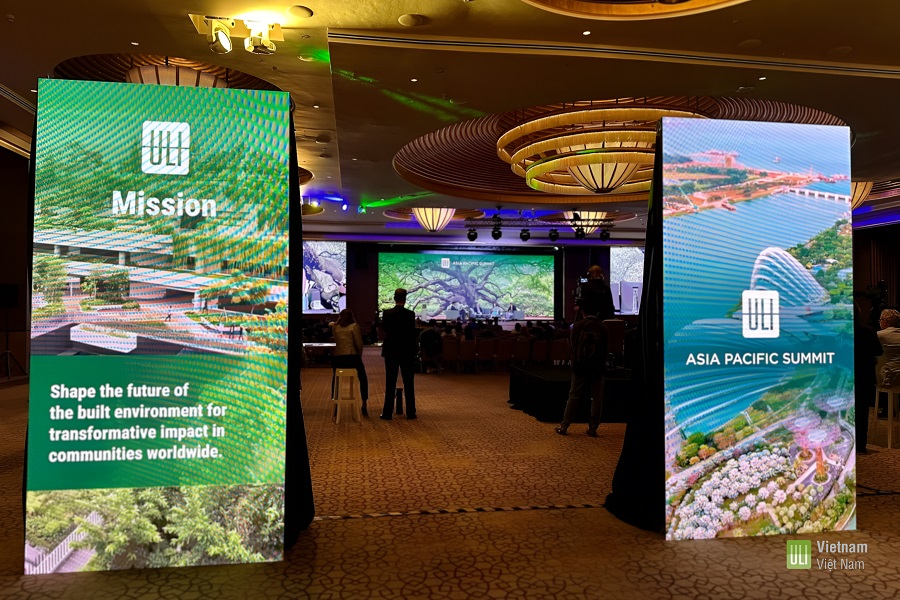 On May 31, famous keynote speakers shared their views on how the events over the past few years have impacted some of Singapore's initiatives, the challenges faced by all urban areas, as well as how difficult to tell what is coming around the corner. Additionally, attendees had an opportunity to hear from game-changing industry leaders on how they fully embrace the challenges ahead.
Moreover, several prominent regional VIPs were in attendance, namely the keynote speaker Indranee Rajah – Minister in the Prime Minister's Office; Prof. Khoo Teng Chye – director at NUS Cities and practice professor at College of Design and Engineering, the National University of Singapore; Benett Theseira, managing director at PGIM Real Estate and head of Asia Pacific; and Lim Eng Hwee, chief executive officer of Singapore's Urban Redevelopment Authority (URA).
The summit also organized experiential study tours, taking in the Central Business District, Changi, and the Thomson-East Coast Line (TEL)-Singapore's newest Mass Rapid Transit (MRT) line and one of the world's most extended driverless rapid transit lines.
Vietnam was represented by a substantial delegation, underscoring the country's dynamic engagement in the real estate sector. Notably, three committee members from ULI Vietnam were chosen as speakers, adding valuable insights to the event.
Dzung Do Nguyen, co-founder and chief executive officer of enCity Urban Solutions, participated in a panel discussion on "Urban Regeneration" at the Investment Forum on May 30, 2023.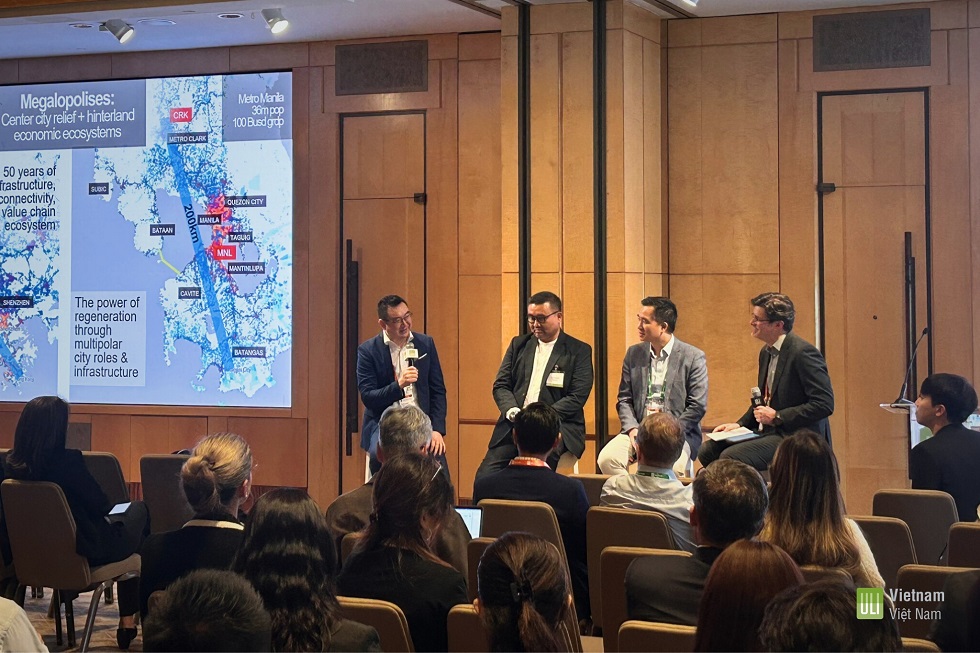 Vo Sy Nhan, Gaw NP Capital's co-founder and principal partner, Empire City's chief executive officer Empire City, and Adam Fowler, expert advisor of the Boston Consulting Group, joined a panel discussion on "Inbound Foreign Investment" at the Investment Forum on May 30, 2023.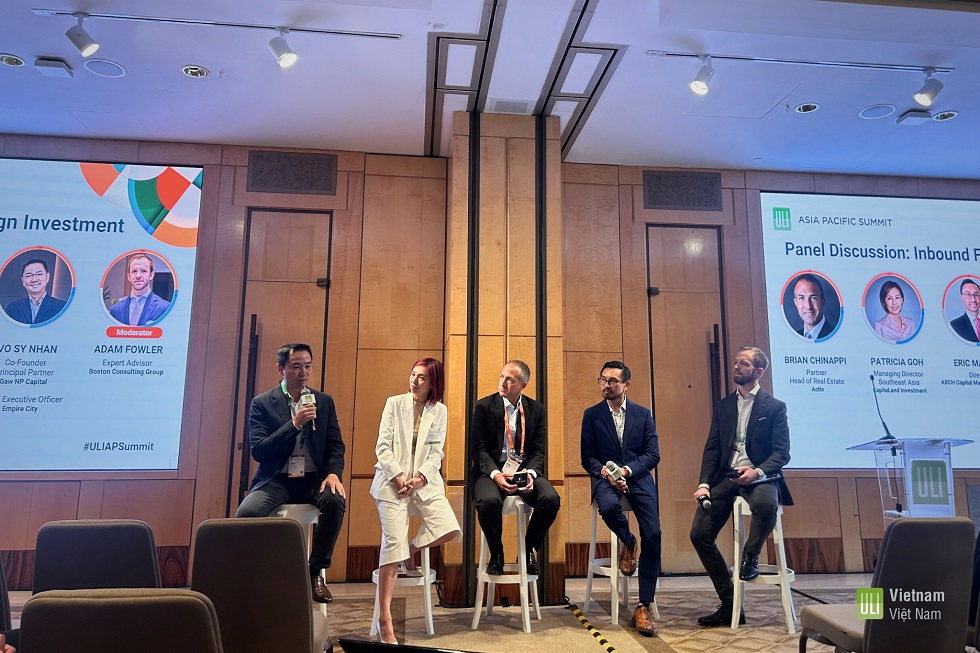 The ULI Vietnam delegation joined various discussions and expert speeches to share their professional expertise at the summit. Additionally, attendees of the 2023 ULI Asia Pacific Summit had an opportunity to learn about innovative award-winning projects in Singapore and had discussions with numerous project development partners from different regions and around the world.
The Investment Forum featured a comprehensive discussion on topical issues in Southeast Asian Emerging Markets, with a focus on the regeneration of Jakarta, Manila, and Ho Chi Minh City.  At the forum, ULI Vietnam also dived deep into how supply chains, logistics, macro trends, demographics, and other investment themes affected the investment environment in Southeast Asia.
ULI, a leading multi-disciplinary research and education institute, serves as a global network of over 45,000 experts from private enterprises to public services in various real estate development and land use fields.
The mission of the ULI is to shape the future of the built environment for transformative impact in communities worldwide. Its three key priorities comprise reducing carbon emissions and heading towards net-zero emissions, increasing housing affordability and accessibility, and educating future leaders.
Emerging Trends in Real Estate® Asia Pacific 2022, undertaken jointly by PwC and the Urban Land Institute, ranked Vietnam fifth among Asia Pacific markets this year regarding city development prospects, citing its popularity in the wake of persistent strong foreign investment in local industrial parks.
In the same year, the ULI Vietnam committee was established with a growing network of members, including industry-leading experts, landlords, owners, developers, and urban planners in Vietnam. It serves as a vital link between the public and private sectors. Its primary goal is to foster a shared consensus on addressing land development and utilization challenges. In addition to providing advisory services and infrastructure support within the industry, ULI Vietnam also creates opportunities for knowledge exchange among experts and a wider community.
ULI Vietnam's establishment is to positively influence Vietnam's future by providing leadership education and a platform that will facilitate sharing and awareness of global best practices in land development. By sharing their own experiences and knowledge, ULI Vietnam aims to help Vietnam play a significant leadership role both regionally and globally, aiding in creating better places around the world.