The Quang Ninh Communist Youth Union and border guard force organized a provincial-level campaign, "Clean the Beach", for 2023 on April 23, according to thanhnien.vn.
Over 300 young people and officers from various organizations, including the Ha Long City Communist Youth Union, Quang Ninh Coal Industry's Communist Youth Union, border guard and military forces, cleaned the area around Halong Bay and Bai Chay Beach in Halong City.
The campaign aimed to make people more aware of protecting the environment, creating a civilized lifestyle and developing cultural norms toward environmental protection.
This was one of the province's practical activities to celebrate the 48th anniversary of the Reunification Day of Vietnam and the 60th anniversary of the establishment of Quang Ninh Province.
It contributed to raising environmental protection awareness among local people and tourists before, during and after the April 30 and May 1 holidays.
Vietnamese banh mi among world's 24 most delicious sandwiches
CNN revealed its top 24 sandwiches for 2023 in the world on April 20, featuring banh mi (Vietnamese baguettes) as Vietnam's representative, Tuoi Tre news site reported.
With its exceptional crispiness and incredible flavor, banh mi can be easily found at street vendors and food carts everywhere in Vietnam. It is popular for locals' breakfast, lunch or dinner and is a must-try dish for foreign visitors.
Banh mi usually consists of a baguette, meat paste, pork rolls, pickled daikon, cilantro leaves and mayonnaise.
Besides banh mi, three other Asian dishes, Shawarma and Falafel pita sandwiches in the Middle East and Katsu sando in Japan (fried pork cutlet sandwich with shredded cabbage), also made it to the list.
The list also included other sandwiches such as Torta ahogada (Mexico), Tramezzino (Italy), Chivito (Uruguay), Pan bagnat (France), Smørrebrød (Denmark), Spatlo (South Africa), Fricassé (Tunisia), Broodje haring (Netherlands) and Choripán (Argentina).
Nha Trang Sea Festival returns 
After being suspended due to the Covid-19 pandemic, the Nha Trang-Khanh Hoa Sea Festival is set to come back this year in the south-central province of Khanh Hoa, featuring over 60 cultural and sporting events.
The opening ceremony of the event is scheduled for June 3 at April 2 Square in Nha Trang City, with an exciting theme, "Khanh Hoa-Aspiration and Development". A spectacular international drone light show will be held instead of the traditional fireworks display, according to tuoitre.vn.
The closing ceremony of the festival will take place on June 6, with the theme "Khanh Hoa – Unity for the Future". This marks the 10th time Khanh Hoa Province has organized the Sea Festival.
The event features various activities, such as the Bodybuilding Championship 2023 Cup, the Beach Soccer Cup, the Billiards Championship, the Nha Trang-Khanh Hoa International Kite Festival 2023, the National Championship Karate Tournament 2023, bicycle parades, tree-planting activities and exhibitions.
A free-of-charge shop in the City Children's Hospital
A shop offering clothing, books and toys gratis to young patients in need has been opened at the City Children's Hospital in Binh Chanh District, HCMC, bringing great joy to the children and their parents.
Opened by the hospital's Social Affairs Department with the help of many philanthropists, the free shop offers various kinds of clothes neatly hung on hangers, while diversified books and toys are available for those in need to choose from at will.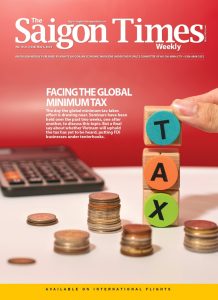 Ha Vu Nhu Huong, who is in charge of the Social Affairs Department, told thanhnien.vn that she hopes little patients and their parents will pick clothes and books on offer at the shop at ease, adding that such free gifts will help bring joy to the children and save some money for their parents, who have to spend a lot on their children's treatment at the hospital.
Meanwhile, Nguyen Thi Ngoc Tram, a participant in this charitable project, said helping others in need brings her and other benefactors peace of mind and happiness.