Summer is back and Cam Ranh beach is welcoming the most beautiful season of the year. The turquoise seawater and long white sand beach of Bai Dai together with an amazing experience at Wyndham Garden Cam Ranh are attracting tourists to come and enjoy every moment there.
Putting aside busy life in the bustling city, why don't you reward yourself with a holiday at Wyndham Garden Cam Ranh to relax, enjoy moments at the beach and refresh your body and soul. During a stay of three days and two nights, Wyndham Garden Cam Ranh will take care and bring a wondeful vacation for you and your family.
Located at one of the world's most beautiful bays, Wyndham Garden Cam Ranh resort with a unique fish-bone architecture offers 171 ocean view villas for guests to indulge themselves into a beautiful landscape of Cam Ranh.
The 500-square-meter villa with a private swimming pool and modern living room, dining room and kitchen appliances is suitable for a group of guests from six to eight persons. This is a fantastic choice for you and your beloved ones to live fully in a relaxing and happy space.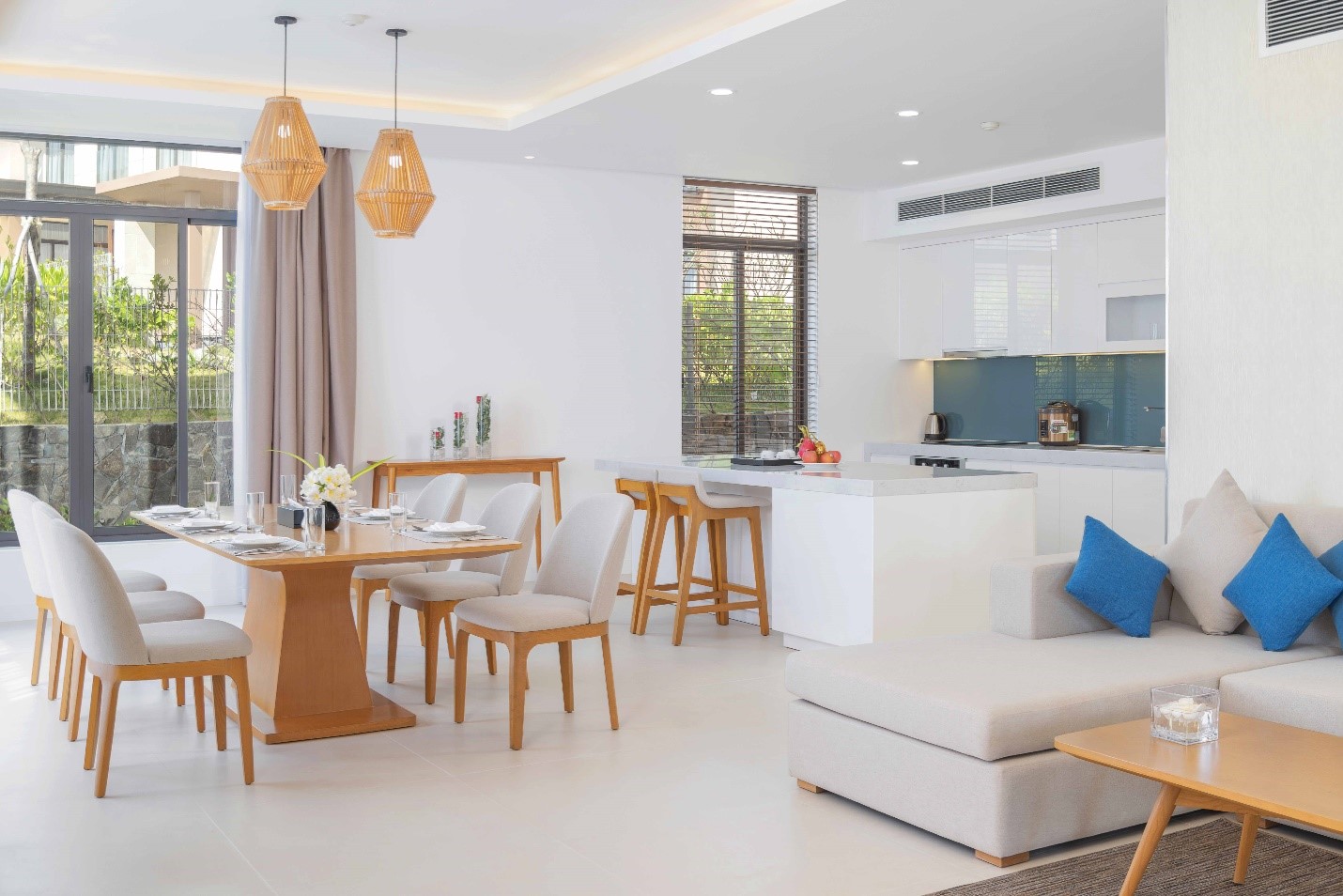 From the very first moment of setting foot on Wyndham Garden Cam Ranh, guests will be warmly greeted with welcome drinks. While enjoying the drink, guests could gaze the sunshine, the long white sand beach of Bai Dai in front of their eyes from the open reception lobby of the resort.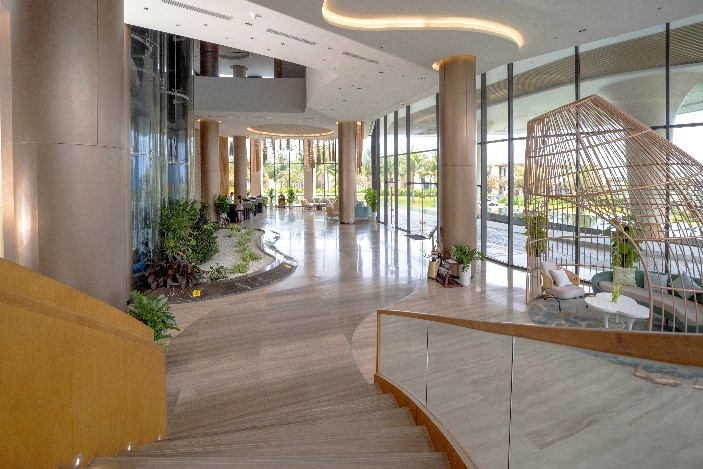 After check-in, they could participate in various facinating outdoor activities such as driving a jetski, riding a kayak or basket boat, or playing types of beach sports, which will bring wonderful moments for family. Meanwhile, children could make pleasant discovery in painting, origami art and sand art picture making. After hours of playing hard, don't forget to taste fresh and cool drinks at Breeze Bar.
At night, Breeze restaurant at Wyndham Garden Cam Ranh will treat your family with high-quality foods which are a good combination of Asian and European cuisines with rich local identity. Dinner prepared by skilled chefs at the resort will completely satisfy you and your family. After a day full of fun and laugh, it is time for family to get together at the outdoor cinema to watch interesting films and enjoy light meal. These moments will become an unforgetable memory for all family members.
For the second day, guests will be waken by the sea wave sounds and the morning sunlights. A buffet breakfast with a diversity of European-Korean-Vietnamese food are ready to serve patrons at the Garden restaurant in Vietnamese modernist architecture.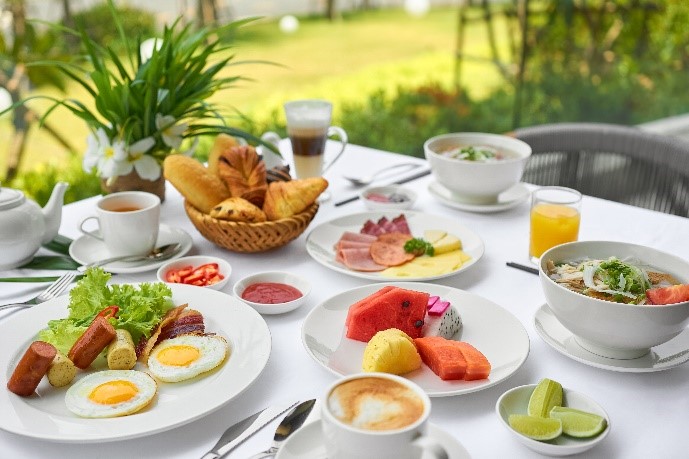 The journey will be extended by the free-of-charge shuttle bus service to take family to the center of Nha Trang where you could join the provincial summer holiday programs or discover many tourist attractions of the city. Furthermore, you could select a tour to a beautiful island and participate in many activities on the beach with family members such as coral reef scuba diving, hang gliding and many other attractive games.
If family chooses to stay at the resort, you could visit the library where family members will enjoy wonderful moments together by reading books and playing games. Especially, at Breeze Bar, parents and kids have the opportunity to attend cooking classes to learn how to make pizzas, cupcake decorations or cook traditional dishes like pho, pancakes or spring rolls.
In a cool weather, a whole family will have a wonderful time together, admiring the sea while having a tea break in the afternoon.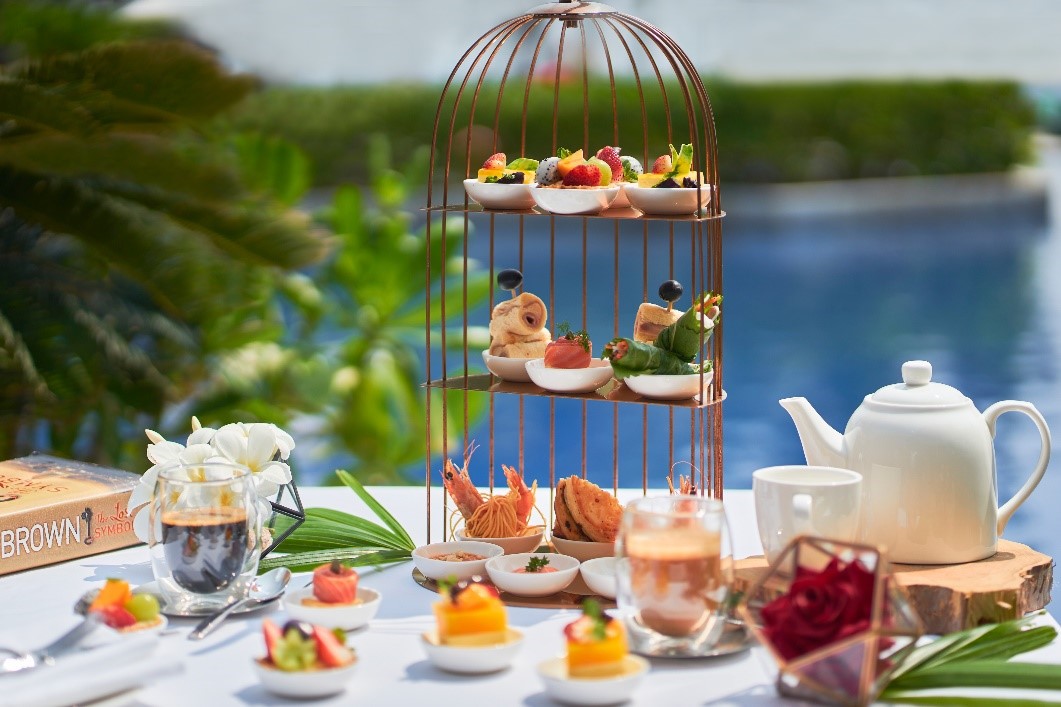 At night, family could choose BBQ at the villa or select "Chef at villa" program to be able to watch directly chefs of Wyndham Garden Cam Ranh cooking on-demand.
The last day of the vacation will be an unforgetable memory when the whole family could attend yoga class in the morning under the guidance of a yoga master. After that, guests could enjoy relaxing moments at the only saltwater pool at Cam Ranh. A light and delicious lunch served by Breeze restaurant will bring you another wonderful experience at Wyndham Garden Cam Ranh before you check out and get back to your daily life.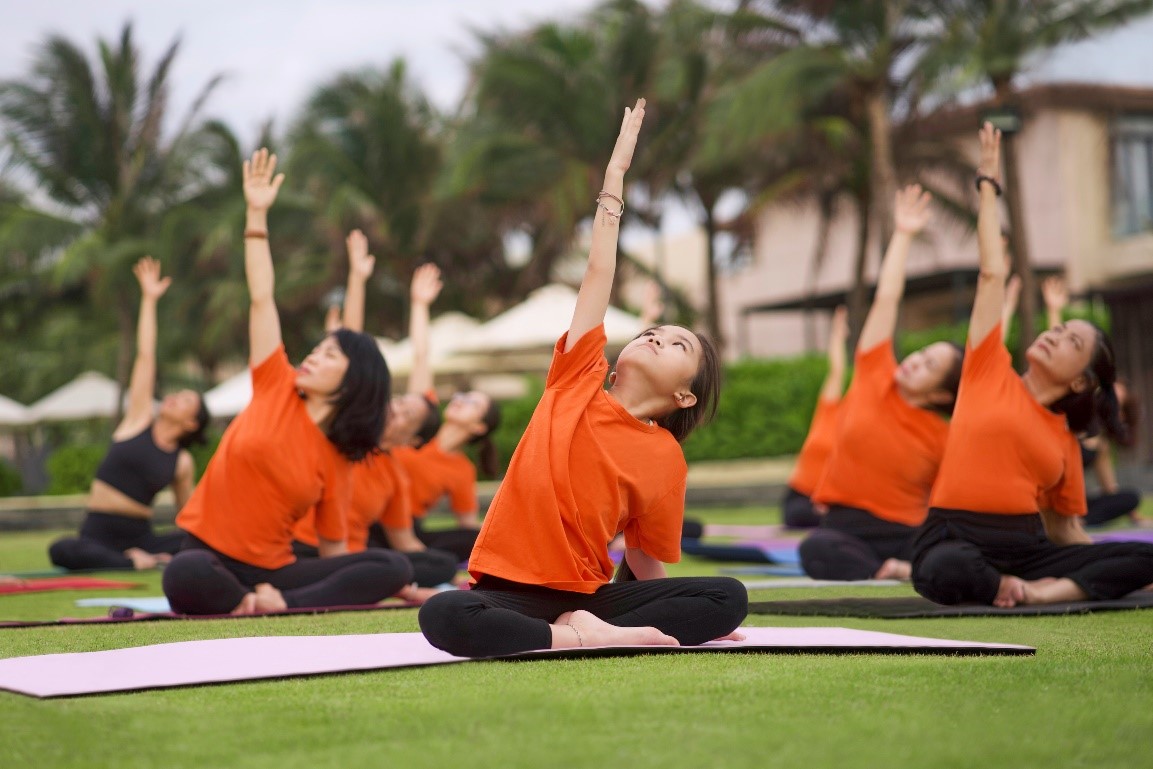 A holiday with three days and two nights at Cam Ranh will be full of unforgetable memories thanks to the high-quality services offered by Wyndham Garden Cam Ranh. The resort of international standards will wholly meet the needs of your family and bring you a holiday beyond expectation. Guests may not forget their time of staying at the resort and look forward to returning to Wyndham Garden Cam Ranh one more time when they are back home.
Don't forget the promotional package SUMMER VIBE with two nights at a villa from VND8,200,000 for two guests and two kids under twelve.
Contact information:
Website: www.wyndhamgardencamranh.com
Facebook: https://www.facebook.com/WGCRVN
Tel: 0258 3996888 
Email: reservations@wyndhamgardencamranh.com
Wyndham Garden Cam Ranh, developed by Hung Thinh Corporation, is managed and operated in accordance with standards of Wyndham Hotels & Resorts.As a green and environmentally friendly resort, Wyndham Garden Cam Ranh always joins hands to participate in recycling wastes, greening the barren land and applying initiatives to reduce environmental impact. These activities will spread a green message to guests, colleagues and society to mutually build a prosperous community.