A visit to Thung Nham bird park leaves visitors amazed by nature, the fresh atmosphere and thousands of singing birds.
Thung Nham is the largest natural bird park in northern Vietnam and is preserved by the local authorities and the management board of the ecotourism area.
Thung Nham bird park, or Thung Nham ecotourism area, belongs to Ninh Hai Commune, Hoa Lu District, Ninh Binh Province. From Hanoi, tourists can travel along National Highway 1A to get to the park by car, coach or motorbike. It is surrounded by tropical forests with many limestone mountains, valleys and caves reflecting in the blue water, creating a majestic and poetic landscape.
The park is home to 46 bird species with more than 50,000 individuals, including storks, herons, Eurasian teals, lesser whistling ducks, etc. Many of them have been recorded in the Vietnam Red Book, such as flamingos and phoenixes.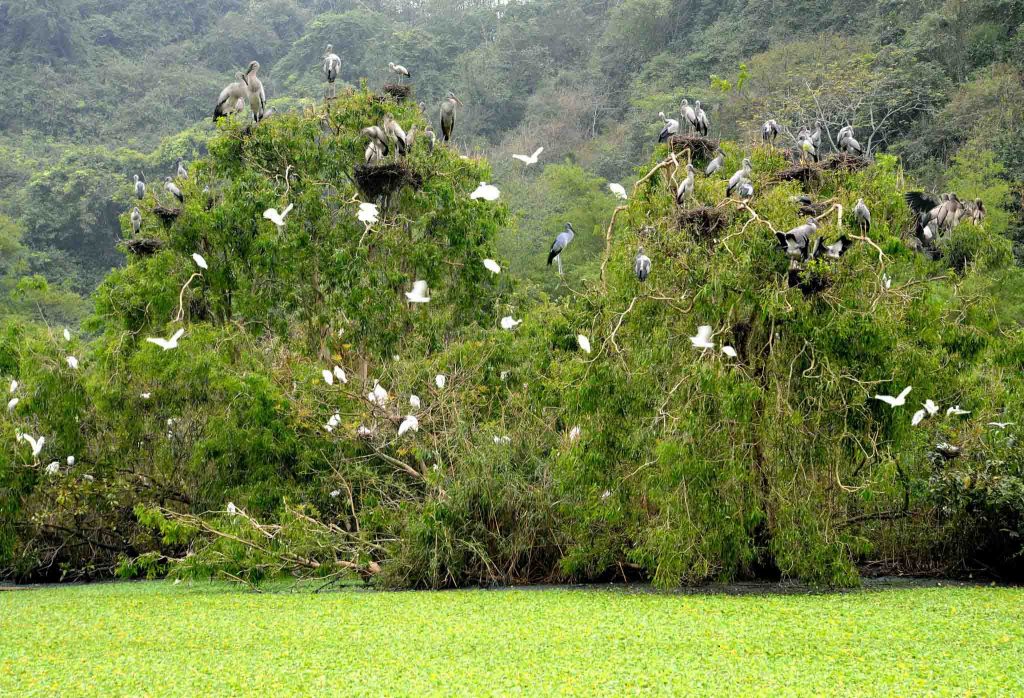 Thung Nham has a specific beauty every season, so tourists can visit here any time of the year. Birds often return to their nests after hunting at around 5:30 p.m., so this is the most suitable time to visit the place. In addition, the park attracts the largest number of birds in autumn. At this time, birds tend to search for food in their surroundings and return to their nests sooner due to the cool weather. In the summer, when the fog does not cover everything, visitors can see various birds among the branches, the clear blue sky and rivers reflecting the sun, creating a peaceful and romantic scene.
Due to its diversified landscape, the Thung Nham ecotourism area has been developed with many interesting tourism activities such as fishing tourism, mountain climbing, visiting primeval forests, shallow caves, etc.
With an over 300-hectare area, it also has accommodation, restaurants, and team-building areas. Tourists are advised to spend at least two days to experience the beauty and services there.
Currently, the Thung Nham ecotourism area has an entrance fee of VND100,000 per adult and VND50,000 per child. Children under 0.8m can enter free of charge. The ticket price for tourists to take a boat to visit the bird garden is VND20,000 per person.
Thung Nham attracts domestic and international tourists with its wild, green nature and its precious bird species. This is an ideal place for tourists who want to escape from the noise and stress of daily life.