On the World's Diabetes Day November 14, the World Health Organization (WHO) has organized the global expert discussion forum under the Global Diabetes Compact initiative to galvanize efforts around the world in addressing the global challenge.
Over the past two decades, the number of people living with diabetes globally has more than tripled to 537 million in 2021, from 151 million in 2000, the International Diabetes Federation said in its 10th edition of the IDF Diabetes Atlas released last December.
The report estimated direct health expenditure due to diabetes was nearly US$1 trillion and will exceed this value by 2030, when the number of people with diabetes was forecast to hit 643 million, making the condition one of the most expensive chronic diseases for healthcare today.
Last year 6.7 million people died of diabetes-related causes, accounting for one in eight deaths globally.
Responding to the growingly urgent situation, the Global Diabetes Compact has been launched to highlight the need for multistakeholder actions to halt the rise of diabetes worldwide. Members of the United Nations have also adopted a resolution calling for emergency global coordination to address this health challenge.
Technology breakthroughs help shape future diabetes care
At Abbott, a company dedicated to help people get and stay healthy throughout their life's journey, the development of life-changing technology has begun at the innovation's initial stage with integrating data insights, access and affordability, and brought a global impact.
FreeStyle Libre system, the world's leading glucose monitoring wearable sensor-based technology, is a breakthrough created by Abbott as the company has relentlessly been innovating and developing accessible and cost-effective healthcare technology solutions with the goal of helping address the challenges of diabetes treatment and other chronic diseases.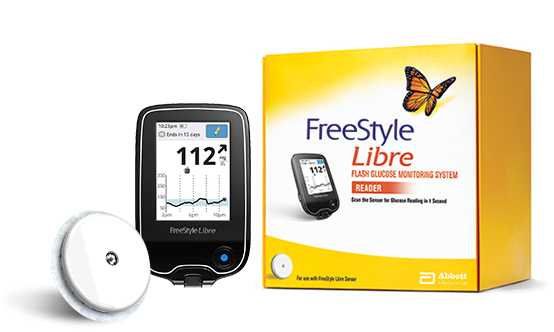 In late October 2022, Abbott's FreeStyle Libre® continuous glucose monitoring (CGM) technology which has been helping millions of people with diabetes globally was named the "Best Medical Technology" of the last 50 years by The Galien Foundation.
The award for FreeStyle Libre system, brought to Vietnam by the global healthcare leader in March 2021, is popularly considered as the equivalent of the Nobel Prize in biopharmaceutical research, recognizing the most outstanding global innovations that have had the greatest impact on society.
"Abbott's FreeStyle Libre portfolio has revolutionized how people live with diabetes, eliminating the need for traditional fingersticks," Jared Watkin, Senior Vice President of Abbott's diabetes care business, said on the occasion of the company receiving the award on October 27 in New York city.
"Today, approximately 4.5 million people around the world use this life-changing technology to manage their diabetes and improve health outcomes, helping them live fuller, healthier lives every day," Watkin said.
Apart from the October 2022 recognition by the Galien Foundation of FreeStyle Libre system, Abbott has received 11 Prix Galien Awards for its innovations in pharmaceuticals and medical technology over the years.
"The companies behind these amazing innovations have a bold passion for change, which has led to the development of life-saving products," said Bruno Cohen, Chairman of the Galien Foundation, the premier global institution dedicated to honoring innovators in life sciences.
FreeStyle Libre detects not only real-time glucose level but also its patterns. As a result, the retrospective information then can be used to help patients adjust their lifestyle and help healthcare professionals make better treatment decisions, so as to scale down diabetes complications and risks.
Consequently, more than 40 countries, including Japan, France, Germany, the United Kingdom, Canada and the United States have introduced full or partial reimbursement after Abbott's FreeStyle Libre system was launched.
In Vietnam, where 3.8 million people were diagnosed with diabetes mellitus in 2019, the number had been forecast by IDF to roughly double by 2045. However, the number already rose to an estimated 4.8 million in 2021, while more than half of them were unaware of their condition.
Vietnam's Ministry of Health has recommended CGM for those wanting better glucose self-monitoring and hospital patients that need accurate real-time glucose monitoring.
"Abbott's revolutionary technology of FreeStyle Libre has changed the way millions of people manage diabetes globally and Vietnamese people living with diabetes now have a choice of managing diabetes better by making adjustments to diet, medication or lifestyle," said Douglas Kuo, Divisional Vice President and General Manager of Abbott in Vietnam.
For a healthier tomorrow
Following the application of FreeStyle Libre technology that allows easy and well-informed glucose monitoring, Abbott is expanding its presence in biowearables by developing a first-of-its-kind dual monitoring system, which is expected to be a major advancement in diabetes tech that will enable people with the condition to continuously monitor glucose and ketone levels in one sensor. That sensor happens to be the same size as Abbott's FreeStyle Libre 3 sensor, the world's smallest and thinnest CGM sensor.
The goal of the new dual monitoring system is early detection of diabetic ketoacidosis, a potentially fatal condition in which ketones, the chemicals produced by the liver and used for energy, climb to dangerous levels in the blood. Pivotal trials will take place in 2023 followed by regulatory submissions thereafter.
In addition to regular glucose monitoring, proper diet and appropriate exercise form the three key  elements in diabetes care. Abbott has now offered a comprehensive solution for diabetes care, including FreeStyle Libre glucose monitoring technology and a special nutritional formula named Glucerna for people with diabetes. Following more than 50 clinical studies spanning 30 years, Glucerna is clinically proven to help control glucose and foster cardiovascular health.
Besides, Abbott and its foundation, the Abbott Fund, have set in motion the Future Well Kids since 2019, a program designed to educate and inspire pre-teens to build up healthy lifestyles in order to prevent non-communicable diseases such as diabetes and cardiovascular disease in the future.
The program has created a positive influence in several countries around the world, a testament to Abbott's long-serving sustainable mission to help shape the global healthcare's future in particular and improve the community health in general.
The program is regarded as an urgent scheme that would be implemented soon for secondary school students in Vietnam, following reports suggesting that Vietnamese people detected with diabetes are younger, with more cases found among children of 9-13 years old and also young people aged between 20 and 30.