As the number of students of Huu Khuong Day-boarding Elementary School in the mountainous district of Tuong Duong in Nghe An Province increased, 13 teachers had to use their dormitory as classes for their students and had to temporarily live at the houses of some of their students' parents.
In mid-November this year, a hundred parents of the school's pupils began to chop down bamboo trees and cut palm leaves to build a dormitory for the teachers.
The makeshift dormitory with six rooms, each measuring some 20 square meters, was completed after a dozen days of effort of the parents to the appreciation of the teachers, who live far from the school and thus have to live in dormitory for their teaching.
Le Tuyen Huan, principal of Huu Khuong Day-boarding Elementary School, told phunuonline.com.vn that the mountainous school has 30 teachers teaching at four campuses situated around the Ban Ve Hydropower Plant's reservoir.
Most of the students are Kho Mu, Thai and Mong ethnic minorities. He added that he was calling for funding from philanthropists to build a dormitory and a water tank for the teachers so that they could have peace of mind to continue their teaching.
Free piano class for the elderly
Open twice a week on Tuesday and Friday, the free piano class has been available in Thu Duc City, HCMC, over the past five years, attracting some 30 students in their fifties to eighties.
Students can learn basic lessons from singing musical notes to playing simple and then advanced songs on the piano. Dinh Le Hoang Tai, who has taught this piano class for four years, told vietnamnet.vn that most of his students can now play several songs fairly well.
Le Thi Phuc, 84, from Binh Thanh District, the oldest student of the class, has attended this piano class for two years. She said she learns playing piano to relax and bolster her memory. Meanwhile, Vo Ngoc Duong rides his motorbike from his house in Tan Phu District to the class twice a week. He said playing piano makes him happy.
Apart from students throughout the city, the free piano class has also received those from neighboring provinces of Binh Duong and Dong Nai.
A father of 131 orphaned children
"I don't need to get my good deeds repaid. I want my children to grow up to be kind, caring, and compassionate people," Dinh Minh Nhat, a local man in Gia Lai Province, shared at a national charity award ceremony taking place early this month.
Nhat is the founder of Giuse, a foster home based in Gia Lai. This 60-year-old man has taken care of 131 orphans over the past 16 years. Thanks to this special father's love, these kids have received adequate care and education like their peers.
He began fostering these kids in 2004. Initially, he mostly did everything to take care of them by himself. When the kids grow up, they help Nhat look after the little ones. Recently, after the story about Nhat reached more people, generous donors have made donations to support the kids.
Nhat, who is suffering from a brain tumor, told tuoitre.vn that the support and encouragement from the surrounding people have motivated him to overcome the physical pain and help the kids as much as he can.
Saigonese sets up 700 libraries for children in remote areas
With his ambitious goal of establishing 1,001 free libraries for children in remote regions across Vietnam, Nguyen Tu Anh has completed more than half of the journey, as 700 libraries have been built over the past 11 years, according to vietnamnet.vn.
Anh came up with this library-building idea following his 2011 trip to an upland province where the HCMC resident saw many kids work in the fields at an early age to help their parents make ends meet. At that time, he talked and gave some books to the kids he met, realizing that they got really excited when reading a book.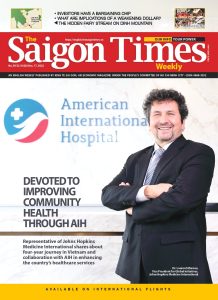 Memories of the upland trip kept urging him to do something for the kids to have a brighter future.
He began visiting many places to find books and launched an old book donation campaign to help realize his goal. His journey was gradually accompanied by many others who jointly formed a group called "Beloved Sunday." Together, they have contributed money to buy books and transport them to impoverished areas. In 2022 alone, they donated over 100,000 books of various types to children. They also organize mini book festivals for children in remote areas twice or three times annually.