While the business community is concerned about a fall in profit this year, the banking system still expects positive growth.
Optimistic goals
Despite accomplishing 55% of its plan for 2022 with pre-tax profit of over VND1.7 trillion, down 13% against 2021, ABBank has confidently set a pre-tax profit target of more than VND2.82 trillion this year, up a staggering 68% against 2022. This figure is still lower than its 2022 target of VND3.08 trillion.
Though it is still being restructured, Sacombank looks to obtain VND9.5 trillion in pre-tax profit this year, up 50% versus 2022. This suggests the worst is over for the bank.
VietBank, a small bank, also strives for strong profit growth this year, with pre-tax earnings of VND960 billion, up 46% year-on-year. Meanwhile, OCB will send its shareholders a pre-tax profit plan of VND6 trillion for 2023, which is a surge of 37% compared to last year. Similarly, the profit before tax that Saigonbank plans for this year is 27% higher than in 2022, at VND300 billion. This target, if achieved, would be the biggest gain of Saigonbank in 10 years, only below the average figure realized in 2010-2012.
The banks with a moderate growth plan include ACB, which goes for a pre-tax profit of over VND20.05 trillion this year, a rise of 17.2% against 2022. MBBank will work toward the target of VND26.1 trillion, 15% higher than last year, whereas VIB expects a gain of VND12.2 trillion, 15.3% higher. The figures that VPBank and TPBank have in view are respectively more than VND24 trillion, up 13% from 2022, and VND8.7 trillion, up 11%. Meanwhile, SHB has drawn up two plans based on whether the credit growth rate it aims for is 10% or 14%, with a target of VND10.28 trillion in pre-tax profit, up 6.1% compared to last year, and VND10.62 trillion, up 9.67%.
Some banks set a more modest profit target, 10-20%, but as businesses in other sectors are said to witness their earnings dramatically shrink this year, it is obvious that the prospects remain much brighter for banks, proving banking remains one of the few sectors that are still faring well despite the multiple hardships the economy is grappling with.
Thus, although it is forecast that there will be a variety of difficulties and challenges in their business activities this year (sluggish credit growth, increased capital input costs, greater risk of bad debt, and non-interest income from insurance, bonds and the like to be badly hit by stricter control), the profit targets recently disclosed by a number of banks remain positive, with a growth rate of 10% or above.
What are the factors that drive profits?
One of the primary motivations for banks to stay upbeat about their 2023 profits is that many industry players saw their scale of operations expand significantly last year, particularly the size of their outstanding credit, thereby creating a premise for profitability this year. As credit growth in the banking system was 14.5% in 2022, with certain banks even achieving nearly 20% or higher, such an addition to outstanding loans, especially during the final months of the year, if maintained, will be a big contributor to the proceeds of banks this year.
Although the credit growth quotas first allocated by the State Bank of Vietnam (SBV) in early March were not so generous, the credit growth targets set by the banks themselves and to be put forward at their general meetings of shareholders are much higher. VPBank, for instance, will go all out for a growth rate of 33% in its outstanding credit. Meanwhile, OCB looks forward to an increase of 20% in its outstanding loans to corporate and individual customers.
TPBank expects a rise of 18%, whereas MBBank goes after 15%. VietBank and Sacombank both aim for 12%.
Though the above figures are said to be adjusted flexibly according to the directions of the SBV, lenders still look to higher credit growth this year. Since credit growth quotas might be raised in the second half of the year, a correspondingly high target for profit growth is inevitable. As the economy is wrestling with the risk of downturn, a more expansionary monetary policy, reflected in more relaxed credit growth, has been brought up once again.
The mounting pressure of capital input costs is being eased gradually through deposit rate reductions by banks this year. After the SBV cut key interest rates twice in March to inject money into the economy, the average deposit rate has dropped sharply, which is expected to stabilize banks' capital costs again, at a level as low as prior to the fourth quarter of last year.
It is worth noting that while deposit rates have been tumbling drastically, lending rates have slid more slowly. If this situation continues, the net interest margin (NIM) of banks could widen again, making an important contribution to their profit targets this year.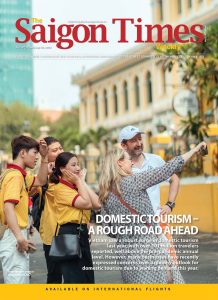 In addition, 2023 will be another year when banks envisage big capital hikes via stake transfers to foreign shareholders, dividend payments and capital increases through new share issues, plus bond sales to supplement their Tier-2 equity. The additional capital will help banks minimize capital costs and secure a source of finance for their medium- and long-term business development strategies, while requiring them to set high-profit targets to maintain profitability ratios, meeting their shareholders' expectations.
While the business community expects lower profits this year, the banking system is pinning high hopes on positive growth. SSI Securities Corporation said in a report that some banks will experience negative profit growth in the first quarter of 2023, but certain lenders will continue to make breakthroughs.
Citing Vietcombank as an example, its profit before tax in the first quarter is estimated at VND10.5-11 trillion, up 10% year-on-year.
Meanwhile, the growth rate is 32-39% at BIDV and a mere 3% at VietinBank. As for non-state banks, it is predicted that Sacombank's first-quarter profit growth could be 70% given the poor result in the same period last year. MBBank and VIB will likely achieve 10-18% growth whereas it will range from 16.7% to 21.6% at ACB. In contrast, as forecast by SSI, two banks will post negative growth in the first quarter of this year, namely MSB and Techcombank.
In fact, the consolidated pre-tax profit target Techcombank has set for 2023 is VND22 trillion, 14% lower than in 2022, even though its outstanding credit is expected to grow 15% against the beginning of the year. VietinBank, meanwhile, has not made public its profit plan for this year, but only said it will adhere to the approval of the competent state agency. In 2022, not until the end of the year did VietinBank officially publish its profit target for the year.