For HCMC-based An Cuong Woodworking Joint-stock Company, promoting corporate social responsibility (CSR) activities is part of its corporate culture. Over the past two decades, the company has persistently pursued this endeavor to benefit tens of thousands of underprivileged people nationwide, easing their pain and improving their quality of life.
Just five days ago, An Cuong Woodworking Joint-stock Company, via its Smile of Hope Foundation, donated VND200 million to Dong Nai Province's Department of Labor, Invalids and Social Affairs to support poor children in the southeastern province. The amount is to be used to supply necessities like clothes, learning utensils, food and healthcare products to poor children there.
"In more than 20 years, An Cuong Woodworking Joint-stock Company has regularly organized CSR programs, spending more than VND5 billion each year on the purpose," says Nguy Thanh Vi, director of the company's Smile of Hope Foundation. "Contributing to the community is our corporate culture."
According to Vi, the company's CSR footprints during the 20-year-plus journey have been jointly created by generations of An Cuong's employees and management. Since early this year, over VND2 billion has been expended on CSR programs, many of which target underprivileged people in the community.
Vi stresses that while CSR programs at An Cuong are directed by the company's leadership, such activities have been embraced individually by all employees.
"We regularly earmark funds for CSR programs, but it is the company's employees who propose specific CSR activities to help disadvantaged people," says Vi. "That is also the business ethic that we want to develop."
Regular CSR programs
An Cuong has for several years maintained five annual CSR programs, namely donations to the National Fund for Vietnamese Children, sponsorship for the Library 2030 Caravan project, sponsorship for the Run For Heart fund, sponsorship for poor children at the HCMC Children Hospital, and sponsorship for the Education Promotion Fund of Ward 7 in HCMC's District 8.
Specifically, An Cuong has signed an agreement with the National Fund for Vietnamese Children to donate VND2.5 billion in the 2022-2026 period to help poor children access quality education and healthcare services.
Over the years, Smile of Hope Foundation has also worked with the HCMC Children's Hospital to take care of children, especially those suffering from serious illnesses. Financial support totaling over VND1 billion has been donated by An Cuong to the hospital to cover part of the treatment for child patients, especially those coming from poor families.
Vi of the foundation says all the expenditures for such regular CSR programs are extracted from the company's profit as An Cuong does not want to call for financial support from other external sources.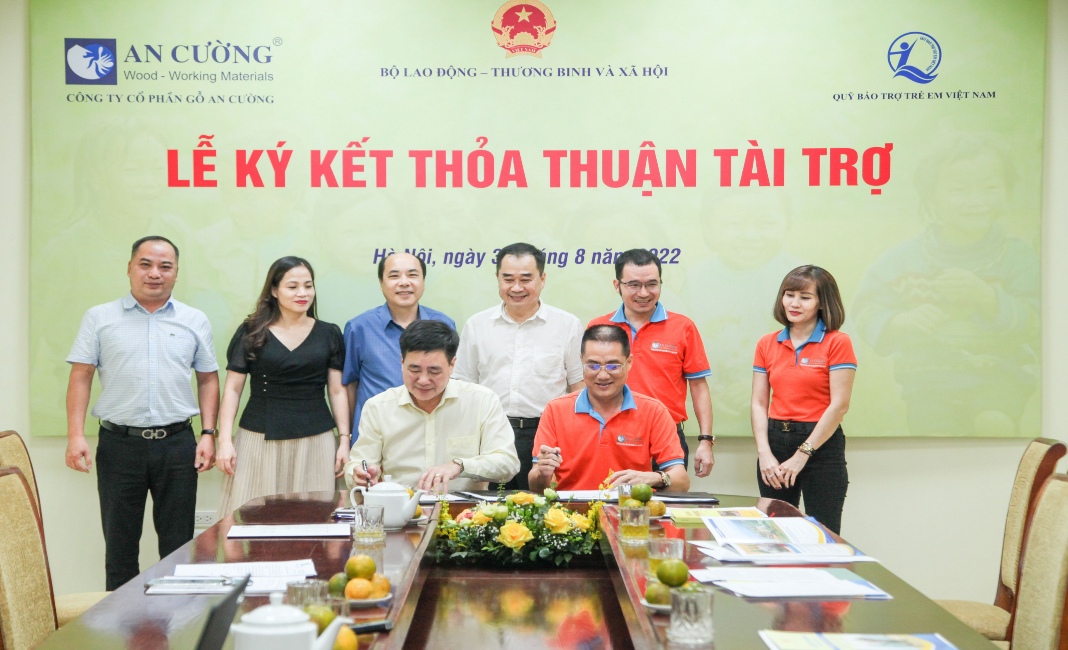 Ad-hoc assistance
Apart from regular CSR programs, multiple social activities have been organized by An Cuong to soothe the pain of disadvantaged people in the community.
Prior to the 2022-2023 school year, for example, An Cuong donated learning equipment and scholarships to poor students in various localities, including in Binh Duong Province's Thuan An City, Hau Giang Province's Vi Thanh City, and Ca Mau Province's Ngoc Hien District. The company has also continued its collaboration with Operation Smile to cover the cost of operations for cleft palate patients and with Ton Duc Thang University to support children infected with HIV.
It has recently also provided US$2,400 to cover the cost of heart operations for two children suffering from inborn heart defects.
An Cuong's employees have also run charity programs at Hoang Mai Special School for disabled children in Go Vap District, Hoa Hong Shelter in District 12, Linh Xuan Orphanage in Thu Duc City, and May Ngan Shelter in Tay Ninh Province among others.
In running CSR programs, An Cuong has sown the seed of compassion among its employees as well as partners. Vi says that when the company's employees join social activities, many of them have even emptied their own pockets to add to the gifts pre-prepared by the company to support poor people. Such activities have strengthened the bond between the company and its employees.
In addition, many partners of An Cuong, when learning of CSR programs conducted by the company, have also expressed their keen interest in joining forces to contribute to the community. "For example, when An Cuong donated rice to the poor in remote regions, partners have also contributed blankets or other necessities for such disadvantaged people," he explains.
An Cuong to date has disbursed more than VND100 billion to the foundation to carry out CSR activities, "with a hope that prompt support for the needy will help soothe their pain and ease their difficulties."