A number of accidents related to the lashing of steel coils were reported in early March, which raised the  alarm over the regulations covering this activity. Over the years, NS BlueScope Vietnam has emerged as a pioneer in complying with strict and transparent standards in transporting steel coils.
Lack of regulations for lashing steel coils
On March 15, on Nguyen Van Linh Boulevard in Binh Hung Commune, Binh Chanh District, Ho Chi Minh City, a tractor-trailer carrying tons of steel coils was forced to brake sharply, causing the chain around the coils to snap. The heavy load rolled over and impacted the cabin of the vehicle. Fortunately, no casualties were reported in this incident.
Previously, there was another incident on the same road, in which the chain broke and caused two steel coils to come off from the vehicle, injuring a man selling lottery tickets.
These are just two of many serious accidents involving steel coils, but there have been no specific regulations issued on transporting this type of commodity.
Foreign enterprise sets the ball rolling
NS BlueScope Vietnam is considered a pioneer in safely transporting steel coils.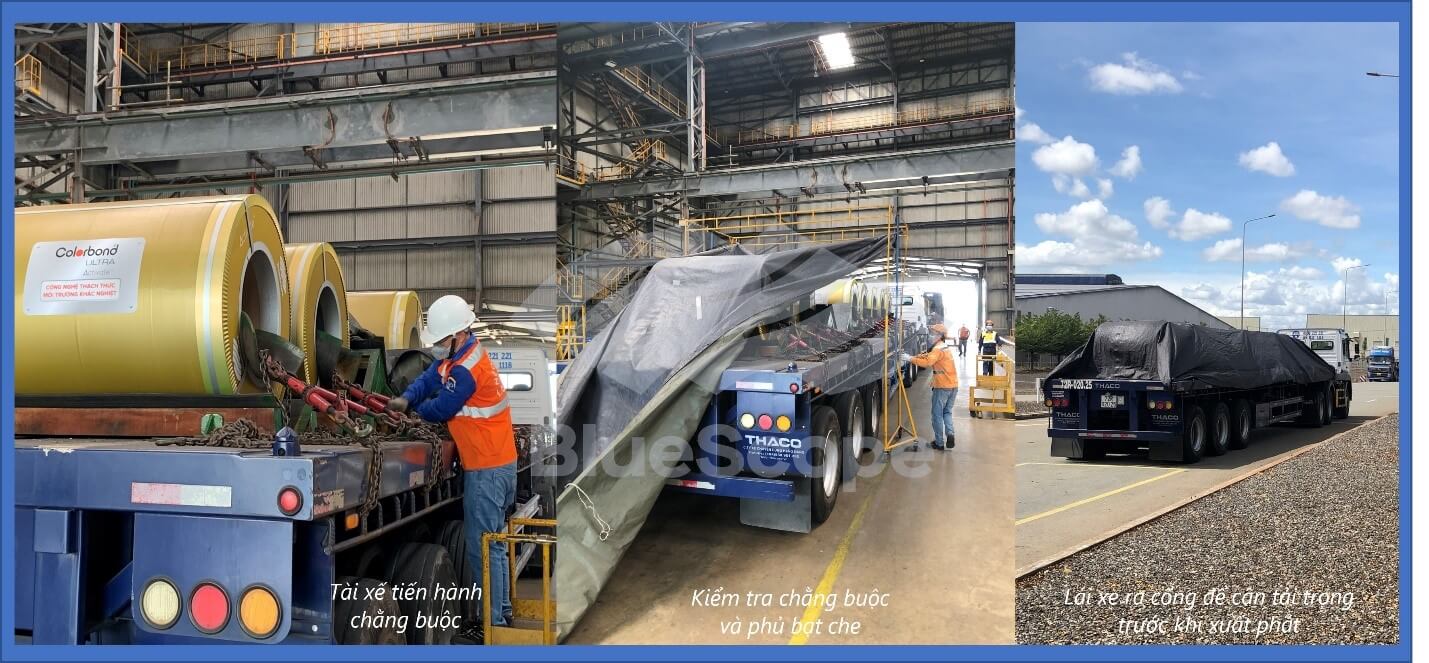 From the first days of operation, the company has applied Australian standards and issued a set of lashing guidelines for horizontal and vertical coils across all of its factories in Vietnam, building a safety culture of the highest compliance for all employees. In 2018, when the Australian Government required lashing regulations to be certified, NS BlueScope succeeded in meeting the rigorous testing requirements and these guidelines were certified by the Australian National Transport Commission.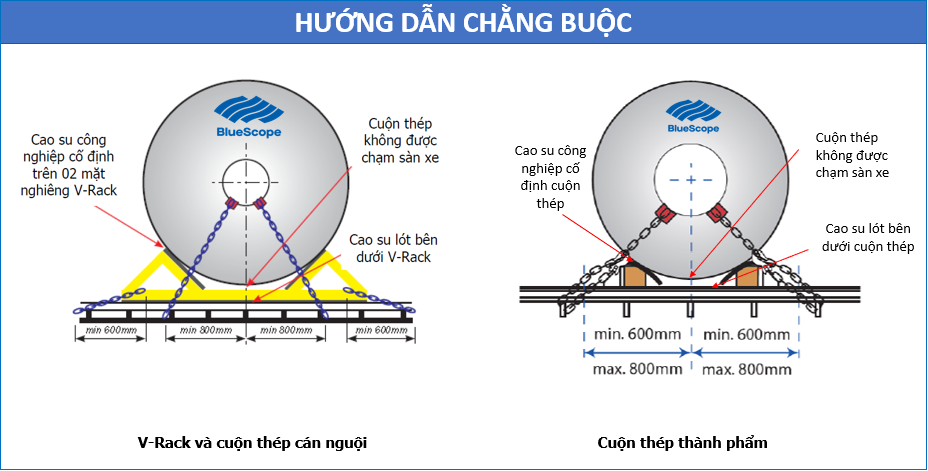 The certified standards take into consideration factors such as the weight and direction of the coil (horizontal or vertical); the use of V-rackor dunnage; the coefficient of friction of the anti-slip mat; the number of chains needed; the tension on the chains; and the distance after which drivers should stop to check the condition of chains and coils.
These calculations have been rigorously tested prior to application, not only to ensure safety when the vehicle operates in normal conditions but also in unexpected situations such as emergency braking and collisions, ensuring the chain holding the steel coils will not break or the coils fall from the mooring position.
This is why this Australian galvanized steel producer has never recorded any accidents related to steel coils falling during transportation, even though coated steel is considered a large and heavy product, requiring a complex transportation process.
"Many people say recording no accidents when transporting these goods is down to luck. But luck cannot guarantee a perfect safety record for years. It must be a methodical process for all stages of transportation, which includes technical calculations, appropriate lashing, and strict compliance with that process," a representative of NS BlueScope Vietnam said.
"Top-to-bottom" Safety Culture
Currently, NS BlueScope is operating three factories in Phu My I Industrial Park (Ba Ria – Vung Tau), Bien Hoa and Hanoi with a system of hundreds of agents and over 100 authorized stores of BlueScope Zacs. Every year, the company supplies over 150,000 tons of Colorbond steel, 1 million Zacs roofs and many other galvanized steel products to the market. Therefore, NS BlueScope Vietnam has built a culture of safety at all levels, from management to employees, to fulfill the common goal of eliminating all inherent risks and preventing harmful impacts to the community.
As part of these efforts, the company organizes training sessions for drivers and simultaneously provides them with hands-on instruction sessions to help put knowledge into practice and allow them to fully develop their skills.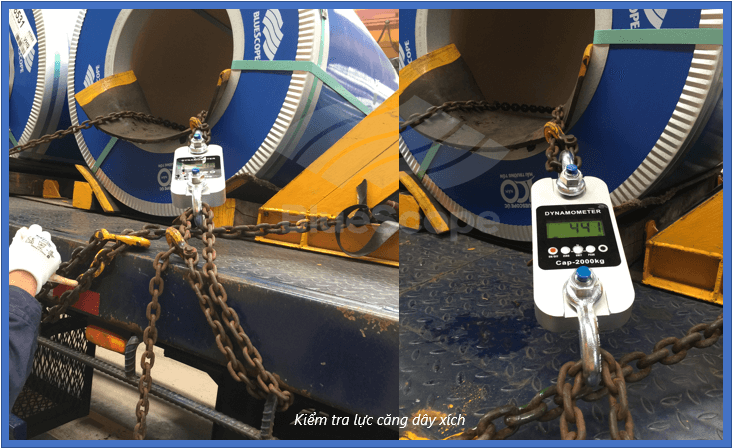 All cargo trucks are checked for load restraint systems and weighed before leaving the factory. Transportation to the vehicles from the production facility is also mechanized to minimize human error.
In 2021, there were nearly 11,500 road accidents nationwide, down by more than 23% compared to 2020. If NS BlueScope Vietnam's load restraint system is expanded, it is believed that the number of accidents will continue to fall significantly every year.