In recent years, the emphasis on improving mental health and the need to connect with nature has led businesses to combine meetings with vacations. Among the venues, An Lam Retreats stands out with two resorts located amidst nature, offering unique meeting and vacation experiences.
"Healing" Meeting at An Lam Retreats Ninh Van Bay
An Lam Retreats Ninh Van Bay is a perfect choice for companies planning to combine meetings and vacations. Located on a secluded peninsula, offering ultimate privacy and tranquility, the resort provides a perfect hideaway for sensory and unique experiences that foster individual connections, stimulate creativity, and enhance the collective strength of individuals.
Breaking away from the traditional norms of ordinary meetings and events, An Lam Retreats Ninh Van Bay offers a truly exceptional experience that goes beyond professional events and connects people with nature. A long list of entertainment and well-being activities that challenge self-courage, promote sustainable development, and strengthen team spirit awaits guests, taking them on a journey of focus and discovery.
From yoga by the deck, meditation under the moonlight, and trekking to An Lam Point, to sunset cruises on the catamaran, bespoke dining experiences, and coral diving, An Lam Retreats Ninh Van Bay always promises an exceptional stay.
"Green" Meeting at An Lam Retreats Saigon River
One of the exciting experiences is a 25-minute speedboat ride along the Saigon River to reach An Lam Retreats Saigon River. Departing from Bach Dang Wharf, the retreat's charming white boat glides on the water, leaving behind the hustle and bustle of the city. The novelty and beauty of the scenery on both sides of the river captivate visitors, creating an atmosphere of ease and friendliness that brings individuals closer.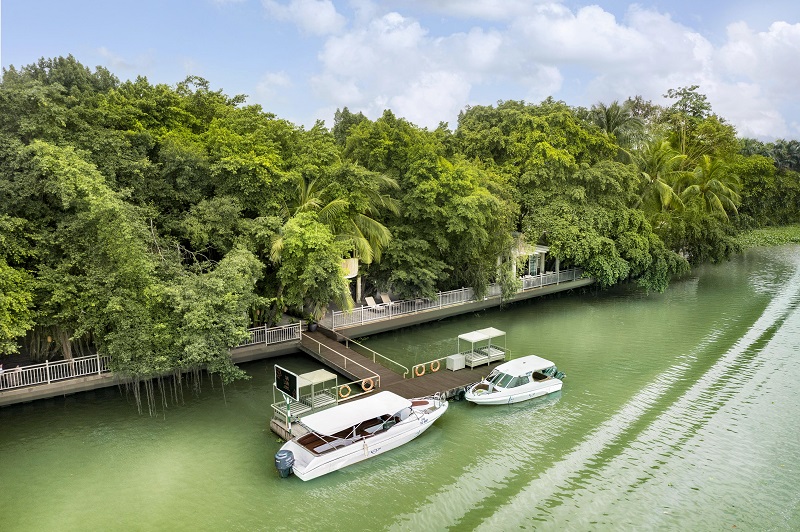 An Lam Retreats Saigon River, affectionately called the "tropical garden," impresses with its shaded green spaces, charming wooden paths, and gentle, winding vines. The retreat's "green" aspect is also reflected in its simple, environmentally friendly design that respects and preserves the natural values, such as old trees and time-worn stones.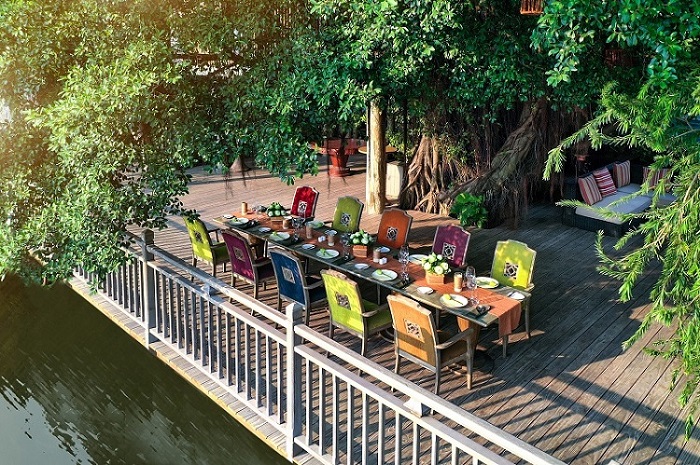 Offering five different open areas to cater to various scales of meetings and events, the retreat creates an inspiring atmosphere where guests are free from their ordinary thought process, and all possibilities are wide open. At An Lam Retreats Saigon River, there are no limits to the creativity one can experience. It could be a cooking competition led by the chefs, utilizing ingredients from the retreat's organic garden, or a customized tea break featuring a green and healthy menu. Starting a new day with a meditation and breath session conducted by the retreat's Indian Yogi would be one of the interesting experiences that guests can expect.
With the changes of business trends, the concept of "meeting & event" has already moved to the next level. Wellness, nature and unlimited creativities have no longer been add-on services but, at An Lam Retreats, they are becoming the core of guest experiences. In a world with increasing focus on health and inner peace, An Lam's has consciously designed its spaces, activities and meeting options with this in mind.
For more information and inquiries, please contact: events@anlam.com or visit the website: https://anlam.com/