In mid-May 2023, Trade and Investment Queensland (TIQ) organized an inbound Mission to the North of Queensland, Australia, for businesses from around the world to visit horticultural farms, manufacturing facilities for agricultural products, and seafood exporters.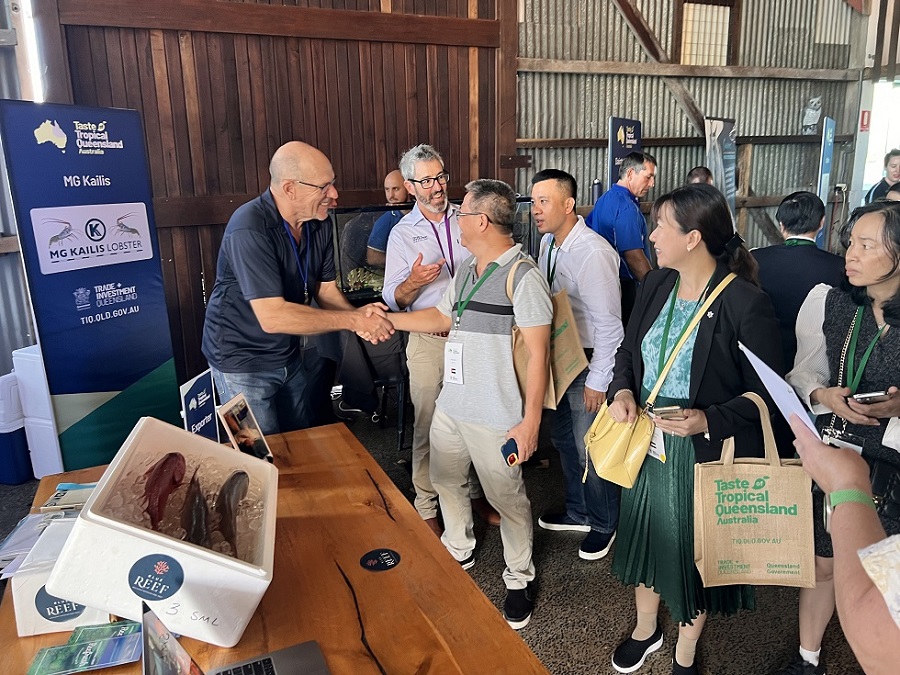 Opportunities for Vietnamese buyers
Supported by Trade and Investment Queensland (TIQ) in Vietnam, a Vietnamese business delegation participated in the trade promotion Mission in Queensland in May. The trip generated great opportunities for Vietnamese buyers to meet with representatives of Queensland's government and F&B businesses through the Taste of Tropical Queensland 2023 exhibition, and to take site visits to local horticultural farms and seafood processing factories. Although the event was held for the first time, the Taste of Tropical Queensland 2023 exhibition had created amazing experience for international buyers,  promising export outcomes for Queensland products into Asia, including Vietnam.
At the Taste of Tropical Queensland 2023, Vietnamese buyers had a chance to visit farms and processing facilities in several regions well-known for agricultural production in Queensland. Specifically, the Atherton Tablelands is the famous region for mango, orange, mandarin, passion fruit and golden kiwi. The Ontario Group farm, which specializes in growing and exporting Calypso mango and Imperial mandarin, was also visited by Vietnamese buyers.
Besides farm trips, the Vietnamese delegation also visited leading enterprises in the fishing and seafood export industry in Queensland. MG Kailis, Australia's largest wild-caught rock lobster, established in 1962, was among the companies visited. The tropical rock lobster is hand-caught by divers in deep waters near the world's largest Great Barrier, which is in Northern Queensland. For more than 60 years, the lobster-branded MG Kailis has been appreciated by customers around the world for its unique taste, large size, and freshness.
Rock lobster display draws Vietnamese firms – Photo: TIQ
Queensland's reputation, however, extends beyond the tropical rock lobster. Groupers caught from coral reefs in the open sea is another specialty of Queensland. Blue Reef Company, a supplier of groupers that meets international standards, is among the prominent exporters of seafood in the state. The company has a large and methodical investment in a fishing fleet. It also closely monitors transportation, packaging, and export processes in order to provide customers with the highest product quality.
"This trip was very meaningful for businesses like ours. We had a chance to participate in the Queensland Product Showcase and visit farms and processing facilities in Queensland. The trip has opened up various opportunities for us to work with Queensland partners. After this trip, our company will conduct market research, and plan for trial imports and distribute high-quality agricultural products from Queensland to the Vietnamese and Cambodian markets," said Ms. Thanh Nguyen, director of TN Alliance.
Queensland's advantages
Located in the north of Australia, Queensland is an ideal destination for trade connections with Asian markets. With several large seaports such as Brisbane, Gladstone, and Townsville, the State has an advantage in domestic and international freight transport. With high potential in economy, tourism, and especially agriculture development, Queensland is becoming a reliable and attractive partner for Vietnamese businesses.
Queensland is one of the largest tropical fruit regions in Australia, with a wide variety of fruits such as bananas, mangoes, tangerines, oranges, lemons, lychees, and avocados among others. According to the State Government, tropical fruits play a vital role in Queensland's economic development and are exported to many countries around the world. Currently, the Queensland government has organized a number of promotion programs for agricultural products to be exported globally.
The Southeast Queensland region is a hub for vegetable producers such as Kalfresh, Story Fresh, and Qualipac. They are the biggest producers in growing, processing, and exporting high-value, freshly-produced vegetables, including carrots, broccoli, cauliflower, onions, sweet corn, lettuce and pumpkin.
Playing a vital role in this mission, TIQ not only provided partial sponsorship for Vietnamese businesses, but also supported importers in finding suitable partners and sourcing various products and goods from Queensland.
Furthermore, TIQ representative noted that the Queensland government will create the most favorable conditions to support foreign businesses, especially those from Vietnam, in terms of import and export documents, freight processing, and others.
Ms. Luong Thi Thanh Xuan, a representative of Australia L&X Company, said: "I would like to thank TIQ for organizing and supporting the field trip to Cairns, Queensland. The trip created favorable conditions for Vietnamese businesses, through which they were able to approach the leading export products in Queensland. I am currently interested in suppliers of products such as lobster, beef, lamb, pork, and other commodities to serve my upcoming business strategy. It is believed that there will be more promotion programs in the future to further promote bilateral trade cooperation."
Trade and Investment Queensland, Vietnam (TIQ Vietnam) supports several economic, educational, and cultural programs and projects in Vietnam. With the goal of promoting bilateral trade, TIQ has successfully organized Fam trips to farms, agricultural processing facilities, and seafood product plants. In the future, TIQ promises to offer even more support to Vietnamese businesses in order to find quality products for the Vietnamese market and its consumers.