In 2020, Bamboo Airways has seen its total number of flights and passengers grow by 10% compared to that of last year, and top the chart of few airlines in the world to recover and outperform after the pandemic. 100% of flights are conducted safely and accident-free.
"The worst year for the aviation sector" was what the CEO of International Air Transport Association (IATA) described the year 2020. Statistics has vividly demonstrated his statement.
Since the beginning of the year, the year-over-year (YoY) passenger flights flown has dropped by 49% against the same period in 2019. What's worse, the YoY passenger traffic has declined by 67%, according to the statistics of Cirium, an organization for aviation insight. Covid-19 has blown off US$510 billion in revenue across the industry, and taken away thousands of jobs. The number of "grounded" aircraft in busy hangars is unprecedented, even for experienced leaders of more than 40 years in Tarmac Aerosave, an aircraft maintenance company.
"The chance that airlines live through the pandemic is getting smaller," IATA stated in its late November report.
Yet, in a year of upheavals for most airlines in the world, there are still a few players spectacularly "going upstream", thanks to their adaptability and sensitivity. We are delighted that among the few, Vietnam has a representative: Bamboo Airways.
In 2020, Bamboo Airways has seen its total number of flights and passengers grow by 10% compared to that of last year, and top the chart of few airlines in the world to recover and outperform after the pandemic. 100% of flights are conducted safely and accident-free. At present, the airline occupies a market share of nearly 20%.
Noticeably, compared to that of 2019, the number of pilots and cabin crews in 2020 has still increased by 20%, while the total workforce has declined by 17%.
In particular, thanks to the strict compliance with the pandemic prevention regulations during and after flights, there have been no cases of Bamboo Airways on-duty employees being infected with Covid-19 in 2020.
Maintaining operation: a non-negotiable target
According to statistics, 12 months of crises have wiped out more than 20 years of growth in the aviation sector and dwindled the global passenger airline traffic to 1999 levels.
However, the start-up mindset has given Bamboo Airways all the vital virtues for a well-rounded system that is resistant and resilient to changes.
As the Chairman of Bamboo Airways, Mr. Trinh Van Quyet once shared that it was not at all smooth sailing for Bamboo Airways from the preparatory stage to the official flight. The circumstances have forged a courageous and daring spirit in Bamboo workforce.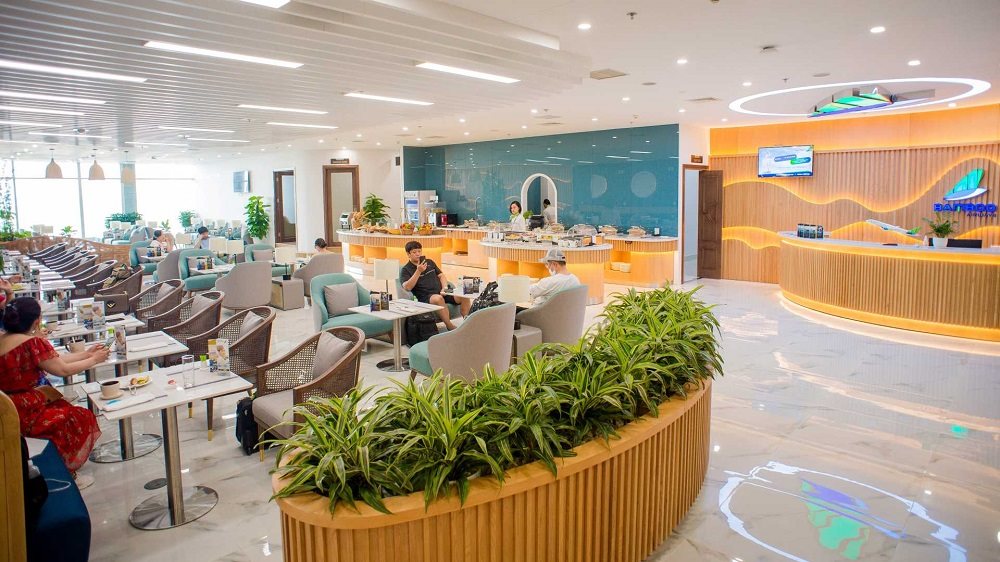 Those resilience and strength are vividly proven through practice. The unexpected "hit" from Covid-19 at the end of February 2020 caused all airflows to decelerate, operating procedures to be disturbed and passengers to be skeptical about travelling options.
After analyzing the situation, Bamboo Airways has timely looked for options to adapt and maintain the business in new conditions.
The company's Board of Directors truly understand that the process of putting a machine from standing still into motion is much more strenuous than maintaining rolling inertia even if it encounters resistance. Therefore, the goal of maintaining and even expanding operations is the foremost priority under any circumstance.
Product system: ever-moving and ever-leading
Different scenarios for operation are planned in order to support the firm to be ready for any scenario. A series of cutting-edge products has been timely implemented.
To continue from the success of FLC's all-inclusive flight – stay – golf package, Bamboo Airways has comprehensively upgraded all combos in 2020, in both scope and quality. The airline has also expanded its cooperation with many major partners, who share mutual vision, to exponentially increase the range of nationwide flight and holiday options.
In response to new demand for flexible and economical traveling experience, the multi-functional Bamboo Flying Pass was launched. Four packages of the product offer various features, and "plug" right into the needs of the target customers.
Instead of three traditional fares classes, a set of branded fares, inclusive of 8 benefit groups were also deployed by Bamboo Airways. The fare structure is more specified, diverse and grants more flexible and economical options for passengers during this sensitive period.Having positive reviews, this pioneering product system is one of the few innovations that becomes a trendsetter in the market, making an active contribution to "ice breaking" the whole tourism – travel industry in the post-pandemic period.
Blue-ribboned customer service: the constant amid crisis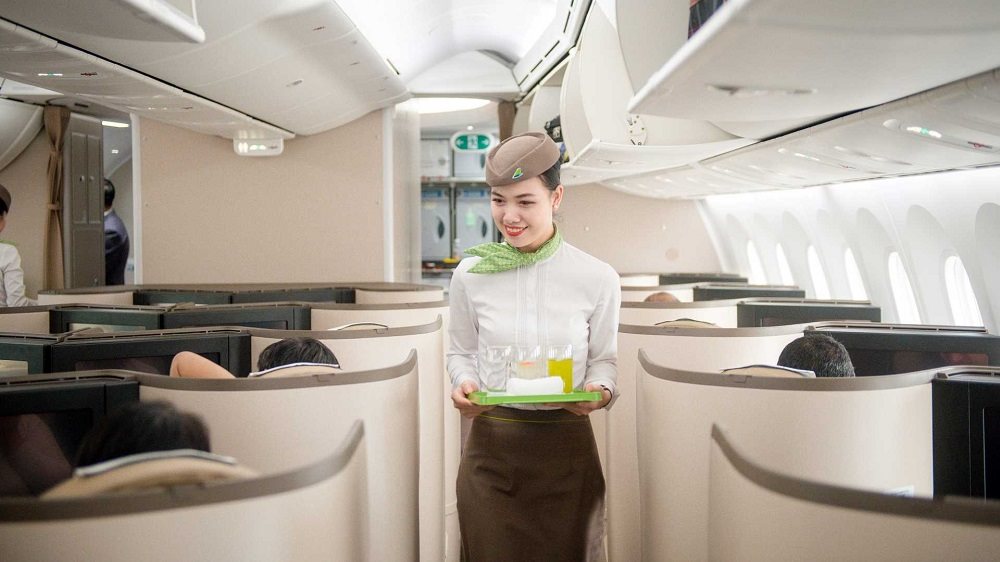 Along with the product, the focus on blue-ribboned customer service has been improved by Bamboo Airways in 2020. Bamboo Airways preserved the throne for the on-time performance rate, inclined to almost the absolute points at 96%, for the second consecutive year. This is also the second year that Bamboo Airways has been voted "Asia's Leading Regional Airline".
The chain of business lounges – First Lounge by Bamboo Airways – was put into operation, pioneering the fashion of synchronously invested Business lounges in potential airports across the country such as Ho Chi Minh City, Quy Nhon, Ca Mau,… For that, Bamboo Airways has marked its name as the first private airline in Vietnam to operate its own Business Lounge.
Bamboo Airways' official ticket offices were opened in three regions; check-in services can be conducted right at FLC's resort complexes across the country; Bamboo Airways app was officially launched on mobile phones; etc. Bamboo Airways' products and brands have reached more passengers through refined and convenient approaches.
Drastic expansion of fleet and flight network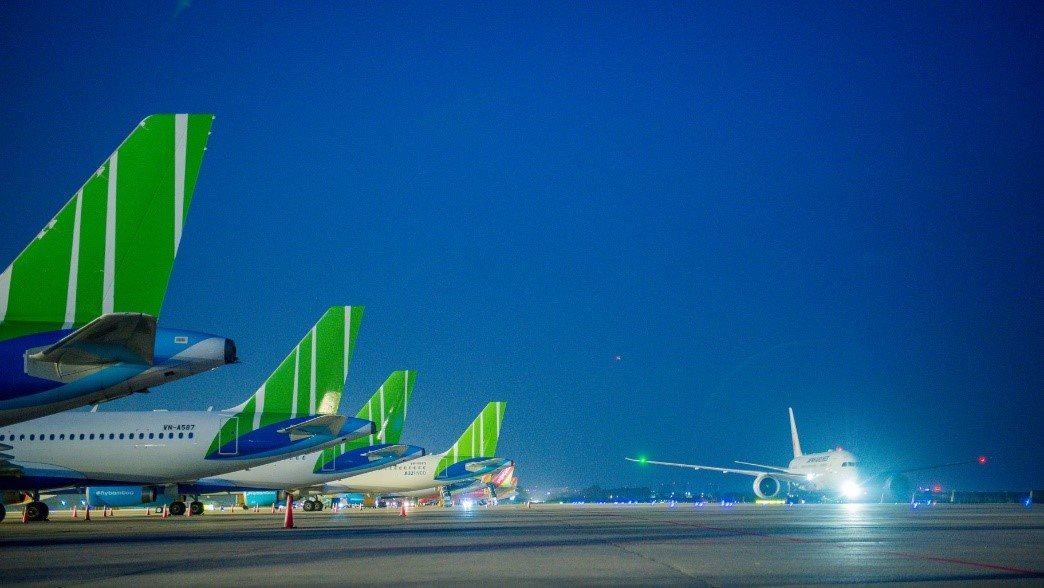 Not only drastically expanding its fleet in 2020, Bamboo Airways also upgraded its quality.
From 19 aircraft at the end of 2019, the airline is now operating nearly 30 aircraft, including the most advanced aircraft in the world, Boeing 787-9 Dreamliner and Embraer E195. These two remarkable new aircraft lines also laid Bamboo Airways' first operational position of a private airline in Vietnam.
In the next few weeks, more new aircraft will be welcomed to the fleet, elevating Bamboo Airways on a short list of airlines which continue expanding their fleet. With the expanded fleet, Bamboo Airways is capable of leaving its mark for its flight routes, especially the first historic series of 5 non-stop flights, connecting Con Dao with the rest of the country.
This flight network has put an end to a decade of scant surrounding flights connecting Con Dao: scarcity of airline tickets, tiresome 6-to-8-hour connecting flights, limited choices, inconvenient travel times, lack of in-flight service and premium seats, ground service facilities with no quality options, etc.
With these direct flights, the average travel time from Hanoi to Con Dao has been shortened to just over 2 hours. Completing the high-end experience is the Business Lounge in Con Dao Airport, which was put into operation in 2020, solidifying  Bamboo Airways' throne as the first airline to operate the business lounge there. Passengers to Con Dao now have a wide variety of scheduled options and service levels.
According to the People's Committee of Con Dao Island District, this is an event that the government and people of Con Dao have been looking forward to, especially businesses that are investing in the local tourism.
The extraordinary efforts from a young yet not "raw" airline like Bamboo Airways have partly demonstrated the remarkable resilience of Vietnam's aviation industry. The market and passengers have the right to expect 2021 as a year of rebound, when the strong recovery and growth of the Vietnamese aviation industry will add a valuable bright color to the overall picture.