Bamboo Airways' self-service check-in kiosks at Noi Bai and Tan Son Nhat Airport have officially been put into operation from Jan 15th 2021, offering new options for passengers when checking in.
Diverse check-in options
From Jan 15th 2021, Bamboo Airways has officially implemented automatic check-in service in key airports, allowing passengers to check in by themselves, instead of spending time at traditional counters.
To be more specific, new self-service check-in kiosks of Bamboo Airways are installed on the second floor, Lobby A, Terminal 1 at Noi Bai Airport and Gate D3, Domestic Terminal at Tan Son Nhat Airport. With instructions in the two languages of Vietnamese and English, along with a user-friendly display, passengers can successfully check in at kiosks within a single minute.
Bamboo Airways' self-service check-in at airports will significantly shorten passengers' line-up time for checking in at traditional counters, especially for those without extra baggage. After completing all on-board procedures, including check-in and booking seats, etc., passengers will immediately receive the boarding pass and head to security checkpoints, in case of no checked baggage. If passengers need to book excess luggage, the Airline supports tag weighing and checking baggage in private kiosks, sparing them of lining up for traditional service.
"Bamboo Airways has accelerated the process of implementing automatic check-in service right in January to timely respond to the travelling demand in the peak period of Lunar New Year Holiday. This solution not only eases the traffic of traditional check-in kiosks, partly preserving flights' on-time performance, but also prevents passengers from crowding for a long time, thus, ensuring passengers' safety," said Mr. Truong Phuong Thanh, Deputy General Director of Bamboo Airways.
Previously, Bamboo Airways has implemented in-town check-in service at FLC Quy Nhon resort complex and planned to expand the service to FLC Ha Long and FLC Sam Son.
As such, aside from traditional options, namely check-in service at conventional counters, Bamboo Airways now offers various alternatives for passengers to complete the boarding procedures by preferences, from web check-in, mobile check-in, in-town check-in in FLC resort complexes to the newest kiosk check-in. With a wide range of check-in options, Bamboo Airways' passengers are now able to enjoy easier, more convenient flights.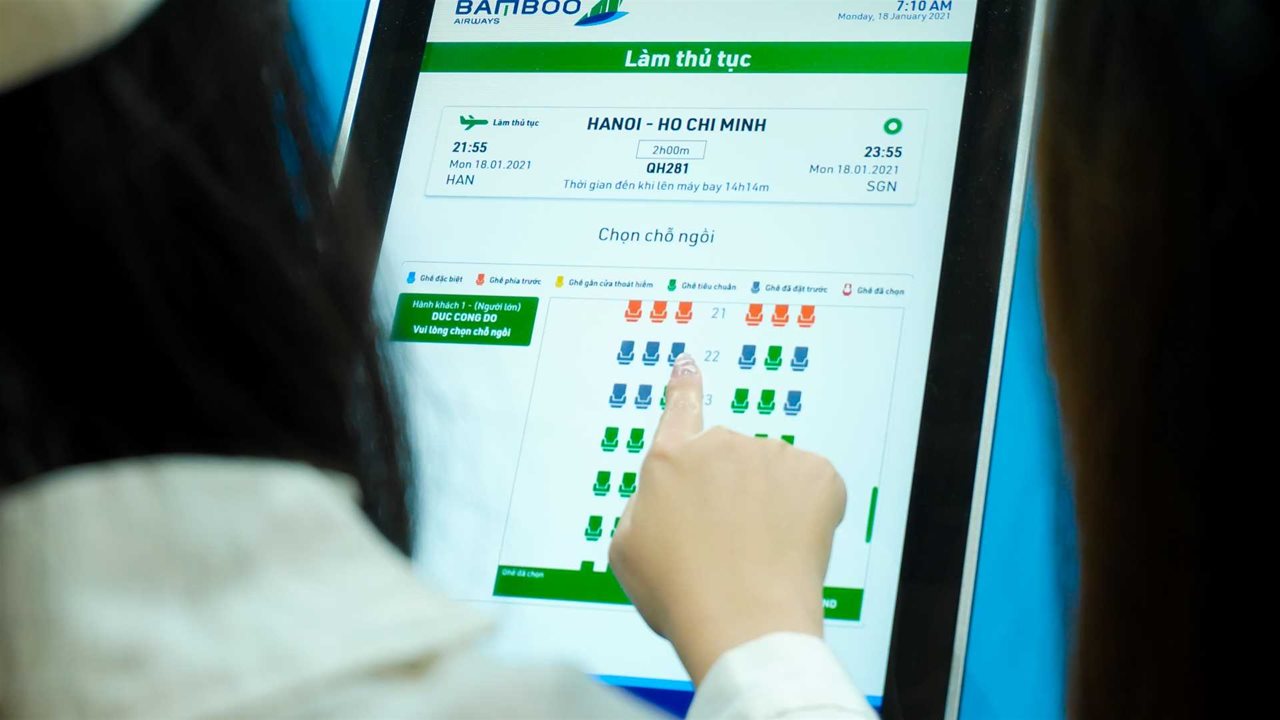 The next piece in the digitalization picture
The automatic check-in kiosk is a high-tech solution that Bamboo Airways has implemented so as to upgrade service quality and operation efficiency. From the very first days, Bamboo Airways has identified one of the foremost targets in the operational strategy is to adopt new technology, make it the niche advantage in order to become the leading technological airline in Vietnam as well as in Asia.
"Long-established airlines may take a good amount of time to integrate digital transformation onto old-fashioned systems. Being 'born' in the era of advanced technology and learning from success in operating experience of the industry, Bamboo Airways is capable of upgrading and finalizing technology in every activity of the Airline more quickly and conveniently," Mr. Thanh, representative of Bamboo Airways, shared.
In fact, Bamboo Airways has collaborated with both domestic and international tech corporations, namely Viettel, Touch Aero, Airfi Aero etc., to adapt corporate digital transformation, such as E-office model, cable network system, internet, payment method system, integration of airline, hotel, entertainment and golfing on digital platforms, Wi-fi system on domestic and international flights, wireless entertainment system Bamboo Sky, etc.
Among different operational activities, Bamboo Airways has reached out for wide-scoped and reputational aerospace engineering services companies in the region and over the world for strategic collaboration. The Airline has signed a cooperation agreement with SIA Engineering for transfer of the most advanced technology in flight management and factories, aircraft warehouses' operational automation.
Apart from the website platform, Bamboo Airways has released a new mobile application to offer convenient check-in options for passengers. Bamboo Airways has timely collaborated with impactful partners like Traveloka, Momo, Tripi, Ivivu, etc. to broaden approaching channels and allow easier ticket purchase and service usage. Customer service channels are activated simultaneously, from call center to customer management system and royal customer care, etc.
Bamboo Airways has maximized the advantage of technology to elevate customer experience while optimizing the Airline's resource. In the near future, Bamboo Airways will continue to upgrade and innovate technology, following our motto "Put customers at the center of business", to accelerate the process of standardizing the orientation of international 5-star airlines.
For further information about "Automatic Check-in Kiosk" of Bamboo Airways, please visit our website at https://bambooairways.com or contact:

● Facebook: www.fb.com/BambooAirwaysFanpage/

● Hotline: 1900 1166

● Email: 19001166@bambooairways.com

Or ticket offices and agents of Bamboo Airways nationwide.