On 16 February 2023, the Joint Stock Commercial Bank for Investment and Development of Vietnam (BIDV) officially issued a Sustainable Loan Framework (Framework) in consultation with the Carbon Trust. BIDV became the first commercial bank in Vietnam to announce this comprehensive framework for its customers, creating opportunities for the Bank to develop and introduce sustainable financial products to its customers, which follow international standards.
Sustainability is increasingly central to the long-term development of many countries, stemming from the growing awareness of global climate change. In this context, many enterprises and individuals are working together to find ways to mitigate the adverse effects of climate change and improve sustainability efforts. Significant financing is required to catalyse sustainability initiatives at the speed and scale needed to address climate change. Financial institutions have an essential role in providing green and sustainable financial resource and empowering customers to pursue sustainability.
Recognising the bank's vital role in supporting the market towards achieving sustainable long-term development, BIDV has promoted sustainable and green growth as a goal in the Bank's business strategy for 2021-2025 and a vision for 2030. BIDV has implemented various action programs to realise the set goal. As of December 31, 2022, BIDV was the market leader in green financing with 1,386 customers and projects with the total year-end outstanding loan reaching US$2.68 billion. Therefore, developing the Framework is the next step that enables BIDV to introduce and offer sustainable financial products to the local market.
Mr. Le Ngoc Lam, BIDV's CEO, shared, "BIDV has developed a strategic vision for green lending, hence always prioritizing funds to finance green projects, and has achieved positive results. The development and issuance of a Sustainable Loan Framework will help BIDV provide sustainable financial products in accordance with international standards to domestic enterprises, and at the same time serve as a basis for BIDV to strengthen cooperation with international partners in the field of sustainable development in Vietnam."
BIDV's Framework has been developed with advice from the Carbon Trust, in accordance with the following principles jointly produced by the Loan Market Association (LMA), the Loan Syndications and Trading Association (LSTA), and the Asia Pacific Loan Market Association (APLMA): (i) Green Loan Principles (GLP); (ii) Social Loan Principles (SLP); and (iii) Sustainability Linked Loan Principles (SLLP).
Chris Stephens, the Carbon Trust's Asia and Africa Director, said, "The need for sustainable finance to bridge Vietnam's climate transition is more urgent than ever. BIDV's Sustainable Loan Framework is a critical first step to mobilise the capital needed for sustainable solutions and drive impactful outcomes in the broader society."
BIDV's Framework outlines qualifying activities to guide the development and issuance of thematic loans and sustainability-linked loans. Thematic loan products such as green and social loans are dedicated to projects that have a positive impact on the environment or society. In addition, sustainability-linked loans refer to loan facilities which are structured to incentivise borrowers to achieve predetermined Sustainability Performance Targets measured by predefined Key Performance Indicators.
The Framework's issuance positions the Bank as a credible business with a vital role in the implementation of the Vietnamese Government's sustainable development strategy. In May 2022, BIDV also signed a Memorandum of Understanding on cooperation in promoting green finance, sustainable development, environmental protection and response to climate change. These results represent the Bank's efforts to realise the Government's commitment to achieving Net Zero by 2050 at COP26. Moreover, in line with international best practice, BIDV also intends to seek an independent external review provider and obtain a Second Party Opinion (SPO) for its Sustainable Loan Framework.
This collaboration between BIDV and the Carbon Trust was made possible under the ASEAN Low Carbon Energy Programme (LCEP), a £15 million development programme funded by the United Kingdom Government. Ronald Bohlander, Climate Counsellor at the British Embassy Hanoi, said: "The UK is committed to supporting Vietnam in delivering a green and just energy transition. We are delighted that BIDV is joining the increasing number of forward-thinking financial institutions across the world that are demonstrating their commitment to closing the financing gap for a green economic transition. The UK would like to encourage other Vietnamese banks and stakeholders to consider following in the footsteps of BIDV and be part of a growing coalition helping to deliver on Vietnam's net zero transition objectives."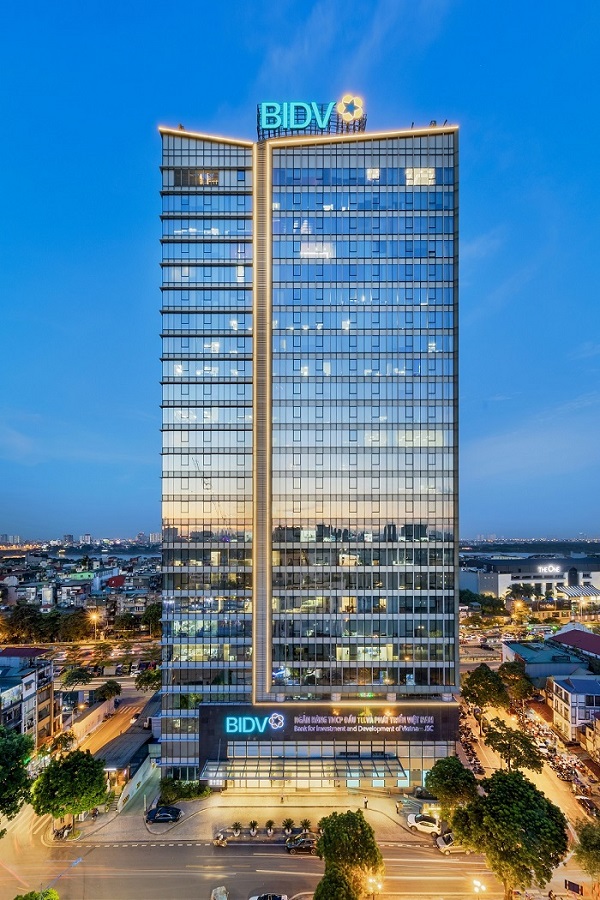 About BIDV
Established in 1957, BIDV is the largest commercial bank in Vietnam, with its total assets of more than VND2.1 quadrillion (equivalent to US$90.06 billion), an extensive network of 1,100 domestic and foreign branches and transaction offices, and partnerships with nearly 2,300 financial institutions across 178 countries and regions. BIDV has achieved various positive results in green finance, particularly being the market leader in green financing with a credit size of more than US$2.68 billion by the end of 2022. At the same time, BIDV has wide experience and high capacity in receiving and implementing international credit projects and related programs and projects for sustainable goals.
About the Carbon Trust
The Carbon Trust is a global climate consultancy driven by the mission to accelerate the move to a decarbonised future. We have been climate pioneers for over 20 years, partnering with governments, businesses, and financial institutions to drive real change. From strategic planning and target setting to activation and communication, we turn ambition into impact. To date, our 400 experts globally have supported over 3,000 organisations with climate action planning, setting over 200 science-based targets and guiding cities worldwide on their journey to Net Zero.
For more information, please contact:
Bank for Investment and Development of Vietnam JSC (BIDV)
Financial Institutions
Tel: (+84)24.22205544 ext: 6835
Hotline: 19009247
Email: bandctc@bidv.com.vn
Website: www.bidv.com.vn