As many as 270 associates from three affiliates of Bosch Vietnam on May 20, 2023 gathered at the Dong Nai Nature and Culture Reserve for a meaningful corporate social responsibility (CSR) program: planting the forest. Bosch Vietnam, in collaboration with Gaia Nature Conservation, managed to plant 700 trees of various types in the nature reserve during the day that are expected to enrich the diversity and improve the functionality of the forest which is the habitat for many rare species of fauna and flora, including a herd of wild elephants there.
Heiko Kohlenbecker, vice president and financial director of Bosch Vietnam, stressed at the event: "It is a great honor to see 270 members from all Bosch affiliates join forces to plant 700 trees today. We are here today as a Bosch community – those people who are creating a difference for the society and the environment."
For Bosch, one of the world's leading technology corporations, sustainability is placed at the heart of its business philosophy, and the recent forest planting program is part of this drive, contributing values to the community. The Dong Nai forest is vital for environmental protection for not only the southern province, but also other neighboring localities as it helps amplify water sources for the region.
However, one of the most impactful CSR programs of Bosch Vietnam is its support for the country's education and training sector.
Free training for locals
The day of April 19, 2023 marked a special milestone in Bosch Vietnam's CSR performance when over two dozen apprentices of a Bosch-funded technical training center attended a graduation ceremony on the occasion of the training center's tenth anniversary and Bosch Vietnam's 15th birthday.
The training center, initiated by Bosch as the Dual Vocational Training Program (TGA), was launched in 2013, with the first course enrolling 24 learners specializing in industrial engineering. Ever since, Bosch TGA has successfully enrolled 238 apprentices, who have to undergo 3.5 years of both theoretical and practical curricula. The number of graduates has now amounted to 134, with 96% currently working at Bosch Vietnam.
Bosch's dual vocational training program is in line with the German DIHK Standards under the dual-vocation training framework of the Delegation of German Industry and Commerce in Vietnam (GIC/AHK Vietnam), attracting hundreds of applications annually.
Quynh Huong, a new graduate of Bosch TGA, could not conceal her happiness when completing her 3.5 years of study at the training center and being offered a job at Bosch Powertrain Solutions Plant in Dong Nai, the world's biggest manufacturer of continuously variable transmission (CVT) belts for modern automobiles.
Quynh Huong and 22 others enrolled in the course in 2019 have all been recruited by Bosch Vietnam after their graduation.
For Tao Ve Dan, another young woman graduating from Bosch TGA, the career path opened wider when she was among the most outstanding apprentices and was chosen for a six-month internship in Germany. When still young, she adored the fashion industry, but could not afford it due to difficult family background. The young woman is now working as an engineer at Bosch Vietnam, and has developed a strong liking for the job at her "second home".
Quynh Huong and Ve Dan are among women enrolled by Bosch TGA and employed by the company for positions still predominantly occupied by men. However, with a commitment to boost diversity, integration and workplace equality, Bosch Vietnam has created fair opportunities for young people, male and female, from all walks of life.
Bosch TGA is one among few technical training facilities in the country that create conditions for women to assert their talent and values in a sphere largely reserved for men.
Bosch TGA is considered a prominent CSR initiative by Bosch Vietnam. Established in 2013 with an initial investment of over one million euros, the center provides standard curricula comprising of 75% of the time for apprenticeship at a workshop equipped with modern Bosch machinery, and 25% of the time for theoretical lessons at a technology school of Lilama2.
Throughout the 3.5 years of study, all students are not only exempted from tuition fees, but also provided with monthly allowances. In addition, they have opportunities to attend free foreign language courses, learn soft skills, and – if they show excellent study outcome – work abroad as interns.
"TGA is an important part in Bosch Vietnam's development strategy. It provides Vietnamese students with a dual vocational training program in accordance with German standards," said Heiko Kohlenbecker, vice chairman and financial director of Bosch Vietnam.
Apart from Bosch TGA, Bosch Vietnam since the early stage of its presence in Vietnam has cooperated with several universities and education institutions nationwide to improve the training quality for Vietnamese students.
In 2022, two automobile laboratories were established on the campuses of the HCMC University of Technical Education and the HCMC University of Technology to offer a more creative study environment for students.
In addition, Bosch Vietnam has also organized numerous seminars, contests and other vocational events at high schools and universities to improve practical knowledge for students. These activities manifest Bosch Vietnam's commitment to create a generation of job-ready students for Vietnam's future.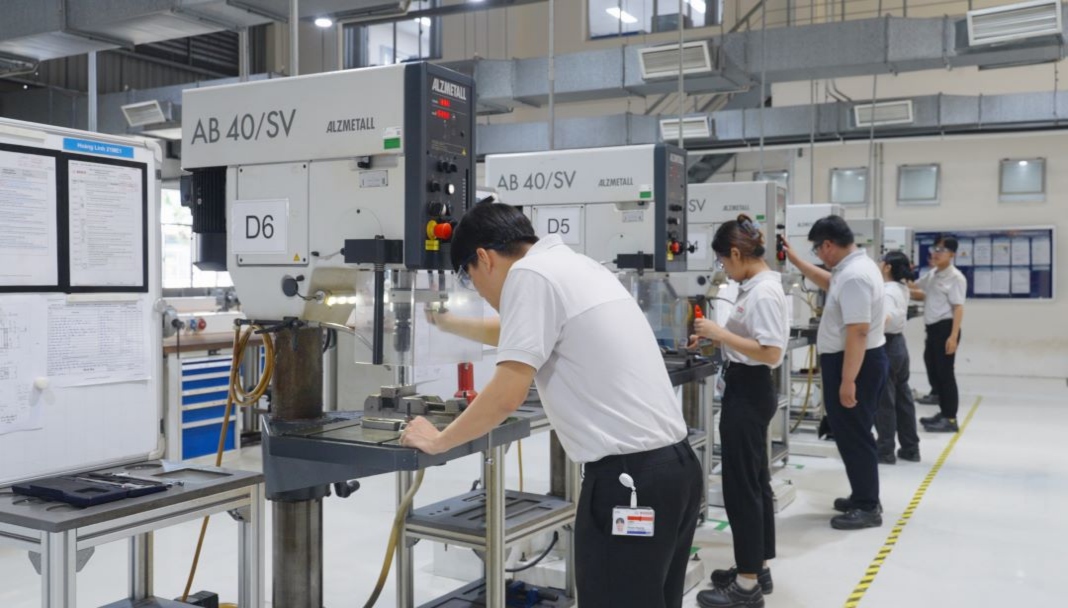 Other CSR activities
With sustainability being part of its business strategy, the Bosch Group and Bosch Vietnam have run various programs to realize its strategy "New Dimensions – Sustainability 2025", ranging from R&D activities to implement the motto "Creation for Life" to concrete actions to cut carbon emissions towards carbon neutrality, and other community activities.
In April, Bosch Vietnam donated VND300 million to finance CSR activities, executed five projects to support the underprivileged, and rallied 2,000 of its associates to join the company's social activities. The month earlier, Bosch Vietnam successfully organized the "Run for Fun" to raise funds for the SOS Village, with the participation of nearly 1,000 associates.
Currently, Bosch Vietnam employs around 6,000 people for its affiliates in HCMC, Hanoi, Danang, and especially a factory in Dong Nai Province. Bosch has to date invested over 360 million euros in its Dong Nai factory, becoming one of the biggest European investor in Vietnam. The 1,800-strong factory has manufactured and exported over 50 million products to markets across the world.