JK Hobson made the decision to stay in Vietnam six years ago and pursue a career as a stand-up comedian. In an interview with The Saigon Times, Hobson shares his experiences living in Vietnam and his mission to bring joy to the country.
The Saigon Times: What do you love most about living in Vietnam?
JK Hobson: I simply love the feeling of being here. Vietnamese people are mostly kind, so I genuinely enjoy my daily life. Moreover, the affordability of things here gives me a sense of economic freedom. Additionally, Vietnam offers a plethora of beautiful places to explore. I have visited my favorite spots multiple times because the landscape, people, food, and culture are all amazing.
Was it easy for you to adapt to Vietnamese culture?
When you move to a new place, you often experience culture shock. Coming from a diverse city like New York and having toured the world as a musician for eight years, I considered myself resilient. However, I did face culture shock upon arriving in Vietnam. People wanted to take photos with me, and it felt strange since I was used to blending in. But despite the language barrier, many Vietnamese people showed a genuine desire to spend time with me. It was mostly a positive experience, but it took some adjustment to handle the extra attention.
When did you start your stand-up comedy career in Vietnam?
I began performing stand-up comedy in Vietnam in 2017. My first experience with stand-up comedy was in Los Angeles back in 2013. After moving to Ho Chi Minh City from Tien Giang Province, I started doing stand-up comedy here. Currently, I host events featuring local and foreign comedians visiting Vietnam.
Why did you choose stand-up comedy as your form of expression?
Stand-up comedy only requires a performer and a microphone, unlike many other art forms. It's much easier than playing music! Stand-up comedy is all about sharing thoughts, experiences, and connecting with others. I love that it allows me to express my opinions and ideas in a way that people find easier to digest through humor.
How do you come up with material for your performances?
Most of my material is inspired by everyday life. When something funny happens or when I notice humorous aspects of life that we often overlook, I think about it and try to present it in a unique way. I jot down these ideas on my phone, and if I think they have potential as jokes, I test them on stage. The audience's response is the ultimate test of whether a joke works or not. They provide honest feedback!
How do you handle situations when a joke doesn't land as planned?
A comedian friend once advised me to move on to the next joke if one doesn't land. You rely on the content and seamlessly transition to the next subject. Act as if the joke didn't happen, and the audience may not even notice. The key is to keep the flow going. The next joke is what truly matters!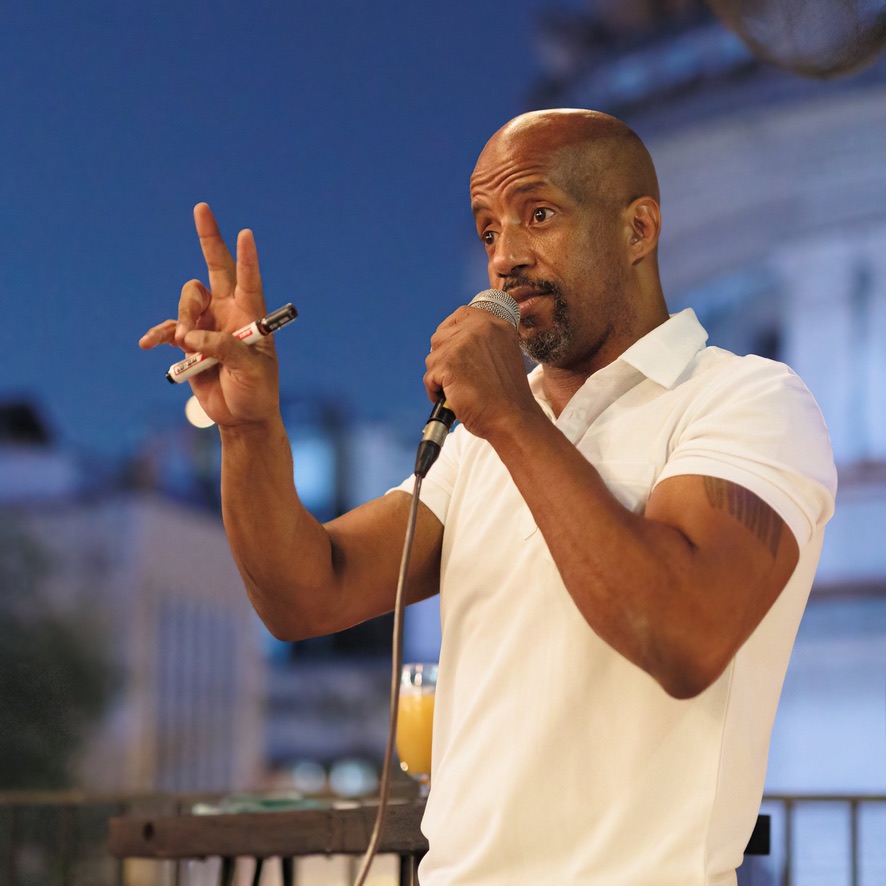 How do you deal with hecklers during your performances?
Dealing with hecklers depends on the individual. Some hecklers simply want attention and engagement for a moment. In those cases, I engage with them, find something amusing about the interaction, and even make the crowd laugh. However, you have to be cautious not to be too harsh because the crowd's support can shift quickly. It's about finding the balance between firmness and gentleness to make the audience feel comfortable. Handling hecklers requires adaptability and there's no one-size-fits-all solution.
What are your future plans?
In the short term, I plan to continue doing stand-up comedy and hosting shows in Ho Chi Minh City. I'm excited to welcome more international comedians. Currently, I'm focused on fostering the stand-up comedy scene here by providing platforms for local talents to be heard. I'm working on showcasing the voices and talents we have in Ho Chi Minh City to the public.
Where can people find you?
If you want to have a good laugh and enjoy some jokes, follow me on Instagram and Facebook at @jkhobson and @asia_out_loud, or visit my website at asiaoutloud.com.
Reported by The Ky