Gloomy business conditions are expected to continue through 2023, reflected in Vietnamese enterprises setting modest financial targets for the year
Planning in caution
Though PetroVietnam Ca Mau Fertilizer JSC saw a sharp spike in profit after tax in 2022, up 2.3 times against 2021 to over VND4,280 billion, it has set the 2023 business target of VND1,383 billion, down 68% over the 2022 result. Besides, it expects sales to contract by 18% versus 2022 to VND13,458 billion.
Likewise, PetroVietnam Fertilizer & Chemicals Corporation expects a steep fall in profit due to economic headwinds in 2023, at around VND2,700 billion. Last year, it posted a record-high growth, with income before tax soaring by 75% compared to 2021, a 7.8-fold increase from the 2022 result, standing at VND6,640 billion.
As crude oil prices appear to be trending down, CNG Vietnam Joint Stock Company also sets low targets for the year. It aims for VND3,458 billion in revenue forecast, a drop of 17% compared to the 2022 result, and VND85.4 billion in profit after tax, equal to 67% of the amount recorded in 2022. Last year, its net revenue skyrocketed to a record high since 2008 to VND4,186 billion thanks to a surge in fuel prices, up 37% over 2021, while its profit after tax surged by 54% year-on-year to VND127 billion.
Hai An Transport & Stevedoring JSC aims at a year-on-year plunge of 64% in profit after tax and 15% in revenue forecast, at VND300 billion and VND2,698 billion, respectively. In 2022, its total revenue and profit after tax exceeded targets by 33% and 50%, at VND3,185 billion and VND827 billion, expanding 63% and 85% compared to the year-ago period.
There are also businesses aiming for expansion in 2023 but have set modest growth targets. Digiworld Corporation wants its revenue and profit after tax to grow by 14% and 15% over 2022 to VND25,109 billion and VND787 billion. South-East PetroVietnam Fertilizer & Chemicals JSC is aiming for year-on-year expansions of 16% and 13% in total revenue and profit after tax to over VND4,363 billion and VND24 billion, respectively.
Mobile World Investment Corporation has set goals for net revenue ranging from VND135,000 billion to VND150,000 billion and net profit from VND4,200 billion to VND4,700 billion in 2023. As such, the firm would see year-on-year growth of 12.4% and 14.6% in total revenue and net profit in its best scenario, while the expansion would stand at 1.2% and 2.4% in a less optimistic scenario.
FPT Corporation is striving for VND52,300 billion in revenue and VND9,000 billion in profit before tax this year, equivalent to 19% and 18.3% growth over the same period last year. The figures reflect their goals of meager expansion, especially as digitalization expands rapidly and the technology sector dominates other sectors in bolstering the economy.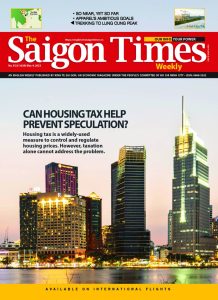 Steep challenges await
The low target prevalence results from the anticipated economic woes in 2023, as their business would be affected by precarious geoeconomic conditions, plunges in new orders, inflationary pressures, high interest rates and the in-progress logistics restructuring.
In its report released early this year, FiinGroup said bleak macroeconomic conditions would cast a gloom over the financial picture of businesses and banks. It also pointed out three factors that could throw them into economic woes, escalating costs of capital, weak domestic and global demand due to a high interest rate environment and the credit crunch in the economy.
On the other hand, businesses setting low financial targets for 2023 may result from their profitability peaking in 2022. That, coupled with the overall economic hardship, will lead to a slump in profit this year.
Take companies in the chemical fertilizer industry, such as DCM and DPM. Experts have expressed low hopes for the industry's business prospects in 2023. Securities firm SSI said urea prices might dive as the export channels of China and Russia recover, thereby easing input costs for urea production and weakening demand. This would adversely impact DCM's business performance in the year as its primary products are urea.
According to SSI, China's reopening may stimulate the growth of Vietnam's fishery sector in 2023, as exports to the northern neighbor could compensate for a plunge in seafood shipments to the U.S. and European markets. However, it would be inadequate for the sector to be back on track in the first half of 2023. The Vietnam Association of Seafood Exporters and Producers has forecast that the fishery sector's performance in the first quarter of this year may not be as good as the results in the year-ago period. The sector may bounce back in the second half of the year, but it may see a slight fall in the full-year seafood export turnover, at over US$10 billion.
For the energy sector, the U.S. Energy Information Administration said in its energy outlook report that global crude oil prices might inch up in the first quarter of 2023, remain stable in the second quarter and taper off in the third quarter. Brent crude oil is expected to trade at US$85 per barrel in the second quarter. The Brent crude oil price would begin to fall in the next quarter until late 2024, averaging US$83 per barrel in 2023 and US$79 in 2024, way lower than the average price per barrel in 2022, at US$101.
Meanwhile, a high interest rate environment would put a strain on the real estate, construction, steel, electronics, food, retail and coal sectors, as their financial leverage ratios remain high despite bleak economic prospects, especially the real estate and construction sectors.
On the other hand, defensive industries and small-capitalization companies operating in the electricity, water, pharmaceuticals and information technology industries are forecast to grow.