CANTHO – The Indonesian Consulate General to HCMC and the Can Tho Promotion Agency (CPA) co-held a seminar on business opportunities and trade connection with Indonesian partners on December 17 as part of the Indonesian festivals in the Mekong Delta city of Can Tho from December 17 to 18.
According to Consul General of Indonesia Agustaviano Sofjan, the event gave business opportunities for Indonesian companies to meet potential Can Tho City partners. It provided insights into Indonesia's economic performance and outlined possible areas for collaboration with local counterparts.
He said the two countries have seen a robust economic rebound in the aftermath of the Covid-19 pandemic. Indonesia's gross domestic product (GDP) grew by 3.69% in 2021, reaching US$1,186 billion, while Vietnam's GDP rose by 2.58%, surpassing US$362 billion.
In the third quarter of 2022, while Indonesia's GDP climbed by 5.72%, it was a staggering 13.67% for Vietnam's GDP, a substantial increase over the previous quarter's 7.72% growth rate.
Commercial cooperation has been a driving force in bilateral ties, according to the Indonesian Consul General. Vietnam-Indonesia trade totalled US$11 billion in 2021, above the year-end goal of US$10 billion. In July, the two countries announced plans to achieve a trade value of US$15 billion by 2028. Vietnam and Indonesia are heading towards the 10th anniversary of the establishment of a strategic partnership in 2023.
Some 13 Indonesian companies and distributors took part in the event this year. Sofjan expected to welcome firms from Can Tho City to Indonesia, adding that more Indonesian businesses will seek opportunities in Can Tho City and other Mekong Delta provinces.
"As Consul General, I have strived to establish favorable conditions and act as a bridge to enhance commercial potentials and business opportunities between Indonesia and Vietnam," said Sofjan.
According to Nguyen Thi Kieu Duyen, director of CPA, Can Tho City authorities have made considerable efforts in foreign affairs, with aims of proactively strengthening trade cooperation and attracting investments, particularly from Indonesian enterprises.
In the city, there have been up to 86 foreign-invested projects totaling US$2.2 billion, including an Indonesian investment in the cigarette manufacturing industry with total pledged capital of US$4.07 million.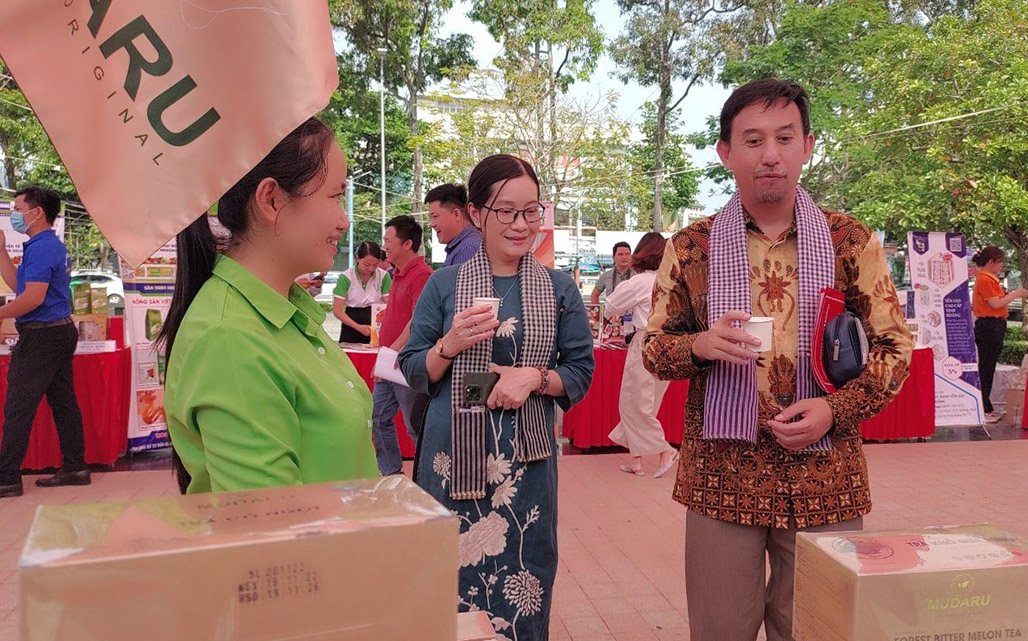 Duyen said Indonesia is Can Tho City's strategic partner in terms of commercial aspects. Between January and October, the city earned US$2.09 million in exports to Indonesia, mainly aquatic products, feathers, pharmaceuticals and veterinary medicines, and spent US$4.57 million on imports of feather, material for drugs and other sectors, among others.
According to Duyen, the event would pave the way for the two nations' investors and enterprises to better engage and cooperate on investment and trade.
Duong Tan Hien, vice chairman of the Can Tho City People's Committee, stated in his opening remarks on the Indonesian festivals that there is still room for improvement given the 10-month period trade value between Can Tho City and Indonesia.
"As a result, we hope to get more support from the Indonesian Consulate General to HCMC and the business community, with additional initiatives being launched to promote trade and investment growth as part of the development of bilateral ties," added Hien.
During the seminar, Indonesian Trade Attache Addy Perdana discussed the prospects and opportunities for investment and trade to Vietnamese businesses interested in the Indonesian market.