Hybrid work, a mix of on-site and remote work, has been a growing trend recently appreciated by both business owners and employees. It is expected that hybrid work will become more popular in the future.
The rise of hybrid work
Hybrid work can be considered a combination of on-site work (traditional work model) and remote work (working from home or in flexible workplaces), allowing employees to flexibly choose fixed days in a week or a month, or when necessary, to be present in the office.
There are a variety of reasons why more businesses and employees prefer to choose the hybrid work model. People had opportunities to experience remote work during the pandemic and have quickly realized the unexpected benefits of this model such as the improvement in work-life balance, comfort, and creativity at work.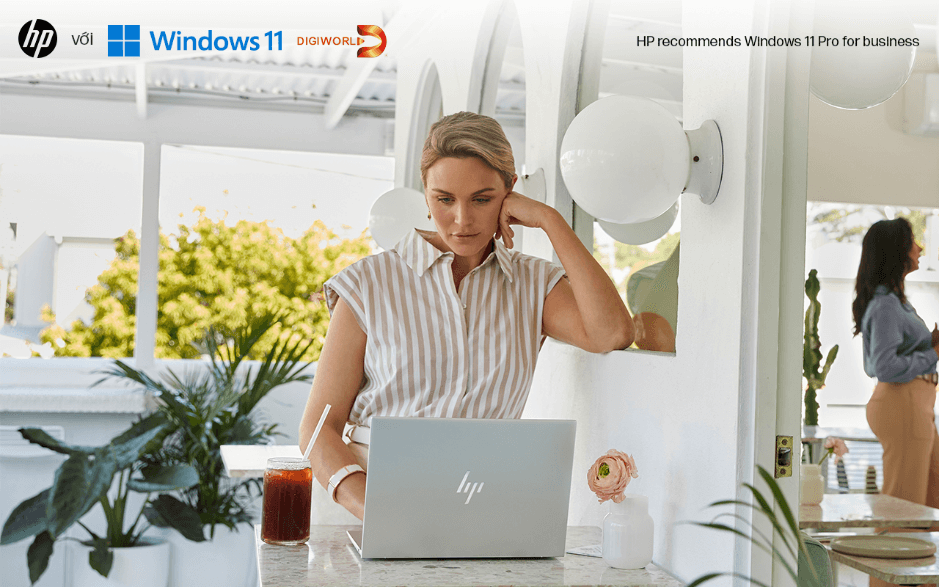 According to surveys from many major news sites, hybrid work has been of interest to over 70% of young workers and startup companies recently. With the development of information technology, we can search for information, exchange document, and meet online through digital tools instead of seeing face to face like in the past. When using hybrid work, businesses can reduce a huge amount of operating costs and attract young and dynamic employees.
However, the hybrid work model requires good management and adaptation skills, flexible working procedures, and especially modern equipment.
HP EliteBook 1040 G9 – The right choice for every work model
In order to satisfy the requirement for hybrid work, HP has unveiled a new laptop series, HP EliteBook 1040 G9, with significant improvements compared to the last generation. This new laptop series is distributed by Digiworld in Vietnam.
For the configuration of the HP EliteBook 1040 G9, the 12th generation Intel® Core™ i7 and integrated Intel® Iris® Xe graphics are all considered new and optimized hardware suitable for both simple and complicated tasks. With the perfect 16:10 aspect ratio display, this laptop series promisingly offers users a better experience as they can work on a larger screen.
In addition to the optimization of laptop performance, the perfect design is another highlight of the HP EliteBook 1040 G9 series. The weight of over one kilogram and a slim portable design give this laptop series distinct advantages at a time when the hybrid work model becomes more popular in the country. Users can bring HP EliteBook 1040 G9 along when working at home, in the office, or any other workplace, and even when on a business trip or at a meeting with colleagues or partners.
Protected and secure anytime, anywhere
Hybrid work may pose a higher risk of cyber attacks. However, HP devices have been well-known for their security capability, of which HP EliteBook 1040 G9 inherits those security elites with many updates to be adaptable to constantly changing work models.
Together with the Windows 11 Pro operating system ecosystem dedicated to professional use, all so that every user operation or connection and data exchange is always safe and secure.
As a long-time partner of HP, Digiworld understands the needs of businesses and users, thereby bringing not only HP EliteBook 1040 G9 but also more quality products and office equipment. HP EliteBook 1040 G9 comes with warranty, technical support up to 3 years, delivery in the next working day, keeping the business rhythm always smooth and uninterrupted.