Since day one when entering the Vietnamese market, the Taiwanese-invested Cathay Life Vietnam has pronounced the motto "Sow the seed today for a prosperous future", and has lived up to it over the past 15 years.
It is no strange for any life insurers when seeking to protect their customers against risks in the future, as this obligation, by nature, is inscribed in the insurance business. Cathay Life Vietnam, in addition to efforts to create the most convenient products for customers, has managed to accompany the community, helping people in general ride out difficulties in life, especially the poor and the disadvantaged.
While taking care of its policy-holders is mandatory, Cathay Life Vietnam has also organized numerous community programs in the past 15 years to benefit the general public, from generous scholarships for students and financial support for poor patients to enviromental protection and other corporate social responsibility (CSR) activities.
Sowing the seed for society
The life insurer has for years on end extended strong support for Vietnam's education sector as a way to pay back to society. "Cathay Life Vietnam's success today stems from support and contribution from society, so Cathay Life Vietnam is always willing to make contributions back to society," said a representative of the life insurer.
Cathay Life Vietnam launched the "Thịnh Trí Thành Tài with Cathay" scholarship program right after starting business in Vietnam 15 years ago.
This year, the company organized a scholarship-awarding event in July, awarding 26 scholarships to high-performing senior students from four universities who had difficult backgrounds.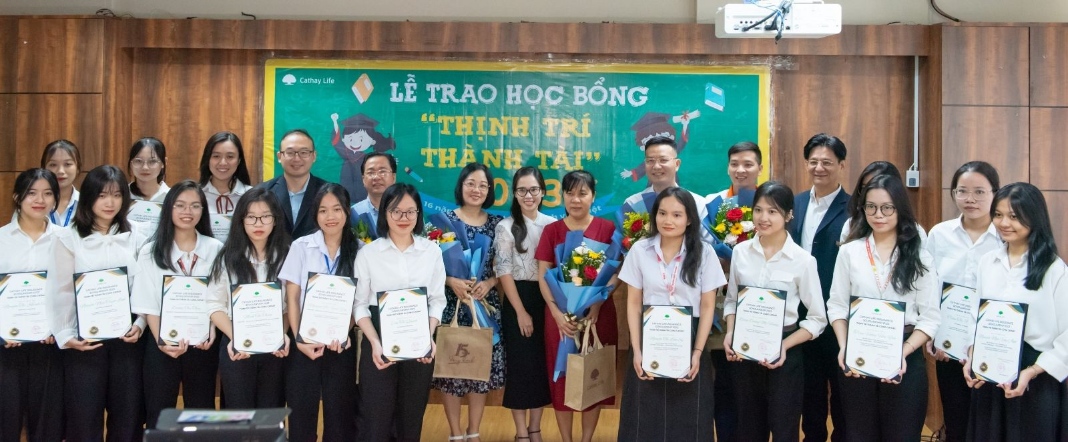 These scholarships were part of the 16th scholarship program for this year, under which the life insurer set aside VND760 million to award scholarships to 250 students across the country.
To date, this program of the company has awarded thousands of scholarships worth billions of Vietnam dong, helping students survive difficulties and continue their schooling.
Apart from the "Thịnh Trí Thành Tài with Cathay" scholarship program, the life insurer has also organized other scholarship programs for students of various age groups, from pre-school to high-school students. It also has donated water filters and stone benches for schools, and bicycles for students among others.
Accompanying the community
While supporting education takes center stage in Cathay Life's CSR programs, the company has also closely attended to other projects to benefit the community. It has provided financial aid for heart surgeries of child patients at the HCMC Medical University Hospital, organized charity bazaars with all proceeds going to Cho Ray Hospital, and built and repaired houses for poor people in various localities.
However, promoting public health, understandably, is of paramount importance for the life insurer, and via sports/physical exercise events, Cathay Life has achieved multiple goals in supporting the community.
On the occasion of the company's 15th birthday this year, Cathay Life has launched a walk/run event known as "Gieo mầm cây từ những bước chân" to encourage people to commit to daily exercises on one hand and make contributions to forest planting on the other. The event, adapted to the parent group's Cathay Walker, called on members to join the sport event. Members' activities like running or warking were all recorded, and given the active participation, Cathay Life has donated VND300 million that was used to plant over 3,500 trees at Ben En National Park in Thanh Hoa Province.
In addition, the company organized the third Cathay Run on July 28 in My Khe Beach in Danang City. The running event, titled "Fuel Your Dream, Fuel Your Run", attracted over 1,500 runners.
Speaking at the start of the running event, Stanlee Lee, general diretor of Cathay Life, stressed that the life insurer's mission is not limited to business development, but also includes raising awareness on protecting the public health.
After 15 years doing business in Vietnam, the life insurer has invested north of VND15,300 billion in the country, and is seeking to expand its market share to 5% in terms of annual premiums.
As a corporate member of the community, "Cathay Life Vietnam is happy and proud to have contributed over VND15 billion" to various community programs over the years to create a better, prosperous and healthy future for Vietnamese, according to a representative of the company.