For Central Retail Vietnam, sustainable development is at the core of its business strategy, and in this journey, since its establishment in Vietnam more than ten years ago, the corporation has always sought to step up environmental protection and promote social well-being for the community.
"For us, greenization is not just a word, but a journey initiated in and associated with our business model and performance," Olivier Langlet, CEO of the corporation, said about Central Retail's strategy to achieve sustainability in Vietnam.
A full-fledged sustainability strategy
Central Retail has set out concrete goals for its sustainable development strategy under what it terms ReNEW approach. This is the acronym for Reduce, aimed to reduce greenhouse gas emissions; Navigate social well-being for the good of the community; Eco-friendly targeting to promote environmentally friendly usage of bags; and Waste treatment. The corporation's strong commitment to ReNEW has made huge contributions to the country's sustainable development goal.
In its ReNEW approach, environmental protection can be seen to take center stage.
The green journey at Central Retail Vietnam is marked with numerous initiatives to safeguard the environment and, more importantly, to raise the public awareness on environmental protection. These include the non-profit sale of Lohan bags for shoppers, arrangement of carton boxes to package bulky goods for customers at grocery stores, promotion of reusing shopping bags, launching on a trial basis the use of container boxes and food trays made from sugarcane bagasse that are biodegradable, and prioritizing supply of low-carbon products to customers.
During two campaigns of No Plastic Bag Day in 2022 and Bring Your Own Shopping Bag in 2023, Tops Market shopping centers under Central Retail help cut the use of over 170,000 plastic bags that should have otherwise been discharged into the environment. At the checkout counters at the company's GO! Mall and Tops Market shopping centers, all bags provided to customers are ecofriendly.
Central Retail is planning to install ten machines for sorting plastic and metal cans and bottles at GO! Mall shopping centers in the near future as a way to encourage customers to join the company's green journey.
Central Retail has also partnered with P&G Vietnam to launch the campaign "Forests for Good", planting over 6,500 trees in Thanh Hoa, Ca Mau and Dong Nai provinces.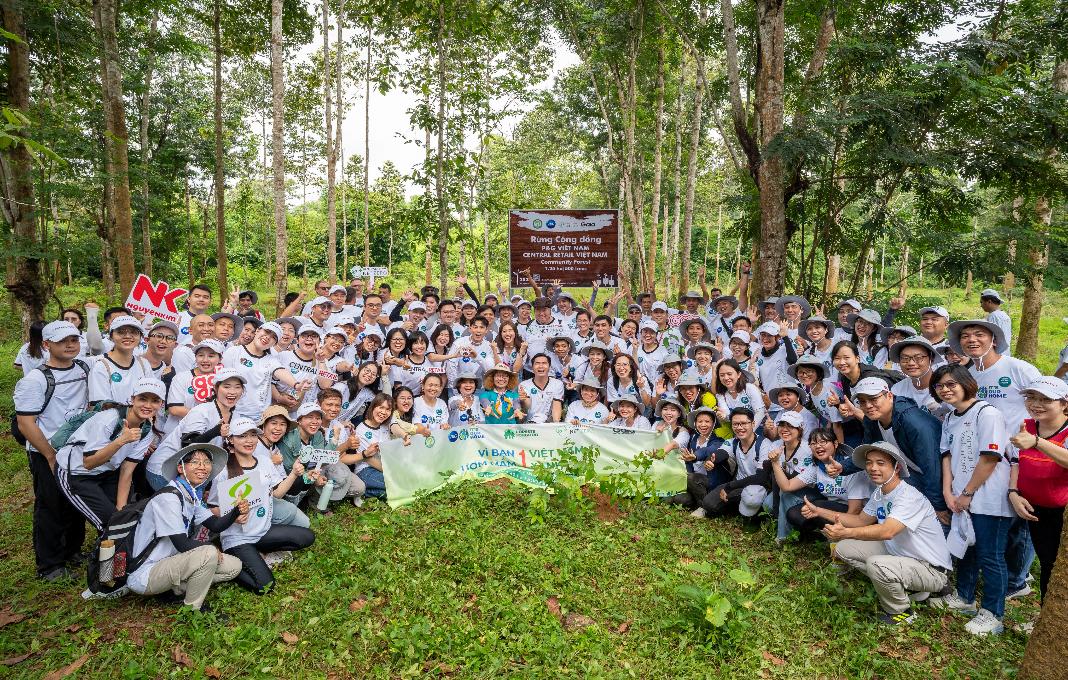 In another respect of the green journey, Central Retail is vigorously shifting to renewable energy. To date, rooftop solar power systems have been installed at 21 GO! Mall shopping centers, supplying 3.8 million kWh a year, while 24 GO! Mall shopping centers nationwide are operating charging stations for electric bikes able to serve 800 units a day.
Community well-being
For a sustainability-minded corporation, promoting community well-being is indispensable, and Central Retail, as stated in its ReNEW strategy, has made generous contributions in this sphere.
The signature community program at Central Retail is its "One Mall – One School" project, under which for every new GO! Mall supermarket being developed, the company pledges to provide financial resources to a school, either for developing school infrastructure, or for installing education facilities like computer labs, kitchens, multi-use halls, classrooms, or e-libraries. To date, the project has financially supported 12 schools nationwide, benefiting 7,000 students.
In philanthropist activities, Central Retail has also called on its customers to join forces. From small sums donated by shoppers, the company has built 16 houses for poor people. In addition, it has regularly donated Tet gifts worth billions of Vietnam dong to thousands of poor people, supplied relief aid to victims of natural calamities, and joined blood drives to save lives.
The company has recently signed an agreement with the Vietnam Red Cross to improve nutritional meals to children. It aims to contribute VND2 billion in the 2023-2027 period to the program.
The green and sustainable development journey for the country will always be a long one, and Central Retail, while striving to become a green and sustainable retailer, pledges to make contribution in this respect to the country where it operates.
"Central Retail Vietnam is proud of milestones it has set on the journey and pledges to continue contributing to Vietnam's sustainable development. By working together, we can build a green and sustainable future for the next generations," said the company's CEO Olivier Langlet.