Vietnam is approaching the population aging period from 2036, with over 23 million people in the age range of 30-40 set to become elderly. As a result, the healthcare and treatment system for elderly patients will face several challenges.
During six years of pursuing a career in nursing at the Thu Duc General Hospital in HCMC, Do Thi Hang Nhi had to spend five traditional Lunar New Year (Tet) holiday occasions living far from her hometown in Dak Lak Province. Speaking at the webinar, "Nursing: A career in which machines could not replace human beings" held by the Center for Healthcare Improvement Research (CHIR) in late February, Hang Nhi said that nurses did a lot of work on normal days and public holidays but suffered excessive pressure post-pandemic due to a mass resignation of medical workers.
The pressure Nhi mentioned also came from understaffing after the Covid-19 pandemic. A survey of 1,000 nurses in Vietnam conducted in December 2022 by CHIR showed that over 70% of nurses faced financial pressure due to their unsatisfactory income. Some 50% of nurses said they did not have sufficient money to study and improve their workmanship.
An unsatisfactory income was one of the four reasons that the Ministry of Health mentioned in a conference essay sent to the 2022 Vietnam Socio-Economic Forum in September 2022. The essay explained the reasons for the resignation or job shifting of nearly 10,000 public medical workers within 18 months, of which nurses accounted for 30%. Besides, other pressures may result from a lack of infrastructure for professional work and pressures caused by their families and relatives.
Challenges to change
According to a survey by CHIR, 60% of nurses said the community has yet to realize the role of nurses, usually considered assistants to doctors, leading to an inaccurate view of the position and responsibilities of nurses.
Truong Thi Mai Quyen, a master of Nursing cum Chief of Project CHIR, said that for a long period of time, nurse training programs in Vietnam had been conducted in a way wherein doctors designed lessons and provided training for nurses. Therefore, nurses were trained to deal with patients rather than care for them and help them recover. In practice, doctors and nurses have different functions and tasks. Nurses protect patients, take care of them physically and mentally and help them recover. Meanwhile, doctors concentrate on disease diagnosis, treatment and giving prescriptions.
After many years of teaching nursing at Dalat Yersin University and conducting a good clinical practice at leading hospitals, Quyen said that care must be given by a contingent of professional staff.
To improve the effectiveness of nursing, specialized training with lecturers in nursing instead of doctors is needed. Nurses need to understand their roles and not just act as assistants to doctors. The relationship between nurses and doctors is based on support and cooperation.
Preparation for the future
Given that the country will see an aging population by 2036 when over 23 million citizens in their middle ages ranging from 30 to 40 will become elderly, the nursing sector is forecast to be short of staff if the Government does not implement a practical solution.
Deputy Minister of Health Tran Van Thuan said at the National People's Congress of the Vietnam Nurses Associations held on October 22, 2022, that nursing had been developed below expectations and lacked synchronization and efficiency in training and the use of personnel.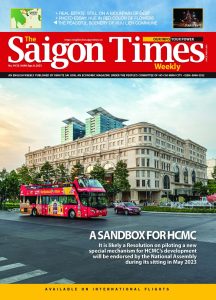 The nursing rate is now 16.5 nurses per 10,000 people. To meet the residents' demand for medical services, Resolution 20/NQ-TU the 6th Congress of the 7th Central Committee on boosting protecting, caring and improving residents' health in a new condition set a target to have 25 nurses per 10,000 people in 2025 and 33 nurses per 10,000 people in 2030.
With a population of over 100 residents now, by 2025, Vietnam is estimated to need an additional 85,000 nurses. Statistics given by Thuan showed that there were 182 facilities nationwide providing nursing training from the intermediate to the university level, with 54,800 students. With an average of nearly 18,000 graduates each year, given the stability of the sector's human resources, Vietnam will still face a shortage of nurses in 2025.
Meanwhile, Vietnam is one of the world's fastest-aging countries. Citizens above 60 years old accounted for 11.9% of the total population in 2019 and the figure will rise to over 25% in 2050, according to the United Nations Population Fund. By 2036, Vietnam will shift from an aging society to an aged society. The demand for elderly care services will be huge in the future.
Nowadays, Vietnam has been sending nursing staff and caregivers to Japan. However, with the golden population structure, Vietnam's nursing staff can meet the local demand. Given the soon-to-be-aging population, Vietnam may face the same situation as the Philippines and India, which might worsen. Thus, priority should be given to improving the effectiveness of the nursing workforce. At the same time, enhancing the quality of their lives and jobs to attract more workers to get involved in nursing is also an urgent issue.