DONG THAP – The Mekong Delta has much potential for tourism development. However, Nguyen Van My, director of Lua Viet Tours, said the region must change their mindsets as well as the way of developing tourism.
On the sidelines of a forum in Dong Thap Province on May 20 on tourism cooperation between HCMC and the Mekong Delta's 13 provinces, My suggested that the change should be made from the modest things.
"Why don't you hang pictures featuring local specialties in the room [the hotel guestroom where the businessman stayed in Cao Lanh City, Dong Thap Province] to promote tourism?" he raised the question. He added that once he traveled to the northern province of Cao Bang, he was interested in a small detail. The image of Ban Gioc waterfall (a famous attraction in Cao Bang) was printed on pillows.
It's a good way of local branding, he said, adding he saw no use of Mekong Delta hotels using pictures of Europe or Ha Long Bay.
Miquel Angel P. Martorell, head of Human Resources and Quality Management Working Group under Vietnam Tourism Advisory Board (TAB), said that it is necessary to have a medium and long-term orientation to develop tourism instead of short-term investments.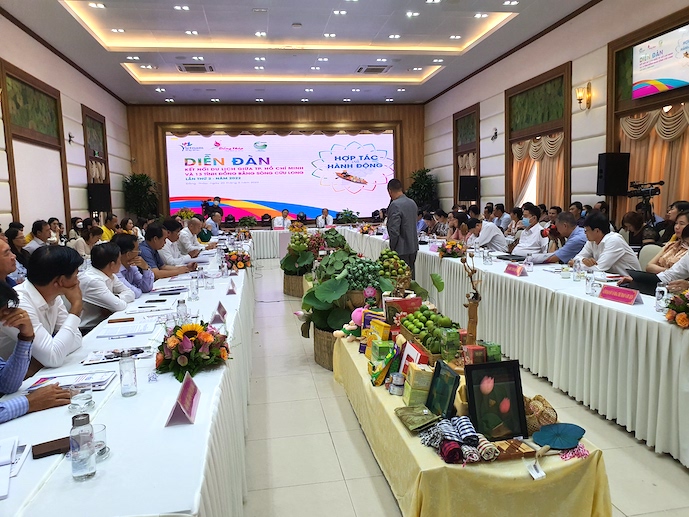 Martorell suggested that it needs to pay attention to improving infrastructure and services to best serve tourists. "What I mean is that they must be improved comprehensively", he said, citing the example of the Mekong Province of Bac Lieu. The province is home to good hotels, but the traffic is poor. Tour guides are professional, but the products are not good enough.
Martorell also noted that Mekong Delta provinces need to better promote local products to customers. "The Mekong Delta owns very delicious specialties and many beautiful landscapes. We here all know such things; however, customers from international markets know a little," he said. Martorell is also interested in strengthen the training of human resources.
Giving a speech at the forum, Ha Van Sieu, deputy head of the Vietnam National Administration of Tourism, said that in recent years, the cooperation program between HCMC and the Mekong Delta, has created many opportunities to spur tourism development in general and agricultural tourism in particular.
Sieu suggested it is necessary to clarify the agricultural value chain mainly with rice, fruit and fish. "These are typical products of the region. So, the cooperation should focus on these," he said.