Ho Chi Minh City, August 27, 2022 – Coca-Cola Beverages Vietnam Limited (Coca-Cola Vietnam) in partnership with the People's Committee of Thu Duc City, Ho Chi Minh City today launches the  "For a Vietnam without Waste" event at EKOCENTER Community Center, Thu Duc. The event welcomes representatives of the Vietnam Chamber of Commerce and Industry (VCCI), the Vietnam Business Council for Sustainable Development (VBCSD), the People's Committee of Thu Duc City, Ho Chi Minh City's Department of Natural Resources and Environment (DoNRE), Department of Industry and Trade (DoIT), and more than 300 local people as well as company employees.
This is one of the outstanding events organized by Coca-Cola Vietnam and local authorities in Ho Chi Minh City and Da Nang City, under a World Without Waste vision. Following  the successful event in Da Nang, the "For a Vietnam Without Waste" event in Ho Chi Minh City aims to raise public awareness towards waste sorting, encourage people to use reusable bags, and thus promote a green lifestyle and sustainable production and consumption. On this occasion, Coca-Cola Vietnam hands over 65 3-compartment segregation trash bins to DoNRE of HCMC and 4,000 reusable bags to DoIT worth a total of VND700 million. Coca-Cola is one of the pioneering companies sponsoring segregation trash bins and reusable bags for Ho Chi Minh City, supporting local authorities in propagating the new regulations in the environmental protection law.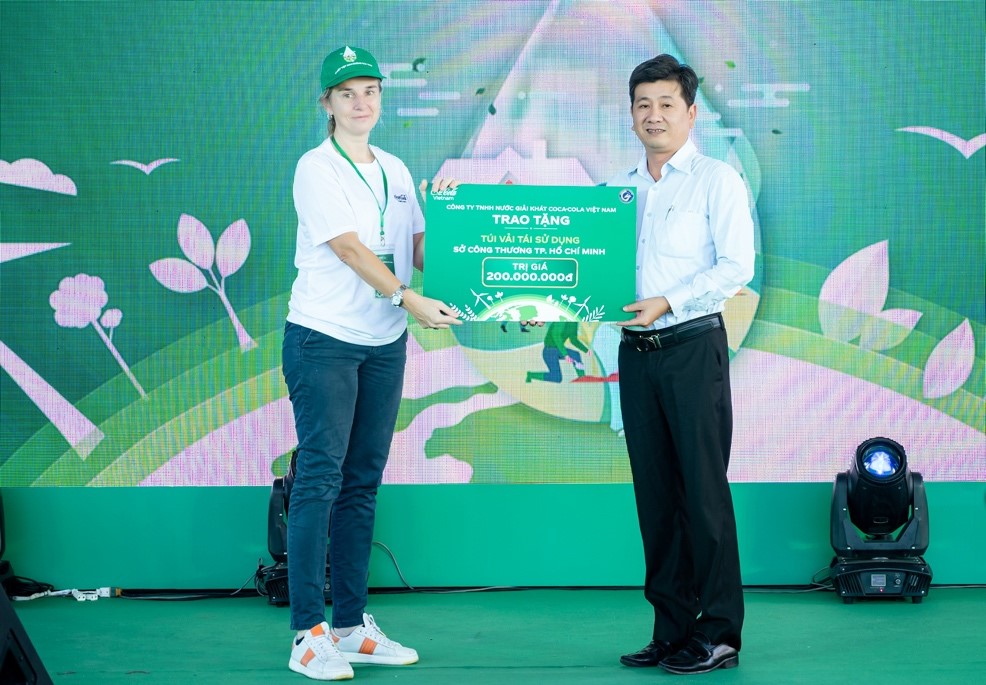 To attract families and young people to join hands in collecting plastic waste for recycling, the event encourages attendees to bring used plastic bottles to exchange for their favorite Coca-Cola products. Attendees can also enjoy an exhibition of wining projects in "A New Life of Waste" contest finale, where the most outstanding and effective recycling ideas are demonstrated. Datmaniac Rapper also joins this event to share about his new project of collecting waste for music CDs and spreading good vibes to environmentalists there.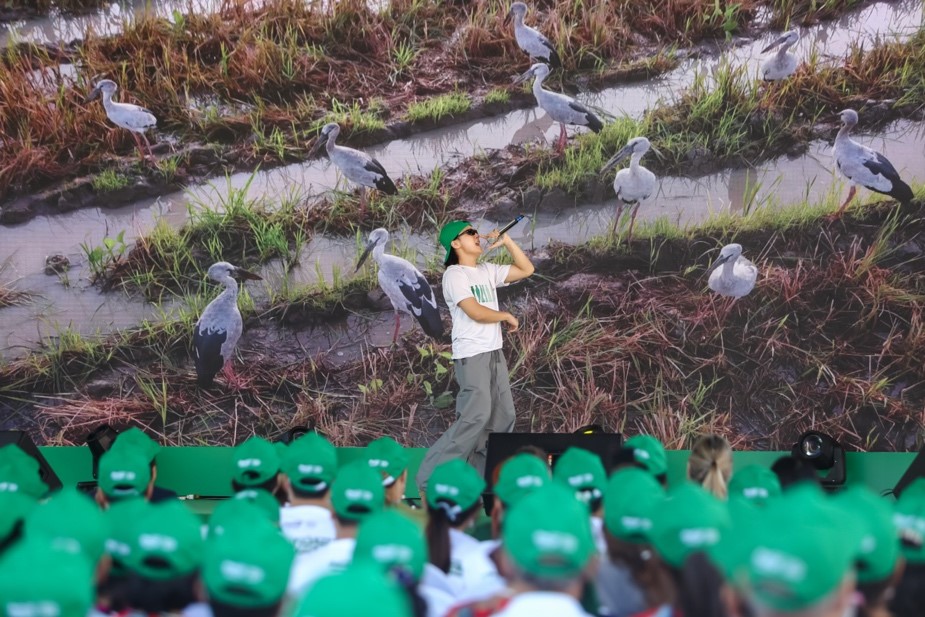 "With the message of "Refresh the world. Make a difference", Coca-Cola Vietnam constantly pursues sustainable development and comprehensive growth for almost 30 years in Vietnam. Following the success of the event in Da Nang, we are thrilled to bring this event to Ho Chi Minh City, thus can help raise more awareness and build sustainable consumption habits for the community. In the future, we will continue to accompany these cities' government to promote collection and recycling activities," said Mr. Peeyush Sharma, Chief Executive Officer of Coca-Cola Beverages Vietnam Limited.
Mr. Nguyen Ky Phung, Vice President of the People's Committee of Thu Duc City, shared: "We highly appreciate Coca-Cola Vietnam's efforts in supporting the city to protect the environment and to raise awareness about plastic waste. We hope that Coca-Cola Vietnam as well as other businesses will continue to accompany Ho Chi Minh City to move forward to a sustainable future without waste."
The event "For a Vietnam without Waste" is the latest initiative towards a World Without Waste vision of the Coca-Cola Company. Since the vision was announced in 2018, Coca-Cola has set ambitious goals to make its packaging 100% recyclable globally by 2025, use at least 50% recycled material in its packaging by 2030, and collect and recycle equivalent of every bottle or can it sells globally by 2030.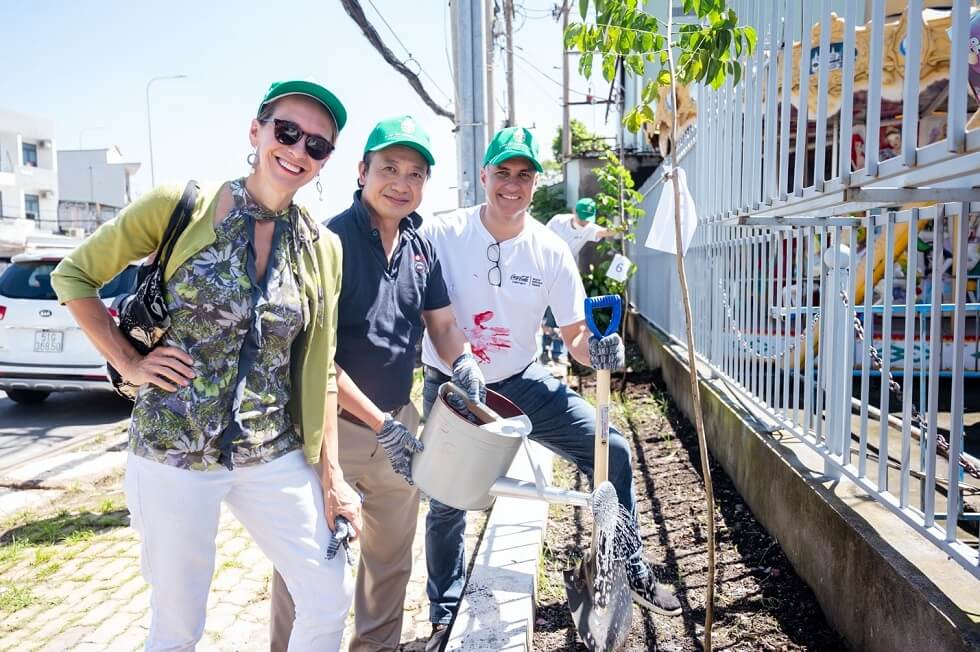 Mr. Nguyen Quang Vinh, Vice President of VCCI and Chairman of VBCSD, appreciated Coca-Cola progress in the sustainable development journey in Vietnam over years. Coca-Cola Vietnam has been recognized for six consecutive years as one of the most sustainable companies in Vietnam in credible CSI 100 Index by VCCI and VBCSD. Last year, the company made it at top 3 most sustainable company in Vietnam as deserved reward for its efforts in growing sustainably with the country.
About Coca-Cola Vietnam
COCA-COLA is one of the best-known international brands in Vietnam. Coca-Cola Vietnam's manufacturing facilities in Ho Chi Minh, Da Nang, and Hanoi cities employ around 2,000 people, while creating an additional six to eight times indirect jobs throughout the company's value chain. As a total beverage company, Coca-Cola is continuously investing in product innovation, diversifying packaging options, and providing a wide portfolio of quality beverage products, which includes less-sugar and zero-sugar variants. Coca-Cola Vietnam offers COCA-COLA, COCA-COLA LIGHT, COCA-COLA less sugar, COCA-COLA ZERO, COCA-COLA PLUS, SPRITE, FANTA, MINUTE MAID TEPPY, MINUTE MAID SPLASH, GEORGIA MAX COFFEE, NUTRIBOOST, DASANI, AQUARIUS, SCHWEPPES and FUZETEA+.
The company is also fully committed to create shared value in the communities it serves by ensuring that sustainability is at the core of its business operations. Coca-Cola continues building sustainable communities in locations where the company operates. From 2010, Coca-Cola has invested millions of dollars in community projects in Vietnam. This includes programs such as the EKOCENTER, providing clean water, empowering women and local SMEs, supporting families in hardship, and sending disaster relief. For more information, visit our website at https://www.cocacolavietnam.com/.
Coca-Cola Vietnam and its World Without Waste vision
As part of its World Without Waste vision, The Coca-Cola Company is working to ensure that all of the material it uses in its packaging is collected and recycled, so that none of it ends up as waste.  The Company has a global goal to help collect and recycle every bottle and can they sell by 2030.
In Vietnam, Coca-Cola is helping to support and drive locally relevant collection and recycling solutions. Coca-Cola Vietnam is one of the founding members of Packaging Recovery Organisation (PRO) Vietnam, a partnership with other leading companies, recyclers and government agencies to accelerate local packaging collection and recycling in support of a clean and green Vietnam. Furthermore, Coca-Cola Vietnam has cooperated with strategic partners including The Ocean Cleanup, the Centre for Supporting Green Development (GreenHub), The United Nations Educational, Scientific and Cultural Organization (UNESCO), to raising broader awareness and implement new initiatives in waste segregation, collection and recycle towards a circular economy in Vietnam.