Hanoi, December 9th – Coca-Cola Vietnam has been ceremoniously named amongst the top 3 most sustainable companies in Vietnam 2021 at the CSI – 100 Ceremony, organized by the Vietnam Chamber of Commerce and Industry (VCCI) in cooperation with the Vietnam Business Council for Sustainable Development (VBCSD), the Ministry of Labor, Ministry of Natural Resources & Environment, and the Vietnam General Confederation of Labor. This is the 6th consecutive year that Coca-Cola was honored as one of the most sustainable companies in Vietnam
In 2021, Coca-Cola remains persistent in its commitment to sustainable growth in Vietnam, across three key pillars of business growth, environment protection and community support.
"To be named among the top three sustainable companies in Vietnam is an honor for all of us at Coca-Cola. We are so proud and motivated to know that our ongoing efforts to 'refresh the world and make a difference' have been recognized by respected national organizations in sustainability like VBCSD/VCCI. Coca-Cola Vietnam will continue driving our sustainable development programs as we partner towards a better shared future for the people, the community and the environment here in Vietnam," said Peeyush Sharma, CEO, Coca-Cola Beverage Vietnam Limited Company.
"A World Without Waste" vision – to collect and recycle the equivalent of every bottle or can Coca-Cola sells globally by 2030
In 2018, Coca-Cola pledged robust World Without Waste goals to help collect and recycle the equivalent of a bottle or can for every one the company sells globally by 2030. Since its launch, Coca-Cola has had associates around the world working full time to advance each of its three pillars: Design, Collect and Partner.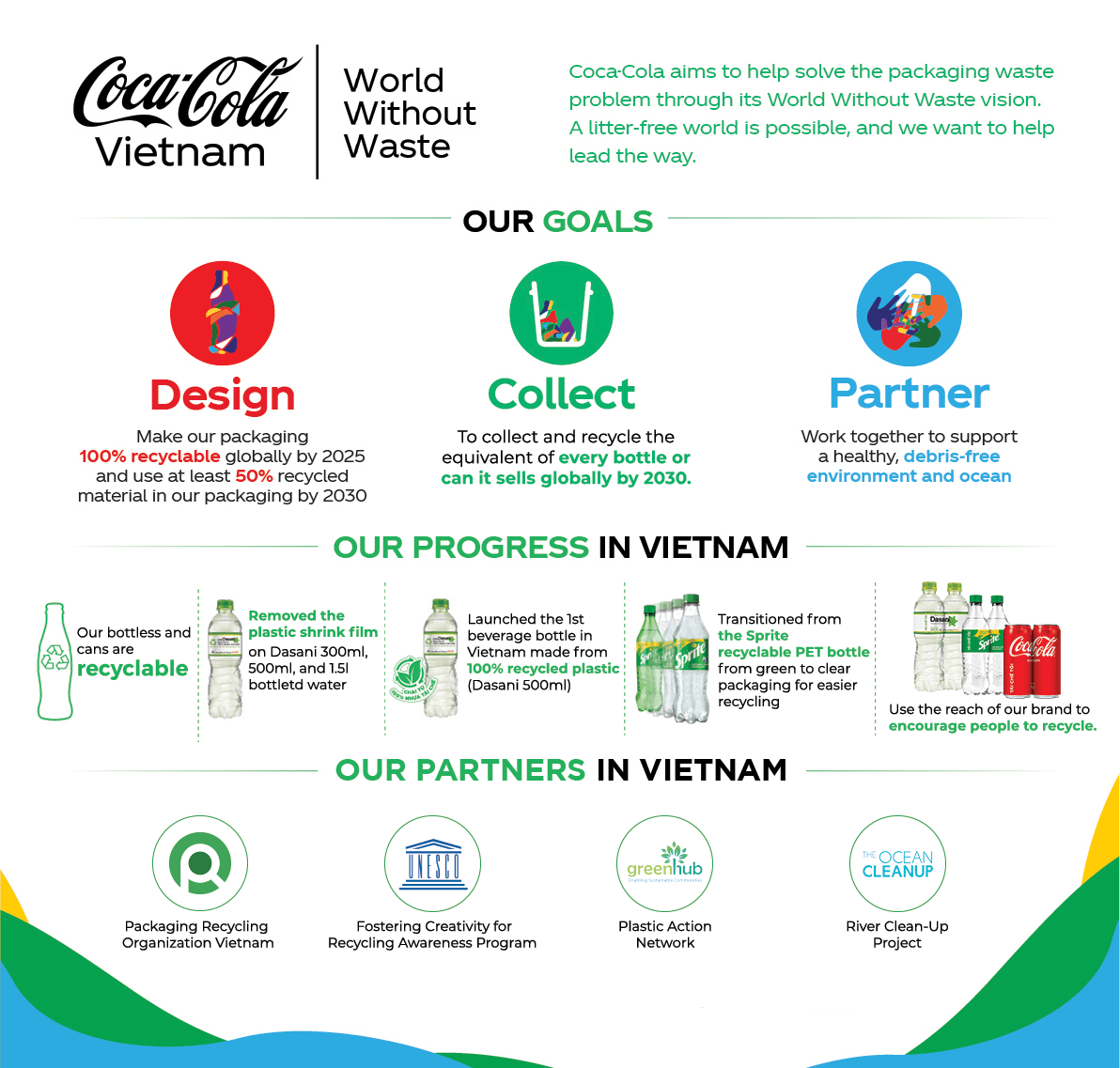 In 2021, Coca-Cola switched Sprite from its iconic green bottle to a clear and transparent PET bottle to make it easier to recycle. With this important change in packaging design, Coca-Cola aims to boost the value of the packaging after use and drive up recycling rates locally. Furthermore, Coca-Cola Vietnam is rolling out a 'Recycle Me' message on its package labels across all its brands and products to remind consumers to help recycle the bottle after they have enjoyed the drink. More broadly, Coca-Cola will increasingly be including recycling messages in its marketing campaigns and social channels to encourage consumers to recycle more.
Coca-Cola has also cooperated with strategic implementation partners including the Centre for Supporting Green Development (GreenHub), The United Nations Educational, Scientific and Cultural Organization (UNESCO), and Packaging Recycling Organization Vietnam (PRO Vietnam) to accelerate local collecting and recycling initiatives while raising broader awareness on the benefits of proper waste segregation and recycle towards a circular economy in Vietnam.
Bring clean water to the community – the EKOCENTER's story
EKOCENTER is part of Coca-Cola's mission to do business the right way by doing what's right for people and our planet. In Vietnam, Coca-Cola has built 12 EKOCENTERs nationwide, provided 13 million liters of clean and free water to roughly 917,000 people. Operating as social enterprises, 12 EKOCENTERs have been supporting local woman entrepreneurs, contributing to the positive changes in the communities.
Another major project worth mentioning is "Clean drinking water for schools" set for implementing in the five years from 2018 to 2022. To date, Coca-Cola has set up dozens of drinking water filtration systems in schools in Danang. For the first time, many local students are able to experience clean, high capacity (3,000 liters per day) and tap water certified by Vietnam's Ministry of Health.
For a better shared future
For years, Coca-Cola Vietnam, The Coca-Cola Foundation (the global philanthropic arm of The Coca-Cola Company), through Vietnam Red Cross partnership, have carried out many social projects to support relief activities related to natural disasters, community healthcare, disaster prevention and relief, clean water, and environmental sanitation nationwide. During the pandemic, Coca-Cola Foundation and Coca-Cola Vietnam have donated more than VND16 billion to the organization's work, to support the distribution of COVID-19 vaccines, provide personal protective equipment to frontline workers, and raise public awareness of vaccine efficacy.
Separately, Coca-Cola Vietnam has also been supporting affected communities during the pandemic.  It has provided a total of more than 37,000 beverage products and thousands of medical and hygiene supplies, masks, and PPE to hospitals, quarantined areas, and vulnerable communities to serve people in need. Coca-Cola Vietnam always puts people at the heart of its business with a priority on safety. The company supports the health and well-being of its employees; maintains the continuity and safety of beverage production and delivery operations; supports the resilience of its consumer goods supply chain; assists its bottling partners and customers when needed; and supports the most affected communities.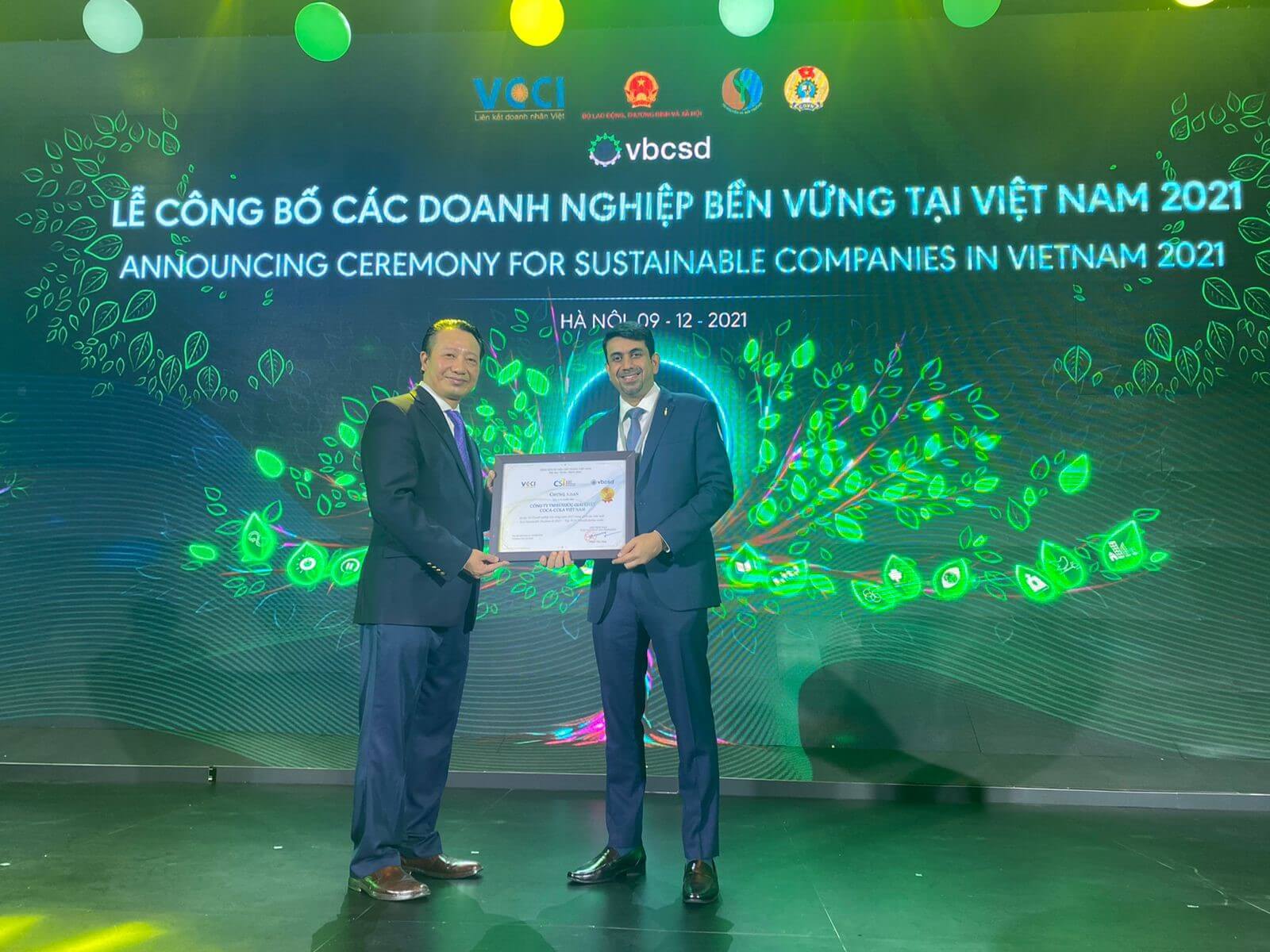 Being announced as a Sustainable Company in the Programme is an honorable title proving the recognition from the Vietnamese Government, ministries, business community and social organizations for Coca-Cola's efforts and progress on its long-term sustainability journey in Vietnam.