On the evening of September 20 (local time) in New York, U.S., Prime Minister Pham Minh Chinh met with James Quincey, Chairman and Chief Executive Officer of The Coca-Cola Company, during the Prime Minister's trip to the U.S. to attend the 78th session of the United Nations General Assembly.
After the United States lifted its economic embargo in 1994, Coca-Cola was one of the first U.S. companies to invest in Vietnam, and the company now has 2,000 employees and three factories producing beverages in the country.
Mr. Quincey thanked PM Chinh at the meeting for his time and attention. The Coca-Cola system is proud to be a part of the Vietnamese community. Its strategy has been expanding its operations and making essential investments in Vietnam. Next year, the system will celebrate 30 years of operation in Vietnam.
In Vietnam, the Coca-Cola system has partnered with more than one million Vietnamese retailers nationwide, creating 2,000 direct and 20,000 indirect jobs for the domestic labor market. The Coca-Cola system has invested US$136 million to build a new beverage factory in Long An, one of the biggest provinces in the Mekong Delta region. This recent investment is one of the Coca-Cola system's key projects in Vietnam, reflecting a long-term commitment to the country's economic development. The new factory has been designed to improve productivity by applying innovative production models and technology to optimize resource usage and expects full-steam operation in 2026.
Coca-Cola also seeks to further cooperate with Vietnam, developing sustainably with the country. The company aims to drive growth while helping create a better-shared future.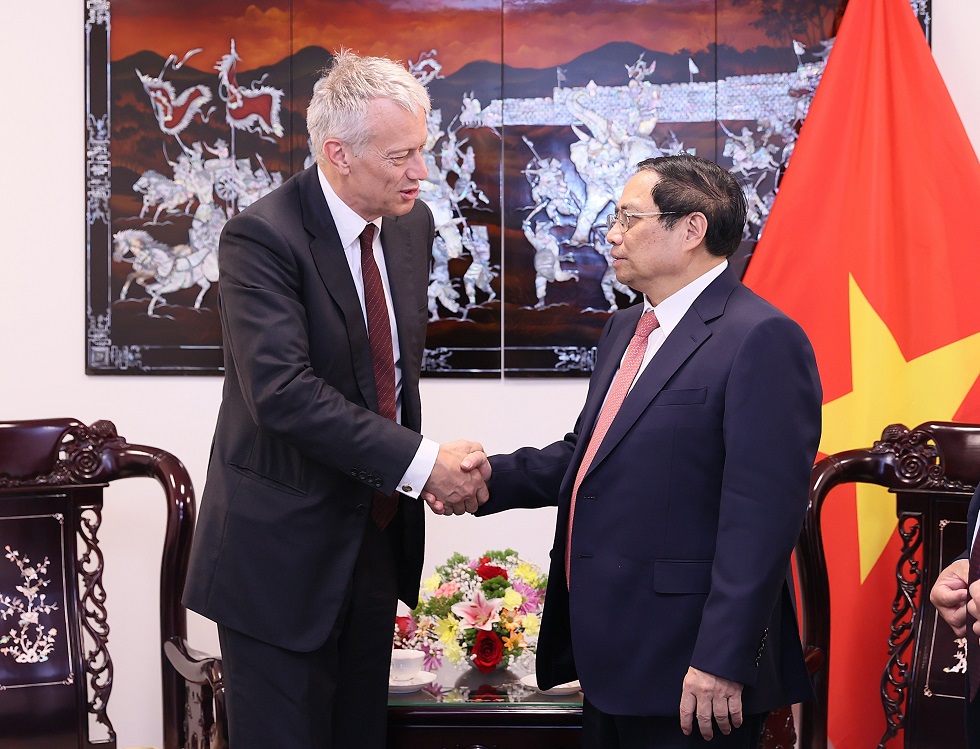 Coca-Cola's sustainability initiatives focus on Packaging, Water Stewardship, Sustainable Agriculture, Climate, Portfolio of beverage choices, and People and Communities. As an example of its local efforts, Coca-Cola has partnered with The Ocean Cleanup to help kickstart a riverclean program in the Can Tho River in Vietnam.
The Coca-Cola Foundation, the company's philanthropic arm, is helping drive a positive impact in the circular economy while also mobilizing its resources and strengths to promote practical programs and activities for Vietnam's socio-economic development with a total of more than US$3,700,000 in grants from 2018 to 2022 for critical projects:
US$275,000 grant to the Vietnam Red Cross Society to help people impacted by flooding in Danang City in 2022.
US$339,000 grant to the Centre for Supporting Green Development (GreenHub) in 2021-2022 to promote circular economy solutions to reduce marine plastics waste in Can Gio, a biosphere reserve and considered a green lung for Ho Chi Minh City.
US$289,000 grant to the World Wide Fund For Nature (WWF) in 2021-2022 to enhance the water regulation services and replenishment capacity of Tram Chim National Park and its buffer zone.
About Coca-Cola Vietnam
Coca-Cola is one of the best-known international brands in Vietnam. Coca-Cola Vietnam's manufacturing facilities in Ho Chi Minh, Danang, and Hanoi employ around 2,000 people, while creating an additional six to eight times of indirect jobs throughout the company's value chain. As a total beverage company, Coca-Cola is continuously investing in product innovation, diversifying packaging options, and providing a wide portfolio of quality beverage products, which includes less-sugar and zero-sugar variants. Coca-Cola Vietnam offers COCA-COLA, COCA-COLA LIGHT, COCA-COLA less sugar, COCA-COLA ZERO, COCA-COLA PLUS, SPRITE, FANTA, MINUTE MAID TEPPY, MINUTE MAID SPLASH, GEORGIA MAX COFFEE, NUTRIBOOST, DASANI, AQUARIUS, SCHWEPPES và FUZETEA+. The company is also fully committed to create shared value in the communities it serves by ensuring that sustainability is at the core of its business operations. Coca-Cola continues building sustainable communities in locations where the company operates. From 2010, Coca-Cola has invested millions of dollars in community projects in Vietnam. This includes programs such as the EKOCENTER, providing clean water, empowering women, and local SMEs, supporting families in hardship, and sending disaster relief. For more information, visit our digital magazine Coca-Cola Journey Vietnam at https://www.cocacolavietnam.com/ .
About The Coca-Cola Foundation
The Coca-Cola Foundation's mission is to make a difference in communities around the world where The Coca-Cola Company operates and where our employees live and work. We support transformative ideas and institutions that address complex global challenges and that leave a measurable and lasting impact. Our giving is focused on sustainable access to safe water, climate resilience and disaster risk preparedness and response, circular economy, economic empowerment, and causes impacting our hometown community. Since its inception in 1984, The Coca-Cola Foundation has awarded grants of over US$1.5 billion in service of its mandate to strengthen communities across the world.