Long An, October 14, 2022 – Coca-Cola Beverages Vietnam Limited today broke ground on its new beverage factory in Phu An Thanh Industrial Park, Ben Luc District, Long An Province.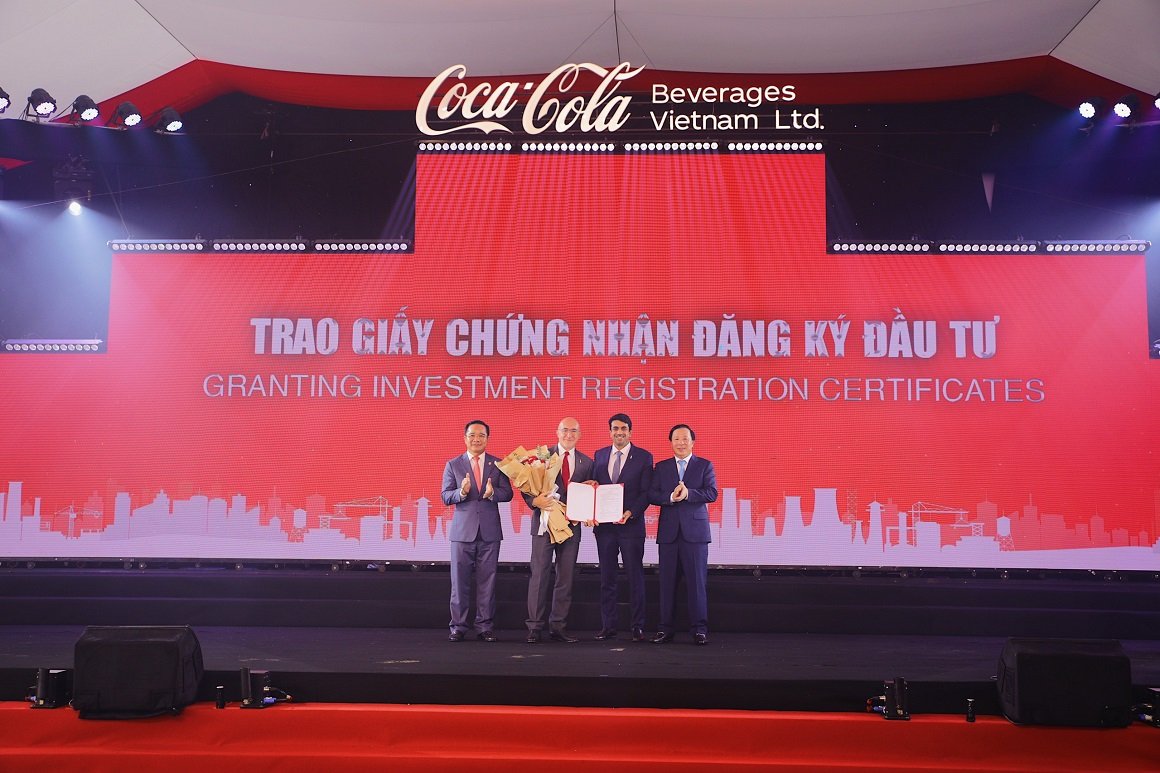 The ground-breaking ceremony welcomed the participation of former State President Truong Tan Sang, former Permanent Deputy Prime Minister Truong Hoa Binh, a Deputy Minister of Planning and Investment, a Deputy Minister of Ministry of Natural Resources and Environment, the Consul General of the United States, the Secretary of the Long An Province Party Committee, the Chairman of the People's Committee of Long An Province, representatives from central and local authorities, together with leaders and employees of Coca-Cola Vietnam.
The new Coca-Cola beverage factory – the company's fourth in Vietnam – has been designed to improve productivity by applying smart production models and technology to optimise resource usage. With a total area of ​​19ha, the factory in Long An is expected to have a maximum capacity of one billion liters of beverage products per year.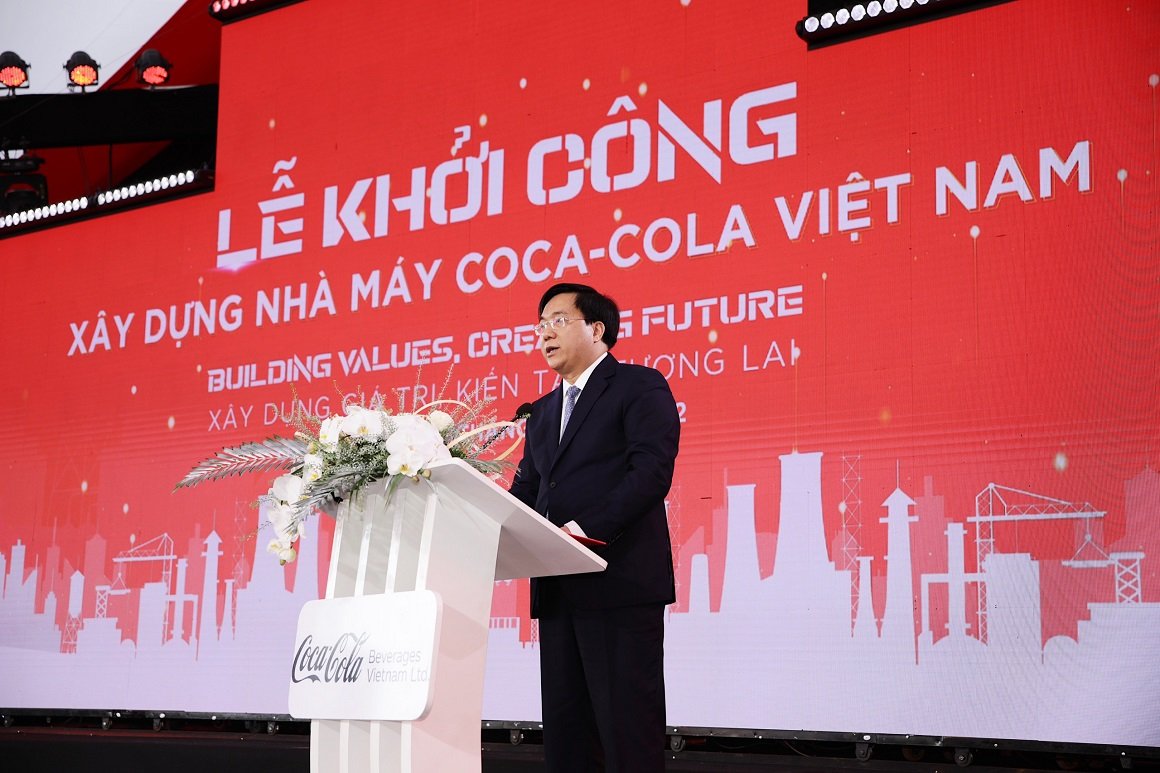 The project will be constructed in two phases, starting from now and completing its first phase by 2027, and the second phase by 2039. The company expects to complete six production lines on 30% of this new factory area in the first phase by 2027. The new production lines will meet local and international safety standards for food and beverages production, applying advanced automation technology to minimise environmental footprint, creating more jobs and training more skilled workers for Long An.
At the groundbreaking ceremony, Mr. Tran Duy Dong, Deputy Minister of Planning and Investment, expressed his delight at the event Coca-Cola starts construction of the new factory in Long An. "This is an important event, affirming Coca-Cola's trust in the business investment environment of Long An, contributing to the socio-economic recovery and development and creating a driving force for growth in the new normal. The new factory construction and the long-term investment commitment of Coca-Cola in Vietnam prove the attractiveness of Vietnam and Long An in the context that big corporations are tending towards repositioning production, diversifying global supply chains," the deputy minister said.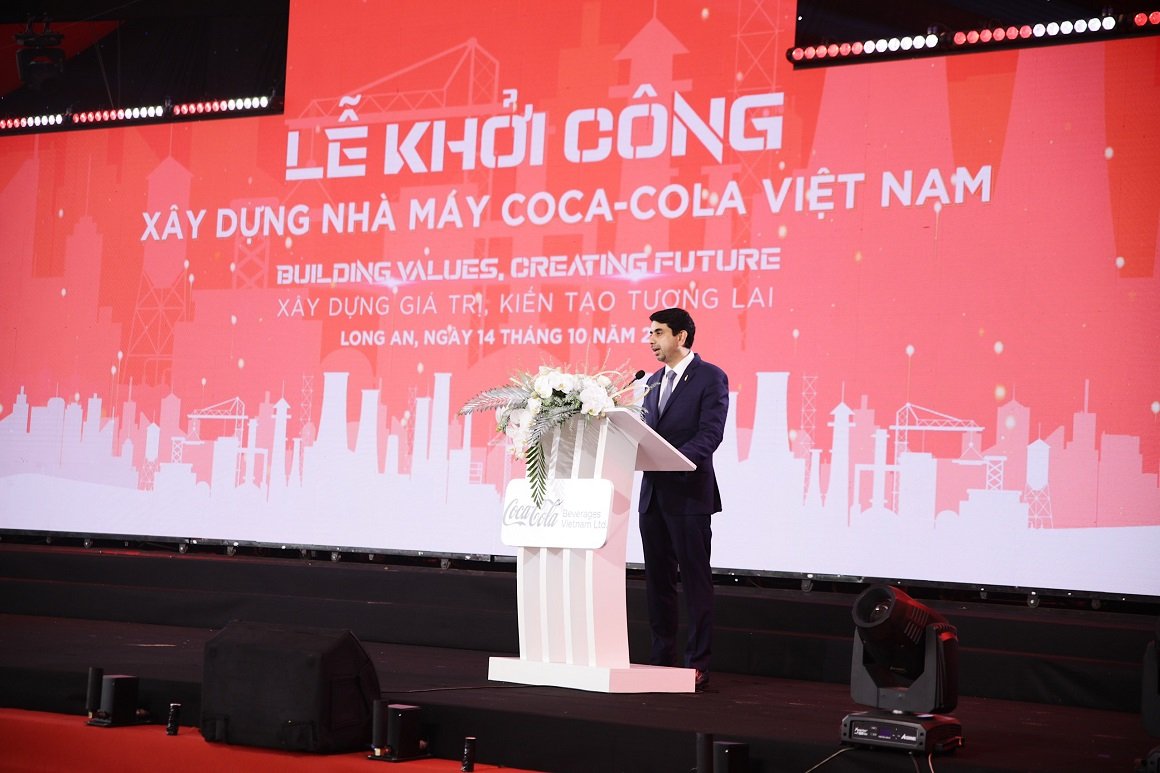 Also at the ceremony, Mr. Nguyen Van Ut, Chairman of the Long An Province People's Committee, emphasised: "Coca-Cola's groundbreaking ceremony to build a factory in Long An is a very special event for the province. The large investment in Long An demonstrates Coca-Cola's long-term investment commitment in the province. This is Coca-Cola's largest factory in Vietnam, applying a smart factory model with modern techniques. The project also entails supporting industries and raw material areas, creating favourable conditions to attract businesses, consume local raw materials, contribute to job creation, etc. bringing not only economic but also social benefits."
The Coca-Cola beverage factory in Long An has been designed to minimize the impact on the environment, and save water and raw materials through using solar energy and biomass technology as an alternative to fossil fuels. This is in line with the sustainable development goals of Long An Province and will also contribute to Vietnam's realization of commitments to reduce net emissions to zero by 2050.
"With a total investment of US$136 million and a capacity of over one billion liters of ready-to-drink beverages, this factory will serve the increasing demands of beverage consumption in the South of Vietnam. Together with our three other factories, we believe that this investment would contribute to the economic development of Vietnam in general and Long An Province in particular and bring thousands of jobs for the local labourers in the coming 35 years. We would like to express our sincerest thanks to the Government of Vietnam in general and relevant ministries in particular for helpful guidance and tireless support in our operation over the past 28 years, and hope to continue to receive your support in the coming time," Mr. Peeyush Sharma, CEO of Coca-Cola Beverages Vietnam Limited, shared at the ground-breaking ceremony.
With the purpose to "Refresh the world and make a difference", Coca-Cola had launched several projects to deliver sustainability goals during its 30-year presence in the country. The new factory in Long An is one of Coca-Cola's key projects to extend its long-term commitment to sustainable economic development in Vietnam.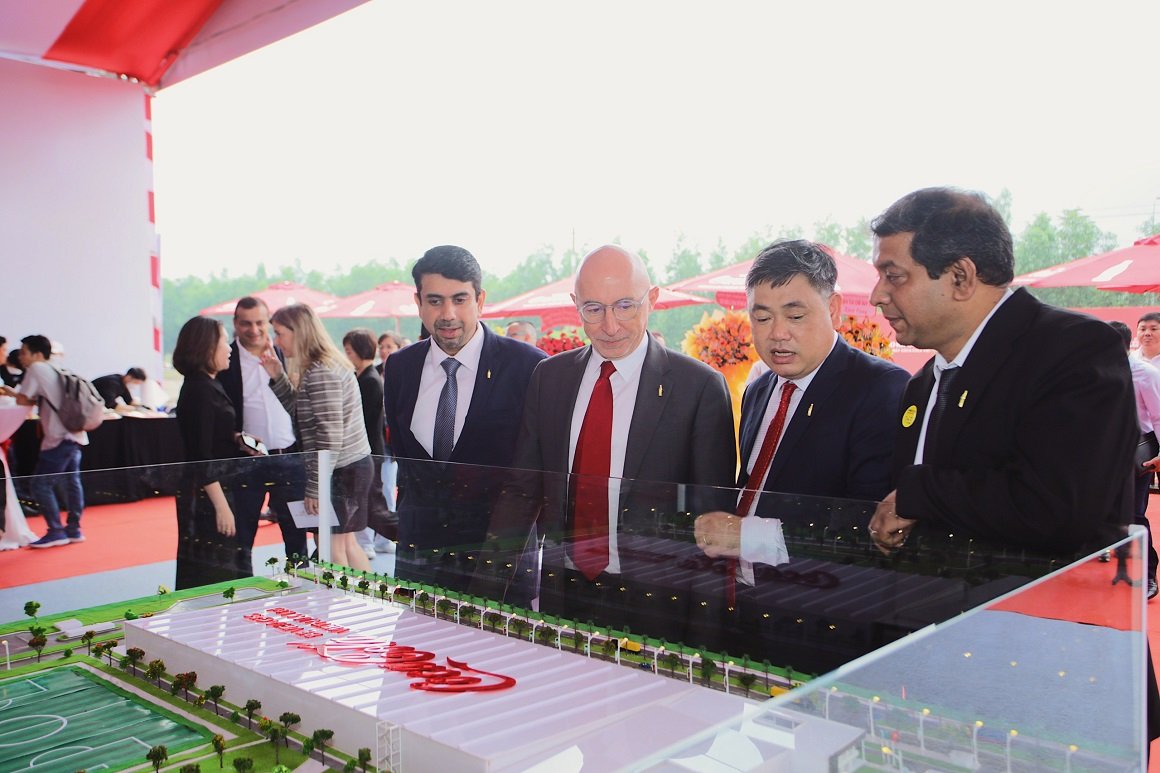 In 2018, the company pledged ambitious goals towards a 'World Without Waste', to help collect and recycle every bottle and can they sell by 2030. Since then, Coca-Cola has rolled out sustainable packaging innovations and efforts to contribute to a circular economy model.
In September 2022, Coca-Cola Vietnam took another meaningful step towards supporting a circular economy by introducing bottles made from 100% recycled PET plastic (rPET) across the country, avoiding using around 2,000 tons of new plastic in Vietnam annually.
In 2021, Coca-Cola Vietnam switched its Sprite packaging from its iconic green bottle to clear PET plastic packaging to boost local recycling rates.
Coca-Cola has also partnered with The Ocean Cleanup to support the deployment of an innovative river cleanup system in the Can Tho River, extracting up to 55 tons of trash daily.
In Vietnam, Coca-Cola and other companies co-founded the Packaging Recycling Organization Vietnam (PRO Vietnam) to increase collection and recycling, promoting the circular economy for packaging.
In Vietnam, Coca-Cola consistently helps to give back to communities and nature more water than they use in their finished beverages. With their partners, Coca-Cola has helped to install advanced water filtration systems at schools and has established social enterprises, known as EKOCENTERS across Vietnam, providing approximately 10 million liters of free drinking water to 800,000 beneficiaries through advanced water purification technology.
The new factory in Long An, together with other on-going projects, is a strong commitment of the company to continue developing sustainably with the country, as it seeks to create loved brands, done sustainably, for a better shared future.
About Coca-Cola Vietnam
Coca-Cola is one of the best-known international brands in Vietnam. Coca-Cola Vietnam's manufacturing facilities in Ho Chi Minh City, Danang, and Hanoi employ around 4,000 people, while creating an additional six to eight times of indirect jobs throughout the company's value chain. As a total beverage company, Coca-Cola is continuously investing in product innovation, diversifying packaging options, and providing a wide portfolio of quality beverage products, which includes less-sugar and zero-sugar variants. Coca-Cola Vietnam offers COCA-COLA, COCA-COLA LIGHT, COCA-COLA less sugar, COCA-COLA ZERO, COCA-COLA PLUS, SPRITE, FANTA, MINUTE MAID TEPPY, MINUTE MAID SPLASH, GEORGIA MAX COFFEE, NUTRIBOOST, DASANI, AQUARIUS, SCHWEPPES và FUZETEA+. The company is also fully committed to create shared value in the communities it serves by ensuring that sustainability is at the core of its business operations. Coca-Cola continues building sustainable communities in locations where the company operates. Since 2010, Coca-Cola has invested millions of dollars in community projects in Vietnam. This includes programs such as the EKOCENTER, providing clean water, empowering women and local SMEs, supporting families in hardship, and sending disaster relief. For more information, visit our digital magazine Coca-Cola Journey Vietnam at https://www.cocacolavietnam.com/.