Throughout its 20-year journey of engaging in social activity, the Saigon Times Foundation (STF) has always been grateful to philanthropists who are active in various fields in society for their steadfast cooperation with the foundation.
On the occasion of the "Mạch Sống" (pulse of life) art program broadcast live on the VTV9 channel on February 20, STF would like to thank fashion designer Minh Hanh, employees and medical workers of Military Hospital 175, and event participants and organizers for introducing 14 hard-working students who are affected by the Covid-19 pandemic, a disaster for humanity, and now need help to continue schooling.
Over the past two decades, the Saigon Times Foundation has been consistent in its mission of doing good for society through the mobilization of commitment to philanthropy and developing human capital. STF does believe that the generosity and community spirit of philanthropists, including firms, organizations and individuals in Vietnam and overseas Vietnamese, will thrive and contribute to making the young generation and the society of Vietnam better.
It is philanthropists who care for the community and realize that philanthropy will create a cultural value.
Philanthropists always think of ways to ensure sustainable development and prosperity and create equal opportunities for the young generation to learn and work.
STF commits to supporting such generous philanthropists and students in the future. We cannot get our vision and missions on our own. We work together with everyone, businesses and non-profits, and each partner plays a specific role in the process.
On this path, SFT would like to thank those hard-working students who received the scholarships for giving the foundation an opportunity and a motivation to improve its community activity. The foundation believes that these students will carry on the culture of generosity and the commitment to philanthropy.
Tran Thi Ngoc Hue
Chairwoman of the Saigon Times Foundation.
STF provides scholarships to the children of frontline workers
On February 20, within the framework of the "Mạch Sống" art program held at Military Hospital 175 in HCMC, the Saigon Times Foundation presented 14 scholarships to children of frontline medical workers.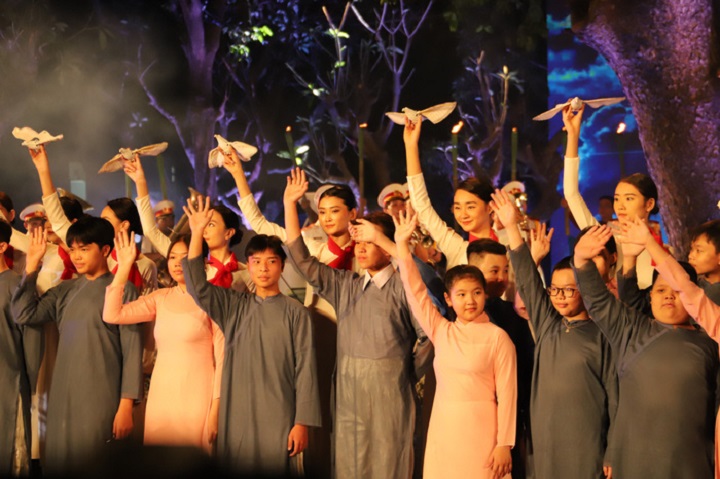 With the benevolent spirit of giving opportunities to society rather than properties to the next generation, STF cooperated with the "Pulse of Life" program to present these scholarships worth VND5 million each to students from disadvantaged backgrounds but with an excellent academic performance.
In 2021, during the Covid lockdowns in HCMC, numerous philanthropists collaborated with the STF to hand over scholarships to the children of frontline medical workers and student volunteers joining the fight against Covid at the HCMC Hospital for Tropical Diseases and the Hung Vuong Hospital.
LIST OF BUSINESSES, ORGANIZATIONS AND INDIVIDUAL DONORS THAT HAVE ACCOMPANIED THE SAIGON TIMES FOUNDATION
Businesses and Organizations
British American Tobacco (BAT)
Managing Board of the SGT Open 2006
ICT Partnership
2030 Businesspeople Club
Connection Club
Apave Vietnam
BCC Company (currently BNP Company)
Bosch Engineering
Thinh Phat Cables Joint Stock Company
Bong Sen Corporation
Trung Nguyen Legend Corporation
Asia Dragon Investment Joint Stock Company
Hung Loc Phat Real Estate Investment Joint Stock Company
Pearl Of The Far East PFEC Corporation
NovaGroup
Hung Thinh Corporation
Dan On Foods Corporation
Thien Nam Trading – Import Export Joint Stock Company
Van Phat Hung Corporation
Phu Nhuan Jewelry Joint Stock Company
Saigon Jewelry Joint Stock Company
PhuQuocLand
Mondelez Kinh Do Vietnam
KFC Vietnam
PepsiCo International Vietnam
Thuduc Housing Development Corporation
Robert Bosch Vietnam
Cuu Long Trade Company
Prudential Vietnam
CSC Vietnam
Manulife Vietnam
LV Technology Services Company Limited
Nestlé Vietnam
Binh Tan Consumer Goods Manufacturing Company (Bita's)
Sky Expo Vietnam
Mekong Travel Information Company Limited
Global Integration Business Consultants (GIBC)
TTT Corporation
VinaUSA Company
Coolum Vietnam Support Group (CVSG)
HCMC Computer Association
Malaysia Business Chamber VN
HSBC
Vietnam Bank for Agriculture and Rural Development
Asia Commercial Joint Stock Bank
DongA Bank
Currency Department of HSBC
Swimming and Friends Fund
Rolex
Berjaya Corporation Berhad
Ben Thanh Group
Consulate General of the United States in HCMC
Royal Thai Consulate General in HCMC
Vietnamesisches Studienwerk in der BRD e.V. (VSW)
DHG Pharmaceutical Joint Stock Company
Individual donors
Dafri Agussalim
Nguyen Vu Binh An
Thanh An
Nguyen Thi Van Anh
Nguyen Khanh Binh
Tran Van Binh
Sumedla Bodhi
Tran Ngoc Chau
Hugh Pei-Hsiu Chen
Chung Hoang Chuong
Tran Hung Dan
Phan Thien Dinh
Le Thi Phuong Dung
Vo Duc Duy
Dick Gebuys
Le Hong Giang
Phan Thanh Ha
Dang Nhu Hai
Nguyen Van Hai
Pham Minh Hien
Dinh Truong Hinh
Ronald Holzhacker
Nguyen Thi Ut Hong
Tran Quoc Hung
Khuat Quang Hung
Nguyen Tien Hung
Le Huu Huy
Mitsuhiro Kamagi
Su Ngoc Khuong
Tran Dinh Lam
Dao Thi Lieu
Do Long
Tran Thi Xuan Mai
Chu Thi Men
Student Nguyen Vu Yen Minh
Thai Ngoc Minh
Nguyen Hai Nam
Truong Huu Ngu
Tran Thi To Nguyen