As the tightening of lending and corporate bond issues is hitting the property sector, the market is doomed to grapple with severe financial hardships
The sales struggle
Falling liquidity was attributed to a surge in real estate inventories and a decline in homebuyers' down payments, making it harder to manage businesses and cash flows, given that credit has been choked and the corporate bond issuing channel tightened.
Some investors joked that a down payment is a business' savings, as it will be recorded in an income statement. However, according to businesses' financial statements, the first half of the year saw a decrease in down payments, while estate inventories skyrocketed.
This signals the real estate market will have a difficult time ahead.
The No Va Land Investment Group Corporation reported its unsold products had hit over VND125.5 trillion by the end of the second quarter and increased 14% year-on-year. Meanwhile, they have been prepaid just some VND12.6 trillion.
Likewise, the Sai Gon Thuong Tin Real Estate JSC recorded a 27% drop in deposits from some VND1.3 trillion to VND986 billion.
The VINACONEX Transportation Joint Stock Company, Ha Do Group JSC, and Van Phu Invest also shared the same fate, with their "down" payments falling by 61%, 12% and 20%, respectively.
Similarly, Dat Xanh Group saw a strong surge in total assets, adding some VND2 trillion. But the asset quality only inched up from some VND11.2 trillion to VND12.5 trillion, as the increase was mainly from inventories, in which unfinished products rose from over VND8.7 trillion to VND10.2 trillion.
Meanwhile, its debts drove up over VND1 trillion, while revenue from sales and profits plummeted by 56% and 28% in the first half of this year.
Similarly, Khang Dien House Trading and Investment JSC's fiscal picture looks gloomy. By the end of the second quarter, its inventories and receivables soared from VND7.7 trillion to VND12.1 trillion. This led to its negative profit shooting up to VND2 trillion from the amount of VND843 billion recorded at the beginning of the period.
The Quoc Cuong Gia Lai Joint Stock Company posted its inventory value reaching over VND7.1 trillion for the same period, while its cash was under VND40 billion.
Many other property companies are also facing the same problem.
While it is hard to generate revenue from sales, strengthening control over credit and bonds blocks access to these two fundraising channels. In July, the whole sector saw very few companies issuing bonds and the property bond value nosedived by 98%.
According to Ngo Quang Phuc, general director of Phu Dong Group, the current capital shortage in the sector was attributed to banks' measures to tighten credit in April. Property companies have not been able to access loans over the past few months, and some of them have had to suspend construction.
Businesses can hold on until next year when the market recovers and credit allocation is more suitable, Phuc said.
The property sector is facing overlapping debt, as bonds issued by real estate companies will soon be due, plus the squeeze on capital and stock markets, said Ngo Duc Son, general director of DRH Holdings. They will go bankrupt if policies are not revised.
Nguyen Van Dinh, chairman of the Vietnam Association of Realtors, said the housing market is entering a rebalancing phase. Home prices would go up due to an increase in costs and a decrease in liquidity. Investors are also exercising prudence over their decisions.
"The way things are, the market could fall into a state of being frozen, so the policies need revising to help the market rebalance and reduce losses," Dinh noted.
Hard for middle-income buyers
Increasing interest rates and credit tightening have made it harder to buy a home.
Nguyen Quang Tuan, a resident of Binh Thanh District, who has put down a deposit on an apartment worth VND2.3 billion in Thu Duc City, is still waiting for banks to disburse it. Though given priority, he still cannot take out a loan, unless some borrowers repay their loans.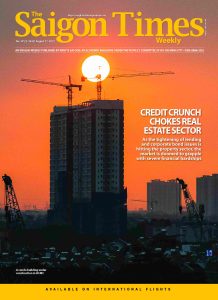 Earlier, he applied for a loan at another bank. Even though he met the borrowing requirements, he was refused, as the bank had used up its credit growth quota.
In May, homebuyers heard that banks had raised lending rates, discouraging them from taking out a mortgage.
Home prices have increased from 5% to 15% so far. Most apartment prices stood over VND2 billion a unit. If a homebuyer gets a VND1 billion loan, he will have to pay the bank from VND13 million to VND15 million a month. Thus, his income should be around VND40 million a month to settle his debt.
The capital shortage of the housing market has also influenced other relevant sectors, thereby putting the supply chain at risk. And the construction sector would be hit the hardest due to the huge outstanding debt of developers.
According to the Vietnam Association of Construction Contractors, almost all construction contractors are facing outstanding debt from hundreds of billions of to trillions of Vietnamese dong.
There are some solutions for the current situation, said a leader of an HCMC-based property company. Businesses can lower their profit margins, cut down on costs and offer discounts.
However, it will be hard to do so, as costs for projects always seem to grow. To find a way out, businesses have to wait for credit reallocation or raise capital via mergers and acquisitions.