Cuc Phuong National Park in northern Vietnam has once again secured the prestigious title of "Asia's Leading National Park" in the esteemed World Travel Awards – marking its fifth consecutive win. Representatives from Cuc Phuong National Park expressed their immense honor and the substantial encouragement this achievement brings to their team.
This accolade propels them to redouble their efforts in the preservation, safeguarding, and advancement of the park. This recognition serves as a testament to Cuc Phuong's pivotal role in bolstering ecotourism's allure within Vietnam.
The spotlight will shine on the ceremony to commemorate Asia's Leading National Park 2023, scheduled for September 6 in HCMC, according to the VGP News (baochinhphu.vn).
Situated 120 kilometers to the south of Hanoi, Cuc Phuong National Park is nestled amid the Tam Diep mountain range. Having been established in 1962, the park blankets an expanse of over 22,000 hectares and stretches across three provinces: Ninh Binh, Hoa Binh, and Thanh Hoa.
As a tropical rainforest, Cuc Phuong is home to an impressive array of natural marvels. With over 2,200 species of plants and mosses, 122 species of reptiles and amphibians, 66 species of fish, nearly 2,000 species of insects, and 135 species of mammals, this park is a biodiversity haven.
Checkered shawl weaving recognized as national heritage
On August 2, the People's Committee of Hong Ngu District, Dong Thap Province, held a ceremony to celebrate its checkered shawl weaving in Long Khanh A Commune having been recognized as a national intangible cultural heritage by the Ministry of Culture, Sports and Tourism.
The traditional craft has been developing in the islet commune of Long Khanh A for over a century. Along with checkered black and white shawls as the main products, local villagers have also made ao dai (long dresses), shirts, handbags and hats, which have won the heart of visitors.
Nguyen Van Khoi, chairman of the Hong Ngu District People's Committee, told tuoitre.vn that 58 households in the commune are pursuing the traditional weaving with 147 looms, creating jobs for some 300 local residents. Every year, the craft village market over 5 million checkered shawls.
Huynh Huu Hiep, one of the local weaving households, said formerly a manually weaving household could make just 20 shawls a day, adding that with power looms in use since last year, the number of products increases by 3-4 times, with higher quality and more diversified designs and colors. He said the recognition is the pride of the village and a motive for villagers to preserve and promote the traditional craft.
Vietnamese globetrotter comes to 165 countries and territories
A man from the northern port city of Haiphong, who is known under the nickname of Lai Ngua Chan (which means "Itchy feet"), introduces himself on social media as a Vietnamese man who wants to travel to all the nations and territories worldwide.
Over a decade ago, the globetrotter started his first journeys abroad, visiting China's Guangzhou and Shenzhen cities. He told thanhnien.vn that he had traveled to 165 out of 195 countries and territories around the world so far, adding that since he is a freelancer, he can work wherever he is with internet access. He said Cameroon was the most impressive of all African countries he had visited. While traveling abroad, he was robbed in Colombia, Ethiopia and Mozambique, and he was caught up in gunfire between two gangs in Haiti.
To be healthy enough for his travel life, he does physical exercises and practices yoga regularly. As a result, he could walk 7-8 hours a day without being exhausted during his overseas trips. The traveling man said he would visit the remaining nations and territories in the near future.
Making a living on all fours
Huynh Thi Bich Tuyen, 45, was born in Rach Gia City, Kien Giang Province. Her both legs were paralyzed after a poliomyelitis when she was one year old. She quit school after finishing the third grade. At home, she crawled around trying to do as many household chores as she could to help her parents, who had to do farm work on the field. She also tried to lend them a hand on the field.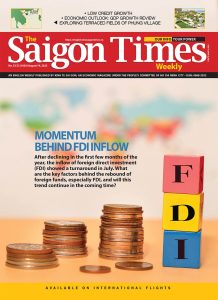 Tuyen got married at the age of 28, but she had to get away from the disloyal husband in 2010, bringing with her two daughters when the young one was just three months old. The three mother and daughters lived in a rented house in Rach Gia for a few months before coming back to live with Tuyen's parents. She then began crawling around to sell lottery tickets to support her two children. In 2021, with the help of her father, she shifted to selling lottery tickets in Long Xuyen City, An Giang Province, 43km away from home.
Wearing shoes and protecting her hands with a pair of slippers, Tuyen moved around Long Xuyen on all fours to sell lottery tickets every day, be it rain or shine, vnexpress.net reported.