TPBank has partnered with the DFC to promote comprehensive financing during the State visit to Vietnam by U.S. President Joe Biden.
One of Vietnam's leading commercial banks, TPBank, has announced the signing of a Commitment Letter for a US$100 million loan with a 7-year term from the U.S. Government's Development Finance Corporation (DFC). The signing ceremony took place in Hanoi during President Joe Biden's visit to Vietnam.
On September 10, 2023, at the headquarters of Tien Phong Commercial Joint Stock Bank (TPBank), in the presence of John Kerry, the U.S. Presidential Envoy for Climate, Marc E. Knapper, the U.S. Ambassador to Vietnam, and other U.S. government officials, the DFC committed to providing a US$100 million loan to TPBank with a 7-year term. The credit will target individual customers, micro, small and medium-sized enterprises in Vietnam, including low-income female customers and women-owned and women-led businesses in Vietnam.
TPBank will disburse loans with preferential policies for suitable and needy target clients, focusing on digital channels. Vietnamese individuals and businesses will easily access capital with preferential interest rates to improve their finances, expand their business, and thereby promote economic development. This is consistent with the DFC's goal of economic growth and promoting private sector development in emerging markets.
TPBank's commitment to receiving a loan from the U.S. Government's organization aims to help individuals and businesses access funds at reasonable costs more conveniently. It aligns with TPBank's overall strategy for comprehensive financial development, as well as the State Bank of Vietnam's direction and the Vietnamese Government's comprehensive national financial strategy. Accordingly, the bank will contribute to expanding access to financial services and financial opportunities for customers, creating conditions to enhance financial capacity and income, and supporting micro, small, and medium-sized enterprises to improve their resources for development.
As a technology-leading bank pioneering in digitization, currently 80% of TPBank's new customers open accounts through digital channels, and the TPBank application on smartphones always maintains a high rate of regular usage (increasing by 4-5 times over the past 5 years) thanks to the network of links covering all financial and payment needs (beyond banking) of customers in education, health, entertainment, public services, payment of fines, e-wallets, etc. TPBank owns the top digital ecosystem for three consecutive years, according to Asian Banker. With the strong support of technology, access to and use of various safe and secure financial services are made available, providing individuals and small and medium-sized enterprises with opportunities to access simple and secure capital, as well as actively using capital resources for reinvestment, capital contributions, and business activities. During the decade-long digital transformation journey, TPBank has always understood the need to create products and technology applications that are convenient and simple for customers.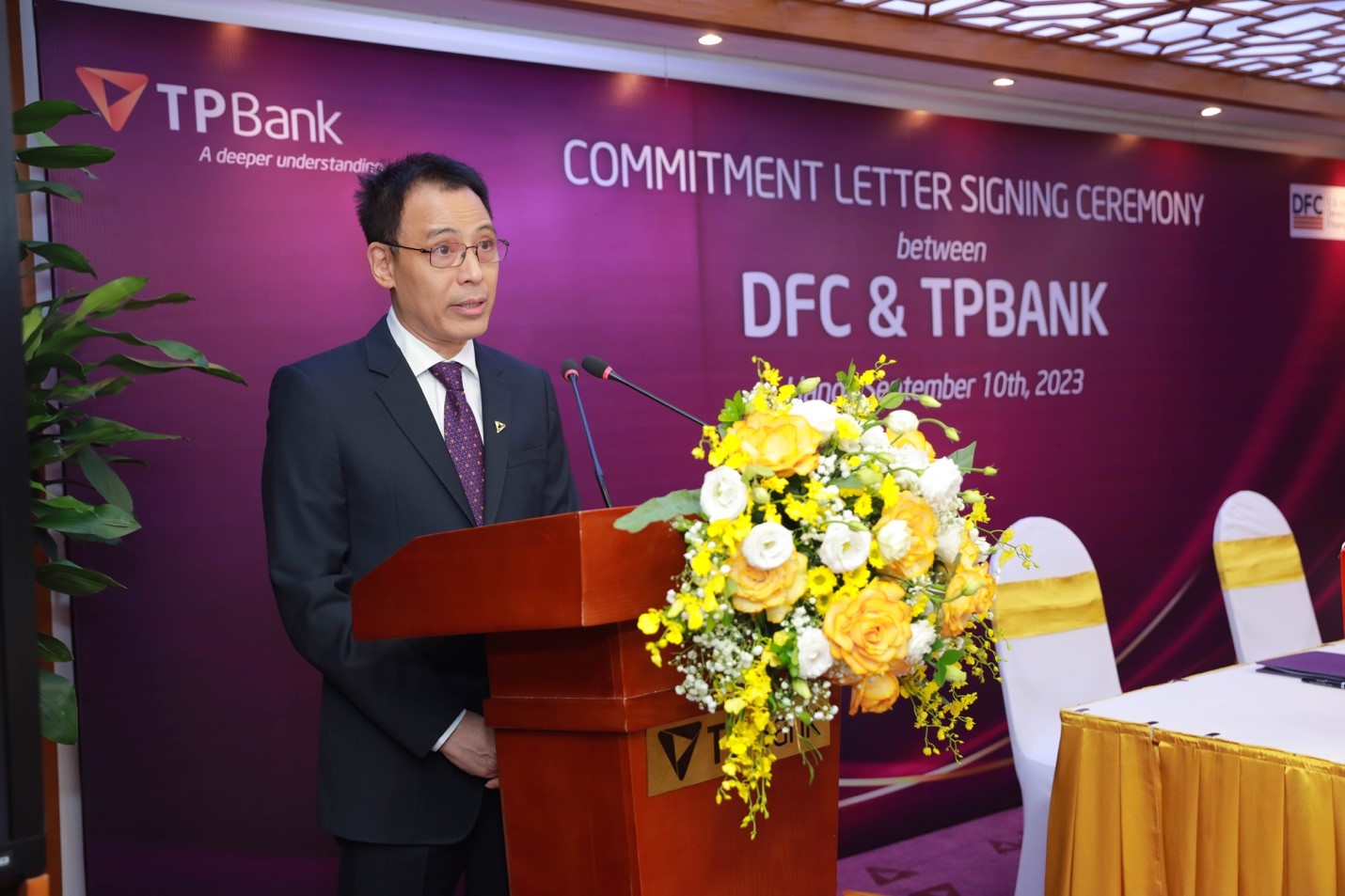 Mr. Do Anh Tu, Vice Chairman of TPBank's Board of Directors, said: "Digital transformation for sustainable development is one of TPBank's consistent directions throughout the decade of transformation and digitization. The bank uses technology to bring funding to more customers while providing the most convenient and easy-to-use financial services for people and businesses while ensuring safety and security. I believe that the credit received through the DFC will bring significant results, enhancing resources for TPBank to continue to offer funds to customers and people who need them, contributing to building a good and sustainable society."
The DFC's commitment to providing a loan of US$100 million coincides with U.S. President Joe Biden's visit to Vietnam, demonstrating the strong and trustworthy bilateral relationship between the U.S. and Vietnam. This commitment is an important step for TPBank, demonstrating its financial credibility and breakthroughs, joining the group of leading banks in Vietnam, asserting its pioneering position in the digital transformation journey, and bringing financial services to all people and customers, contributing to the country's economic development.
Moody's Investors Service has recently upgraded TPBank's credit rating to Ba3, with a stable outlook, affirming the bank's financial strength, good risk control, and long-term development prospects.
The DFC is the U.S. government's development finance organization. It collaborates with the private sector to finance solutions to the most critical challenges facing developing countries. The organization invests in various sectors, including energy, healthcare, infrastructure, agriculture, small businesses, and financial services. DFC's investments adhere to high standards and respect the environment, human rights, and the rights of workers.