As a green apartment project located close to the heart of HCMC, Diamond Lotus Riverside features modern and eco-friendly utilities that meet all the requirements for better health and quality of life for its residents.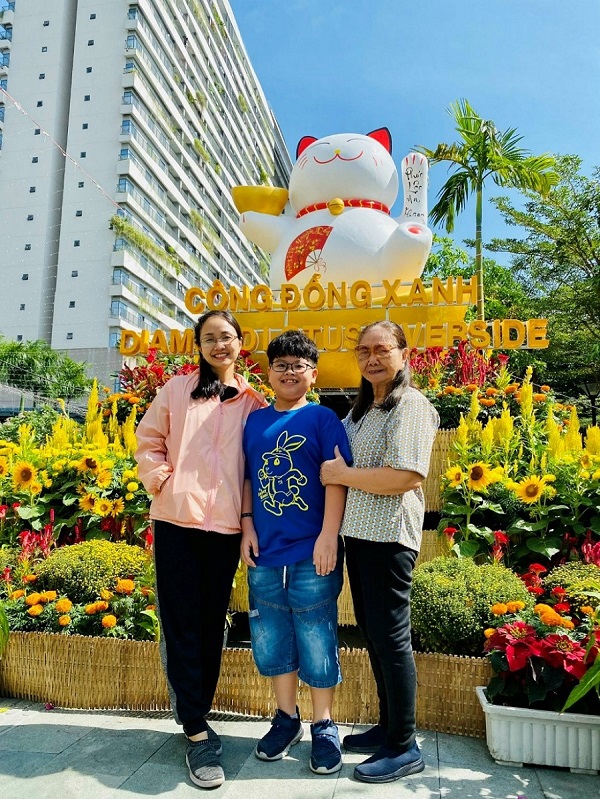 Diamond Lotus Riverside is located at 49C Le Quang Kim Street in HCMC's District 8, only seven minutes from Ben Thanh Market and Bach Dang Port, with easy access to six downtown districts. The project is known as the first high-rise apartment building in Vietnam of the Phuc Khang Mitsubishi Corporation Holding (PKMC), a joint venture between Phuc Khang Group and the leading Japanese company Mitsubishi.
From the very beginning, Diamond Lotus Riverside was designed and constructed under LEED standards of the U.S. Green Building Council (USGBC) and LOTUS standards of the Vietnam Green Building Council (VGBC). Six of the strict evaluation criteria for the green building standards that need to be fulfilled comprise (1) Sustainable site; (2) Water efficiency; (3) Energy and Atmosphere; (4) Materials and Resources; (5) Indoor Environmental Quality; (6) Innovation in Design and Regional Priority.

Diamond Lotus Riverside boasts a highly coveted position close to the heart of the city. With its 300-meter facade facing the river and proximity to the intersection of Doi-Te-Ben Nghe canals, the property provides a unique and refreshing living space that harmoniously blends in with nature. As a result, it has become an attractive destination for those seeking to settle in a "green community". Diamond Lotus Riverside prides itself on its impressive occupancy rate of 84%, the highest among new projects since 2016.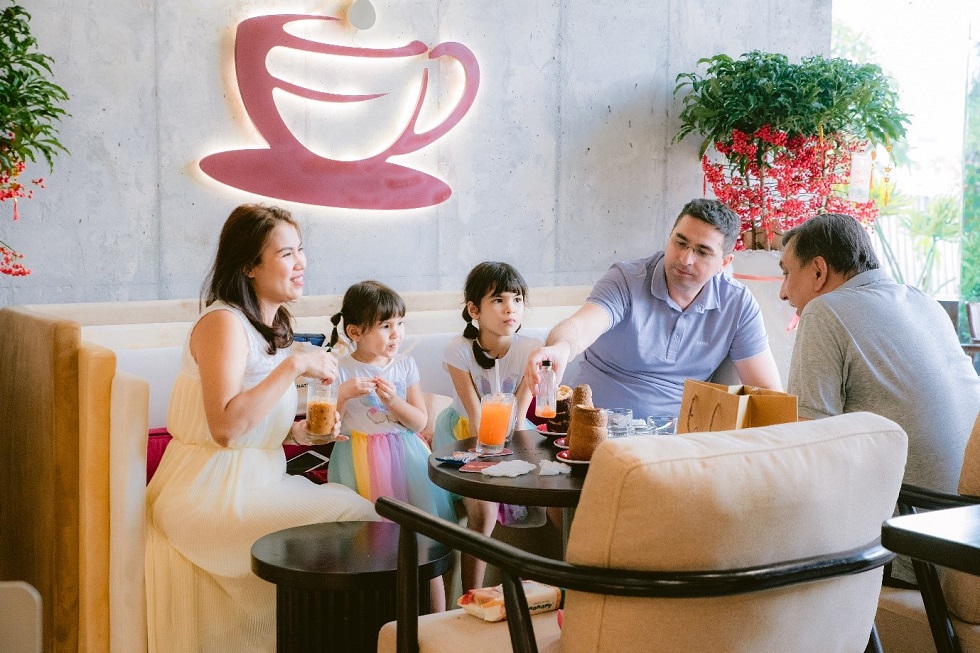 The project covers a total area of over 1.6 hectares with three 22-story residential towers, requiring an estimated investment of VND1,286 billion. The construction density is only 19%, making it one of the lowest-density apartment projects in HCMC. The developer places special emphasis on material and equipment selection to ensure the efficient use of electricity and water resources. According to calculations and measurements, the project can help save about 40% of monthly water and electricity usage compared to the standard model. This not only helps conserve energy and water resources but also helps residents save a large amount of money in the long run.

All apartments at Diamond Lotus Riverside are well-designed and optimized to create convenience for homeowners. The interior decoration style boasts a great harmony between modern and traditional traits. All rooms are arranged to receive wind and sunlight. Each apartment has a spacious layout with a 180-degree view as if it were truly the most luxurious hotel in HCMC.

The project is also widely known for its green facilities, which prioritize health and quality of life. Up to 15.4% of the rooftop area is dedicated to green trees, while only 19% of the total area is used for construction. All living space receives natural lighting, and all direct sun-exposed areas are equipped with Low-E glass, double-layered glass, and a balanced ventilation system to reduce noise, glare, and heat transfer into the homes. The project has over 8,000 square meters of green space, including riverbank parks, parks between buildings, rooftop parks, and greenery on apartment balconies.
The "Sustainable Park", stretching 300 meters along the Doi Canal, was inaugurated in 2020. During the construction of the Sustainable Park, the investor made an effort to preserve all the riverside greenery and develop a diverse biological ecosystem for a better living space for many future generations. At the end of 2021, the green area of over 2,000 square meters along the riverbank was successfully developed with a diverse biological ecosystem.

During the COVID-19 pandemic, Diamond Lotus Riverside's investors strived to ensure the health and quality of life of the residents. They organized various programs to support the residents, such as gifting clean vegetables, facilitating vaccinations, and providing medicine, and health handbooks. Additionally, they made further efforts to bring life back to normal after the pandemic, especially during important traditional festivals such as Mid-Autumn Festival, Christmas, and Lunar New Year. The investors have also organized cultural events with unique art forms such as Don Ca Tai Tu, Cai Luong (traditional music in the southern region), and water puppetry. These efforts aim to preserve and promote the nation's cultural values, as well as connect and enrich the spiritual and physical lives of the residents and the surrounding community.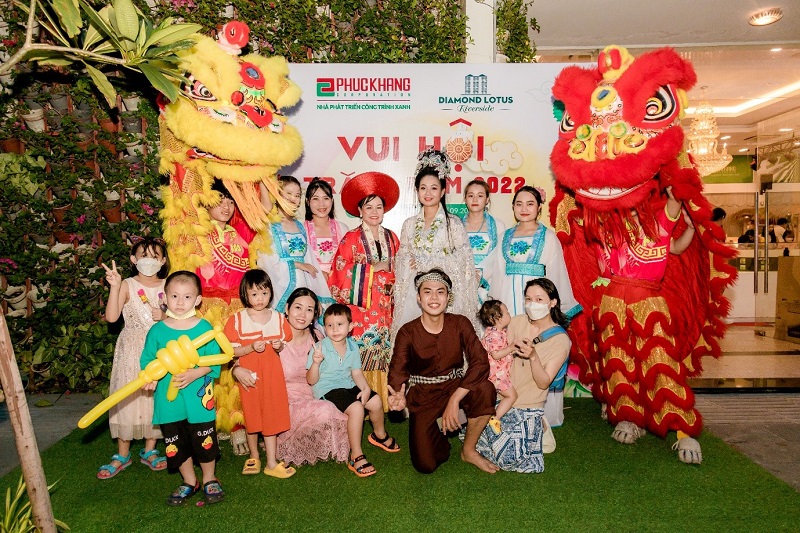 A heartfelt effort can be seen in those practical actions taken to improve the living standards for the community of Diamond Lotus Riverside. Currently, the residents of this eco-apartment project in District 8 can enjoy outstanding facilities such as a swimming pool, children's playground, outdoor public exercise area, gym, yoga studio, GS25 convenience store, kindergarten, luxurious cafe, restaurant, and completed Winmart supermarket. The investor will continue to work with reputable partners to open more healthy dining restaurants and organic food stores, ensuring the good health and quality of life of residents and their families as a priority.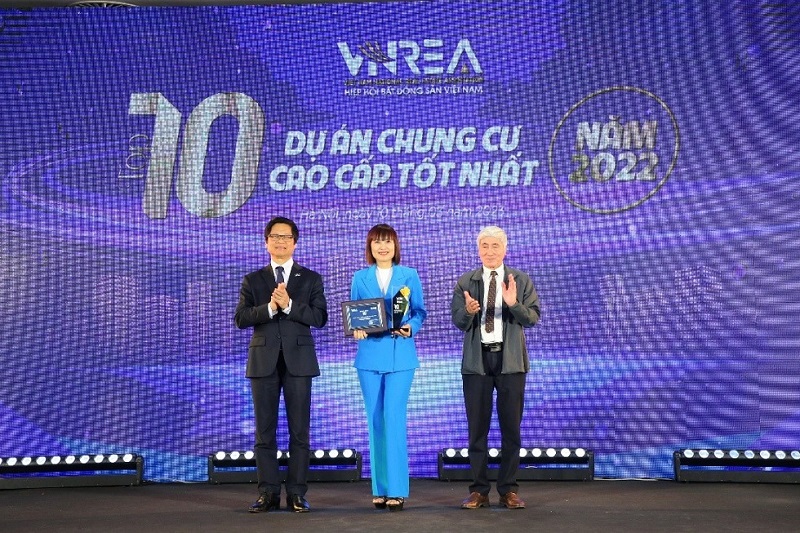 Diamond Lotus Riverside has continuously received numerous prestigious awards: Top 10 Best Luxury Apartment Projects of 2022, Top 5 Best Smart Green Construction Projects of 2021, the title of "Most Liveable Apartment Project in 2021", and the Lotus Provisional Certification by the Vietnam Green Building Council (VGBC), which is the first step to the Lotus Certification. The reputable awards of Diamond Lotus Riverside are clear evidence of the practical contributions of the project in creating a green, safe, healthy, and community-friendly living environment in today's society.