Hoi An City in Quang Nam organized a special event showcasing the "O Collection" of recycled fashion along Bach Dang Street on March 25 as part of the city's efforts to support the Earth Hour 2023 campaign.
The event attracted thousands of domestic and international tourists.
Models of all ages showcased the beauty of traditional Vietnamese dresses from the "O Collection" at the event, such as ao dai and ao ba ba, made from leftover fabrics.
The collection was inspired by the art of Kintsugi – an ancient Japanese art of transforming broken ceramics into beautiful works of art by mending them with real gold.
The event conveyed the message of empowering vulnerable groups in the community to participate in environmental protection efforts as well as turn the earth into a green planet for the future.
Five untouched caves discovered in Central Vietnam
Experts from the British Cave Research Association (BCRA) discovered five new untouched caves when exploring the mountainous limestone area in Lam Hoa Commune, Tuyen Hoa District, Quang Binh Province, from March 12 to 16.
With a total length of 3.34 kilometers, the five caves, namely Hung Tru 1, Hung Tru 2, Hung Tru 3, Hung Ka Vong 1, and Hung Ka Vong 2, are all wet. 
The experts also discovered a cave with a fairly large underground stream, but they couldn't fully explore it due to a lack of proper equipment. The team will prepare boats, rescue equipment, and diving tanks to further explore the cave.
"Some caves with large spaces and beautiful stalactites have great potential for tourism development. Local authorities are mooting building safe and impressive destinations to serve visitors in the near future," Nguyen Hoai Nam, secretary of the Tuyen Hoa District Party Committee, told vnexpress.net.
The last maker of royal pillows passes away
Cong Ton Nu Tri Hue, who was born into a royal family of the Nguyen Dynasty, passed away at her house in Huong Tra Town, Thua Thien Hue Province, at the age of 101.
Hue was one of the great-granddaughters of King Minh Mang (1791-1841). Her family used to make a living by conducting traditional medicine. She helped her father in producing herbal medicine when she was young. Later, she was sent to the royal palace to learn sewing and embroidery.
During the resistance war against French occupation, Hue and her husband, an owner of a pharmacy, secretly supplied medicines for resistance troopers. In 1954, she worked at Kien Thai Vuong Palace, serving Empress Dowager Tu Cung, King Bao Dai's mother. She was taught how to make some types of royal pillows there.
In 1992, Hue and her family shifted to farming as their livelihood. She also sewed ao dai (Vietnamese long dress) upon request to earn some extra money. Despite her old age, she still made royal pillows as a way to protect a traditional craft.
The last maker of royal pillows has just passed away in the imperial city of Hue, thus bringing with her the traditional craft, according to vietnamnet.vn.
Scrap collector taking care of stray pets for years
Nguyen Thi Anh Tuyet, 60, who lives in District 12, HCMC, and makes a living by collecting scraps, has taken care of stray or abandoned pets at her house over the past 26 years.
In 1997, Tuyet's father sold land and gave his six children 3.5 taels of gold each (tael = 37.5 grams). Tuyet then bought a large plot of land by the bank of the Vam Thuat River in District 12's An Phu Dong Ward and built a small house to live a new life.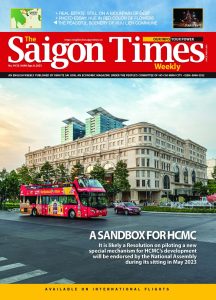 From the first dog Tuyet kept as her friend in 1997, she began to take care of any stray or abandoned cats and dogs she happened to find when hanging around to collect scraps. At present, she looks after nine cats and seven dogs, feeding them three meals a day. She asks for some more food for the pets from her neighbors and other households on the way.
To prevent the dogs and cats from fighting each other while feeding, Tuyet told thanhnien.vn that she keeps the dogs out in the garden while feeding the cats in the house, and vice versa.