The competition in the dairy industry is heating up as Germany's largest dairy co-op enters Vietnam with a wide range of high-quality products.
German dairy products enter the Vietnam competition
Since the EU-Vietnam Free Trade Agreement (EVFTA) took effect, Vietnam's import turnover of milk from the EU has continuously risen. According to the General Statistics Office, the import turnover of milk in 2018-2020 reached 1 billion USD, then grew to nearly 1.2 billion USD per annum in 2021-2022, mainly from New Zealand and Australia. Recently, the competition has become even more fiery as DMK Deutsches Milchkontor GmbH (DMK Group) – the largest dairy co-op in Germany – officially made its way into the market.
DMK Group has been in the Vietnam market before 2018 through local distributors. After some years of getting consumers' acceptance, DMK Group officially established its first representative branch in Vietnam and Southeast Asia on February 23rd, 2023. The grand opening ceremony was held in the presence of the German Consulate General, the German Chamber of Commerce and Industry in HCMC, and the senior management of DMK Group.
DMK Dairy Vietnam also signed a memorandum of understanding with its strategic partners at the event, determining to conquer the market of 100 million people. As the third largest population in ASEAN and the 15th largest in the world, along with a young population structure in which 57% are under 35 and the high consumption of milk, Ingo Müller – CEO of DMK Group – appreciates the potential for growth and the significant role of the Vietnamese market in the region.
DMK Group is Germany's largest dairy cooperative, with a scale of 7,500 employees and more than 20 dairy facilities, according to the World Benchmarking Alliance. The group purchases and processes around 6.3 million tons of milk from 5,200 farmers each year, generating revenue of 5.5 billion euros, as accounted for in the 2021 financial report.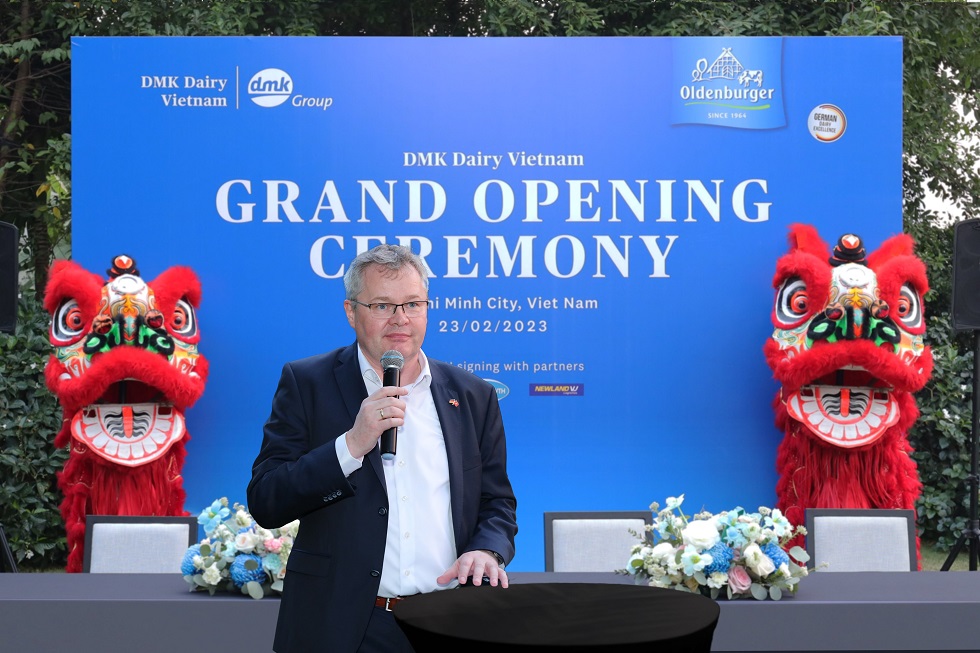 "Our company has proven itself to be a reliable supplier even in times of crisis and thus makes a significant contribution to providing people with a safe supply of high-quality food. I am pleased that we can significantly expand our on-site presence here in Vietnam today," CEO Ingo Müller emphasizes in his speech at the ceremony event.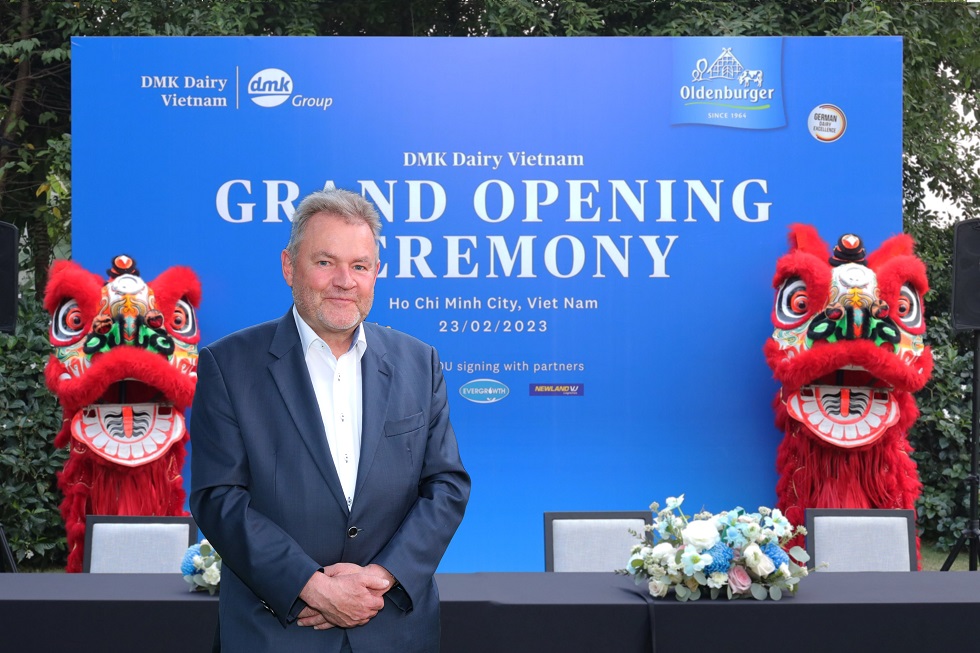 "Anticipating the demand for milk and dairy products, DMK Group has strongly expanded our global business operations in Vietnam with the milestone of the first official branch. DMK has been focusing on supporting local customers, increasing access, and promoting customer engagement in Asia. In this way, we expect our new products to quickly reach consumers and food service clients, starting with increasing the coverage and awareness of the flagship brand Oldenburger. At the same time, we hope DMK Dairy Vietnam will become the new development center of DMK International in ASEAN," said Mr. Michael Feller – COO of DMK Group's International Business, revealing the upcoming strategy.
"Debuting" with the Oldenburger
DMK Group specializes in milk-processing and high-quality producing with many world-famous and reliable brands. To convince the market of 100 million people, DMK Dairy Vietnam will introduce the brand Oldenburger known as German Dairy Excellence, offering Vietnamese consumers and F&B clients with much more premium products. The products vary from cheese, butter, and yogurt to baby food, whipping cream, whey, and vegan products.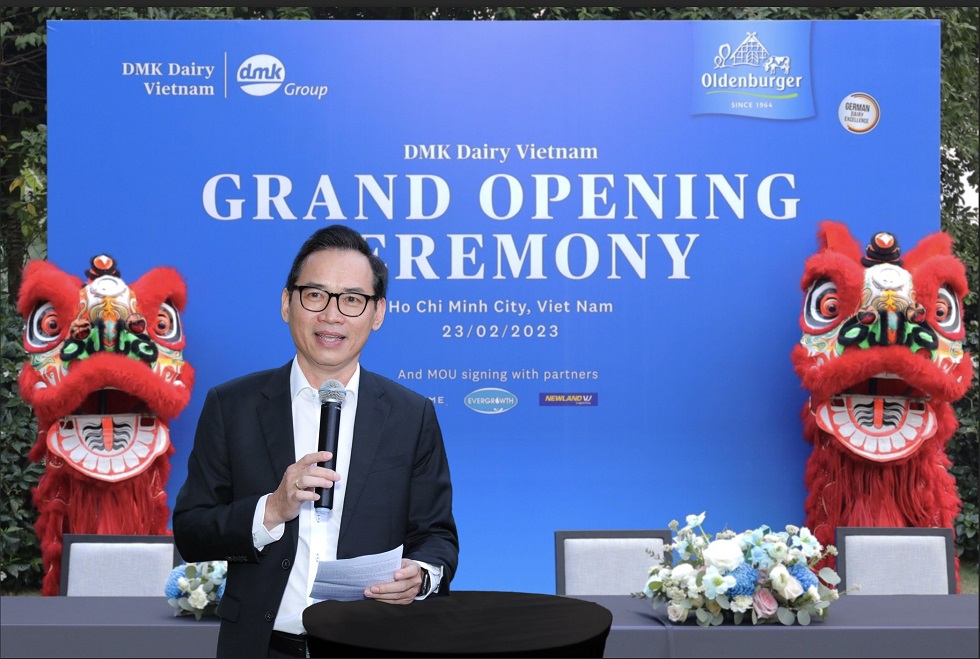 "The message German Dairy Excellence of Oldenburger as a brand stands for deep-rooted farming and dairy know-how combined with high-tech production, i.e. 'Made with German dairy excellence'. We are already a reliable player in the region with our high-quality dairy products for consumers, food service customers and professional chefs. With Oldenburger, we offer a variety of products – from long-life dairy products to cheese. The most successful Oldenburger products in Vietnam to date are Oldenburger Professional Mozzarella cheese, Oldenburger Professional Whipping Cream, and Oldenburger UHT Milk – this is where we want to start and build on this success in the coming years. I am pleased to be able to be the first DMK contact for our local customers from the new office," said Dang Le Hien Hoa – CEO of DMK Dairy Vietnam, who has 5-year experience in regional management.
Oldenburger products with German quality are expected to meet the increasing demand and purchasing power of the middle class in Vietnam. According to Research & Markets, the average milk consumption per capita will increase from 28 liters in 2021 to 40 liters in 2030. The demand for cheese and butter also rapidly increases due to the influence of Western cuisine, especially in urban areas.