Many households along Dinh Cong Trang Street in Ward 7, Da Lat City, Lam Dong Province have donated 1,620 square meters of land for widening this street.
Dinh Cong Trang Street, which is 700 meters long, was formerly narrow with many potholes. It used to be dirty in the sunny season and muddy when it rained.
In early 2022, the Da Lat City government decided to spend VND15 billion upgrading the street, including VND3.3 billion for land compensation, which was estimated to be tens of billions of dong at market price at the time.
Responding to the appeal of the local authorities, about 60 households along the street donated their land, tens of square meters each, for widening the road, totaling 1,620 square meters.
Nguyen Nhat Thong, vice director of the Investment-Construction Management Unit of Da Lat City, told thanhnien.vn that the households on the road agreed to donate their land for the project without receiving any compensation from the authorities. This helps the street widening be completed two months ahead of plan, and save over VND3 billion worth of compensation for the local government.
Japanese students build houses in Cao Lanh
From February 20 to 24, a delegation of 57 Japanese students built four houses for the needy in My Long and My Hoi communes, Cao Lanh District, Dong Thap Province.
Divided into three teams, these young volunteers built the foundations and houses. The recipient households would complete the final changes for their houses. Each of these households could receive VND15 million as a non-refundable fund, and VND30 million in cheap bank loan as part of a credit program of the Women's Union of Cao Lanh District. The recipient would cover the remaining expense, if any.
During the days in Cao Lanh, the Japanese students, aged from 19 to 21, also met with young local people and tasted some local dishes.
Nguyen Thi Nguyet, vice head of the district's Women's Union, told tuoitre.vn that Japanese students chose to do their voluntary job in Vietnam as part of the activities to strengthen Japan-Vietnam cooperation on the occasion of the 50 years of diplomatic relations between the two countries.
The delegation of Japanese students will continue to build houses for the poor in the province's Cao Lanh and Thap Muoi districts in March this year.
A man walks across Vietnam collecting metal nails 
Tran Duc Trung, 35, who lives in the central province of Nghe An, made a pushcart with a 600-centimeter-long and 10-centimeter-wide magnet bar attached under the chassis to collect iron scraps and nails on the roads during his walking journey across Vietnam.
He told thanhnien.vn that he witnessed many people having their vehicles damaged, even having traffic accidents related to nails and scattered iron on the roads.
"If you see a piece of broken metal or nail on the road but refuse to collect it, other people may have a traffic accident. I hope my journey will help improve traffic safety awareness," Trung shared.
He spent nearly a year preparing for his trip and started his journey of walking and collecting metal nails across Vietnam from Ca Mau in September 2022.
Drinking straws made from plant
Cỏ bàng (Lepironia articulata) is a natural plant that grows abundantly in the Mekong Delta provinces of Dong Thap, Long An and Kien Giang.
Locals often make handicrafts by weaving the dried plant. Recently, Phan Tan Phat, director of ECO PTP Co., has succeeded in processing the plants with hollow stems into drinking straws to replace plastic ones.
On a trip to some northern provinces, Phat saw that many coffee shops there served drinks to guests with straws made of bamboo. Since more and more guests have preferred environment-friendly products to plastic ones, he began to think of starting up his own business from cỏ bàng.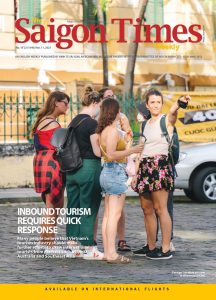 Phat told tuoitre.vn that he started buying large volume of this plant from his home province of Dong Thap, and from Long An and Kien Giang to make drinking straws. He added the hollow stem plants are washed several times, cut into short pieces, dried, finely ground and packaged. The cutting and drying processes are done with machines, while other processes are done manually.
ECO PTP is ordered to produce 50,000-100,000 cỏ bàng straws a month on average. Last year, the company marketed some two million straws, half of which were exported to the U.S. and Europe.