On October 7, 2022, at the Asia Pacific Enterprise Award 2022 (APEA) ceremony, Dr. Emin Turan, Country Lead of Sanofi Vietnam, was honored as a recipient of Master Entrepreneurs in Asia 2022.
Information on Dr. Emin Turan is available on APEA's official website: Sanofi Vietnam | APEA – Asia Pacific Enterprise Awards
Asia Pacific Enterprise Award (APEA) is the leading prestigious business award in Asia, organized by Enterprise Asia to honor businesses and leaders with outstanding achievements.
"At Sanofi, the patient takes center stage. Every decision that we take and every action that we put together are aimed to realize our purpose of 'chasing the miracles of science to improve people's lives'. This award is a recognition not only for me but for all of Sanofi Vietnam on that meaningful journey," said Dr. Emin Turan in his speech at the ceremony.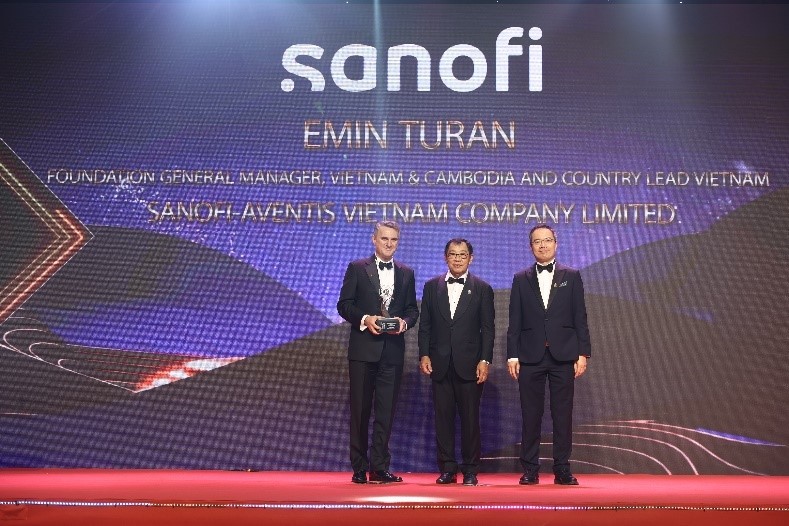 Having spent more than 20 years assuming leadership positions in many countries of Sanofi presence in many different roles in the Pharma/Biotech industry, Dr. Emin Turan with extensive leadership experience has contributed to many positive changes to engage and develop the teams at countries where he had been and are working. In addition to leading Sanofi Vietnam, Dr. Emin Turan also holds many important responsibilities, most recently as Chairman of Pharma Group (the Pharmaceutical Sector Committee of EuroCham), to step by step promote the medical environment for the patient's sake and the Vietnamese economy.
Sanofi Vietnam, a subsidiary of a French-based leading business in healthcare innovation solutions, operates under a dedicated motto of enriching life by pursuing scientific miracles.After a 60-year development in Vietnam, Sanofi now has two offices, a TGA-GMP certificated facility in the Saigon Hi-tech Park, and a product research and development center as one of the firm's five such centers in Southeast Asia.