For DXC Vietnam, conducting corporate social responsibility (CSR) activities stems from the information technology company's persistent compassion for the community, especially underprivileged people. This explains why the company has launched numerous CSR programs, generously extending aid to poor people across the country.
"At DXC Vietnam, we value our society, our colleagues and the communities in which we live and work. Our active involvement in the communities has brought more benefits for the society," said a leader of the company.
The 1,400-strong IT company this year has spent VND1.2 billion on CSR programs, almost on a monthly basis, which it refers to as a humble act to accompany the community.
"We all believe that even with a small action, with our dedication and passion towards a great cause, we will be able to inspire others and help those who suffer or are in need, giving them more hope to go through difficult times," said the company's representative.
Joy for the poor
In January, DXC Vietnam coordinated with the Red Cross of Ho Chi Minh City to organize the Lunar New Year Program named "Tết Nhân Ái" for low-income families in Cu Chi District. The company presented 100 Tet gift bags worth VND1 million each to poor people in the outlying district. "The Lunar New Year is a time for joyful family reunion with warm welcoming and happiness and this has always been an opportunity for all of us to share our love to our local community," said the company.
In the same spirit, DXC Vietnam in May collaborated with the HCMC Sponsoring Association for Poor Patients to offer free cataract surgeries to assist 150 poor patients in regaining their eyesight. In addition, the company presented 150 grocery gifts to these patients.
"This definitely helps underprivileged people to have a better vision to enable them to enjoy life to the fullest," said the company's representative, adding the cost for cataract operations plus the gifts amounted to VND135.6 million.
Apart from direct support for poor people, DXC Vietnam in June inaugurated a concrete bridge in Phu Phung Commune of Ben Tre Province, which will help remove the obstacles and create an enormous difference for the community. The cost of building this bridge spanning 40 meters and the connection roads totaled VND481 million.
Building this new bridge will open a bright prospect and future for the next generation as well as significantly improve the life quality of the residents in the locality where more than 800 families are going through the bridge everyday.
It is interesting to learn that in March 2023, upon the call from the Red Cross of HCMC to help people hit hard by earthquakes in Turkey and Syria, Mr Phuong Ngo, Managing Director of DXC Vietnam, handed VND200 million to support humanity relief and reconstruction efforts in affected areas in these two countries. "Our hearts go out to those who have lost loved ones, homes, and we pray for the safe recovery of all those who have been injured and for the comfort of those who have been impacted by this crisis," said the company's managing diretor.
Support for education
DXC Vietnam in July donated 84 sets of desktops. The beneficiaries included two schools in Dong Thap Province being donated 30 sets of desktop computers and 15 scholarships; Phuoc Minh School in Tay Ninh Province receiving 14 sets of desktop computers; the Department of Education and Training in An Giang Province receiving 15 sets; and the HCMC Association for Support of People with Disabilities and Orphans in Cu Chi District with 15 sets of computer.
"We strongly hope that these devices open up a world of digital opportunities and will improve access to technology, literacy, education and employment opportunities for the people, especially the youths in these communities," said the company.
DXC Vietnam has recently started a project, in collaboration with the HCMC Sponsoring Association for Poor Patients, to install three water filtration systems for three schools in Chau Thanh Commune of Soc Trang Province. The project, worth VND180 million, will be handed over next month, and will improve hygiene and safety for students and teachers at the three schools. "Supporting education and healthcare for children is a fundamental part of corporate social responsibility," said the company.
In March and May, DXC Vietnam also presented 10 scholarships worth VND5 million each to 10 IT students of University of IT and University of Science in HCMC. This is the company's annual scholarship program which is to encourage and recognize outstanding students in the information technology field. In addition, DXC Vietnam sponsored VND40 million for the IT Challenge Contest 2023 which is annually organized by the University of Science in HCMC.
Commenting on DXC Vietnam's multiple CSR programs this year and the value for the community as well as for the company itself, Managing Director Phuong Ngo said: "(Such activities) have not only touched many people's hearts but also helped forge a stronger bond between employees and the company, raising morale in the workplace, making each one of us feel more connected."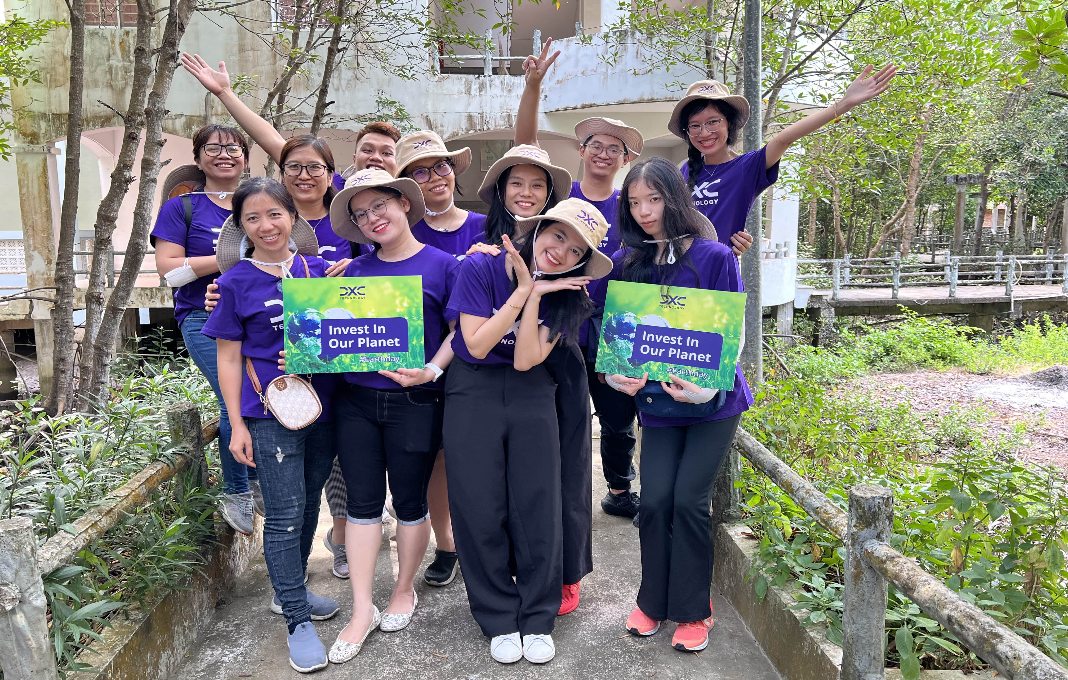 Apart from CSR activities targeting the underprivileged and students, DXC Vietnam has also pursued sustainable development as a common trend among multiple corporations. In April this year, the company celebrated the Earth Day by gathering its employees to plant 230 trees in Can Gio District with the aim to mitigate the impact of climate change, reduce damage from flood and create a safe habitat for wildlife. On the occasion, DXC Vietnam also offered gift packages worth VND1 million each to 24 families of forest rangers there to encourage them in forest conservation.
"By teaming up to give our time, energy, creativity and financial support to our communities, we move forward with positive changes that help people and our community grow stronger, find new possibilities, new opportunities and achieve progress," said the company's managing director.