The boom of e-commerce in Vietnam has opened up novel opportunities and posed looming challenges to the economy. Although the marketplace looks promising for businesses and consumers, Vietnam's digital commerce has a long way to go before reaching its full potential.
In an email interview with The Saigon Times, Emmanuelle Gounot, chief executive officer of Intrepid Vietnam, discusses the pros and cons of the phenomenal rise of e-commerce in the country. Excerpts:
The Saigon Times: What are your thoughts on the post-pandemic performance of e-commerce in Vietnam given that its rise has been a significant factor in the country's digital economy expansion?
Emmanuelle Gounot: We foresee Vietnam growing faster than the regional average over the next three years, as highlighted by the gross domestic product (GDP) growth forecasts and the e-Conomy SEA 2022 report. This growth can be attributed to several factors, such as the diversification in commerce channels and social commerce quickly gaining traction in Vietnam from both engagement and sales perspectives. Further penetration of e-commerce in rural areas paired with continued development in the logistics industry will also be a key factor in Vietnam's consistent e-commerce growth.
What are Vietnam's distinctive advantages that have fostered e-commerce expansion?
Vietnam's fast-growing economy has a ripple effect on the consumption market. Vietnam's GDP grew 8.83% in the first nine months of 2022, the highest comparing 2011-2022, and forecasts continue to be optimistic. This paired with a huge market with a high rural population and improved logistics, will continue to foster the rapid expansion of e-commerce in the market.
Vietnam is also the main hub for a high-quality skilled tech workforce driving innovation in the industry. And, of course, the Government's support in empowering online operations, especially for small and medium-sized enterprises and driving forward digitization initiatives.
Given the substantial investments in 4G and 5G infrastructures over the years, some observers said Vietnam's affordable mobile internet access had been a game-changer in the country's e-commerce progress. What is your opinion?
Vietnam has very strong mobile adoption potential and is a prime market for mobile devices owing to a demographic with a 99% literacy rate for people aged 15-24 in 2019 (according to the World Bank) and a mobile-first population with 93.5 million smartphone users, of which 73.5% are adults (according to the Department of Telecommunications under the Ministry of Information and Communications statistics).
According to the FT-Omdia Digital Economies Index, Vietnam ranks first in connectivity and device penetration. Easy access to devices and mobile internet has been a game changer in e-commerce progress as consumers not only have easy access to information but are also supported with a seamless customer experience in accessing digital ads, virtual product try-on, live streams, as well as ease in completing purchases and making digital payments.
Among counterfeit goods, private data leaks and time-consuming delivery, which obstacle has been the most difficult to overcome in Vietnam's e-commerce activities?
All three obstacles are very different in nature, but one thing they have in common is that they have provided opportunities for innovation in tackling them. These obstacles have paved the way for improved hygiene checks with privacy and data commitments and more stringent requirements for quality control and innovative measures to deliver goods to consumers in the fastest time frame.
Social commerce is growing in popularity, given various live shopping and social marketing forms. What are your thoughts on the prospects of the sub-sector?
We are observing growing traction for social commerce channels such as TikTok. According to the Southeast Asia SYNC Report, social networks account for half of the online discoveries in Vietnam, 22% being videos, while social media and related tools such as messaging are key channels for Vietnam's digital shoppers in the evaluation stage, accounting for 44%. Data published in ByteDance's advertising resources indicates that some 40.8% of the total population in Vietnam uses TikTok.
These numbers are a testament to the market's massive potential and interest surrounding social commerce. From a business standpoint, we have observed more brands eager to jump on the TikTok bandwagon, driving fierce competition in the battle for consumer attention. There was also an increasing emphasis on sellers to create engaging content that drives conversion. Bearing this in mind, platforms are rapidly introducing new features and capabilities to support the surge in demand, and we can definitely expect to see more innovation moving forward.
Vietnam has recently seen a boom in transport and express delivery services due to the surging e-commerce demand. With both local and international companies joining the market, how do you evaluate the chances of each segment in the heightened competition?
From a general standpoint, the surge in transport and express delivery services benefits sellers greatly. Locally, in parallel with traditional marketplaces such as the likes of Tiki with TikiNow, we are observing a rise in the demand economy and conversational commerce, all striving to aim for faster delivery. International sellers, upon seeing the potential of the market, will aim for improved delivery times. At the end of the day, transport and express delivery providers which can successfully anticipate sellers' needs and support sellers will have the upper hand.
The rise of e-commerce has raised tax loss concerns in Vietnam and the world. What suggestions do you have for the Vietnamese Government to improve the legislative framework and address the issue?
We are not in a position to make recommendations to the Vietnamese Government and we see many initiatives are already underway. Vietnam has approved a strategy for tax reform until 2023 to modernize the sector in line with the best global practices. We expect integrated and streamlined systems that will simplify administrative processes and reduce compliance costs.
In parallel, the Government has also supported the rise of digital payments, which aside from consumer convenience also make tax enforcement easier.
Amazon Global Selling, a leading e-commerce export program connecting worldwide businesses and consumers, launched a project to support Vietnam in building a workforce and raising the capacity of local enterprises in June. What is the rationale behind the initiative? Will educational and training cooperation gain momentum in the Vietnamese e-commerce industry?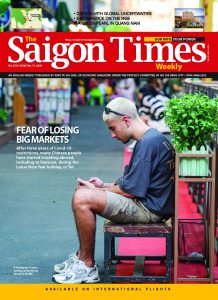 Amazon's initiative helps drive cross-border e-commerce in Vietnam, connecting global players looking to diversify their sourcing from China. These tools and training sessions offer Vietnam's sellers great benefits, especially in terms of understanding and working with the global marketplace with a different module compared to the usual local players, namely Shopee, Lazada, Tiki and Sendo, among others.
Educational and training cooperation will continue to gain momentum in Vietnam moving forward, especially as the market develops and becomes more competitive. Businesses and e-commerce professionals will pursue knowledge exchange opportunities as a differentiator to succeed and stand out in the market.
Reported by Do An