Lam Khuong Quyen, a 35-year-old man in Can Tho City, can earn some VND30 million per month from the cultivation of orchids on the roof of his house.
In 2016, Quyen built an orchid garden covering 500 square meters on the roof of his house. This rooftop orchid garden is equipped with ventilation fans and automatic watering machines. The main orchid varieties grown in the garden are various Dendrotrophe species, which are the mutations of the Dendrobium species.
Quyen now has more than 3,000 pots of Dendrotrophe orchids of distinct colors in his rooftop garden. These orchids, some of which are exceedingly rare, can be sold from VND100,000 to VND30 million a pot, which helps Quyen earn up to VND30 million a month on average.
Quyen told thanhnien.vn that he has plans to open more rooftop gardens to raise the number of orchids to 8,000-10,000 pots.
Strong will of a visually impaired boy
Phan Khuong Nghi lost his vision right after he was born in the Central Highlands province of Kon Tum. Growing up in the love of his parents, three years ago, at nine years old, Nghi went to HCMC to live and learn at Thien An Home, a shelter for children with visual impairment in Tan Phu District.
Now at the age of 12, along with the national education curricula, Nghi has learned how to play such musical instruments as piano, organ, flute and harmonica. Video clips showing the boy playing these musical instruments have gone viral on social media.
Vu Thi To Lan, Nghi's mother, told thanhnien.vn that doctors once propose an eye surgery for her son when he was a few months old, the result of which was 50/50 between life and death. She refused the proposal to protect the life of her child.
Hoang Thi My, manager of Thien An Home, said Nghi loves musical instruments and he always tries to learn how to play as many of them as he could. She added that all the sisters at the shelter have created favorable conditions for him to realize his dream.
A veteran looking for soldiers' remains
Do Tuan Dat, 75, is a veteran living in Hanoi. He used to be a soldier driving a truck to transport food and weapons to soldiers fighting on southern battlefields. After the war ended in 1975, he and some fellow soldiers managed to bring the remains of two fellow drivers who died of mine in 1971 from Quang Nam Province to the war martyr cemetery in Quang Tri Province for their relatives.
In the end of the 1990s, when Dat's children grew up and had their own lives, he began to materialize his wish that he had cherished for a long time: looking for the remains of deceased soldiers throughout the country. From 1998 to 2010, he could find and take back just 11 sets of martyrs' remains to their families.
Dat and his friends, who are veterans and entrepreneurs, then established a fellow soldier club in Hanoi. With the help of many partners from the nation's 63 centrally governed cities and provinces, they could be able to find more soldiers' remains. Dat and his wife contribute VND200-300 million per year for this good deed.
Over the past 25 years, Dat and his wife have had to sell land and replace cars several times to continue their job. So far, he and his friends have returned over 300 sets of remains to their families, vnexpress.net reported.
Young people collect garbage from polluted sites in Nghe An
Nghe An Xanh Group, founded in February 2023, aims to gather young people to collect waste at polluted sites and raise public awareness over environmental protection in Nghe An Province.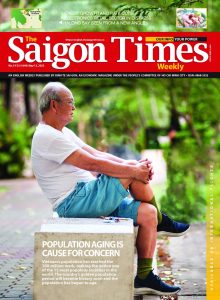 The group currently has four official members, all students of Vinh University, and dozens of volunteers.
"Although it is dangerous to immerse in polluted canals, ponds and lakes to collect garbage, we are willing to do that to build environmental awareness among the community," Dang Thong Hung, co-founder of the group, told tienphong.vn.
Those young people often collect garbage in rivers and lakes with basic tools such as baskets, plastic bags and rakes. They wear rubber gloves, masks and waterproof protective clothing. They usually spend five or six hours, sometimes even a whole day, cleaning a polluted site.