Vietnam's economy continued to expand in the second quarter of the year, with gross domestic product (GDP) growing 7.7% year on year, the highest quarterly growth rate in 11 years.
Upbeat performance
HSBC in its recent report, "Vietnam at a glance", attributed the high growth rate to the tailwind of strong broad-based recovery across sectors. Similar to many countries, fading Omicron risks and easing restrictions have set the basis for Vietnam's return to normalcy.
Services, which once bore the brunt of an economic hit, have seen a meaningful recovery. In particular, tourism-related and consumer-facing services have largely benefitted from sustained re-openings. Meanwhile, manufacturing continues to soar, taking exports to historical highs.
Tourism is making headway as the summer travel season has started, the bank remarked, adding it is encouraging to see a significant improvement in services. Thanks to the removal of major local curbs and border restrictions in mid-March, travel-related sectors have started to see a substantial pick-up in tourist arrivals. In the second quarter of 2022, Vietnam welcomed 500,000 visitors, almost five times more than those in the first quarter, taking the total number of tourists to 600,000 in the first half of this year.
Prior to the pandemic, 80% of tourists came from Asia, topped by those from mainland China (32%) and Korea (24%). Now, only 65% of tourists are from the region: European (16%) and U.S. (11%) tourists have accounted for a large chunk of tourists post pandemic, right after Korea (18%). The Vietnam National Administration of Tourism (VNAT) set an ambitious target of 5 million foreign tourists in 2022, a little shy of 30% of 2019's level. However, the recovery in tourism is likely to be gradual, particularly given the lack of Chinese tourists.
Meanwhile, retail sales overshot 17% year on year in the second quarter, signaling a return of rebounding household consumption. Part of the success was attributed to a gradual recovery in its labor market. The unemployment rate dropped to 2.3% this quarter, while employment continued to expand close to its pre-pandemic levels.
Aside from helping domestic demand recover, Vietnam's manufacturing has proved to be in a league of its own. All signs are pointing in the same direction of a firm manufacturing growth. Albeit partly due to favorable base effects, industrial production growth accelerated to over 25% year on year in the second quarter of 2022.
Export growth hit an impressive pace of over 20% year on year in the second quarter of this year, a third of which came from firm computer and smartphone shipments. However, textiles, footwear and machinery registered decent growth, indicating that Vietnam's external engine is roaring again. However, import growth has been strong too, hitting over 15% year on year in the second quarter of this year.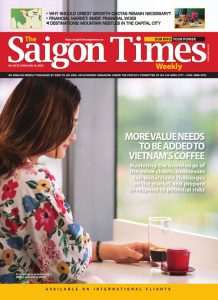 The risks remain
Vietnam has benefited from a meaningful economic re-opening. Domestic demand is getting back on track, while its external engine continues to impress. That said, it needs to be mindful of rising risks to growth, particularly from surging energy prices.
According to the bank, the impact of high energy prices is becoming increasingly clear. For one, elevated commodity prices have turned the trade balance into a deficit in the second quarter, likely exacerbating the deteriorating current account. Also, despite a firm rebound in household consumption, high oil prices will probably take a bite out of residents' wallets, dampening the pace of its continued recovery. Price pressures have started to kick in, albeit at a still manageable pace compared with regional peers.
HSBC forecasts Vietnam's economy to grow 6.9% in 2022, likely topping the region. But it trims the 2023 growth forecast to 6.3%, considering mounting downside risks, particularly from the energy side. On prices, inflation is expected to average 3.5% in 2022, but the inflation momentum is likely to temporarily exceed the 4% ceiling for some time, increasingly calling for monetary normalization.
One bright spot in Vietnam's capability to guard against external risks lies in its consistent FDI inflows, providing an anchor to its core balance. On a rolling basis, strong FDI inflows were able to offset current account deficits in the past quarters. FDI inflows to its manufacturing sector continued to rise, reflecting investors' unwavering interests and confidence in Vietnam's sound fundamentals.