To continue accompanying the previous batches of students and welcome new young people with aspirations to pursue their education, in 2021, the ASEAN leading conglomerate SCG has given 300 SCG Sharing The Dream Scholarships, valued at more than VND2.1 billion, to high school and university students across the country. This reaffirmed SCG's long–term commitment to human development and a better living in Vietnam.
Continuing support for the dreams of young people
Being a flagship program with 14 years of operation, the SCG Sharing The Dreams Scholarship has been invested and developed to bring considerable benefits to students. Not being just a one-time financial support, the program also keeps following up with young people who have received scholarships in previous years. In 2021, SCG continued to give 32 scholarships to students who had also received the scholarship in 2018 and 2019 together with 260 scholarships to students across Vietnam. In the context of COVID-19, these students have overcome the challenges and difficulties to gradually broaden their knowledge, sharpen their skills, achieve good academic results, and contribute to the society.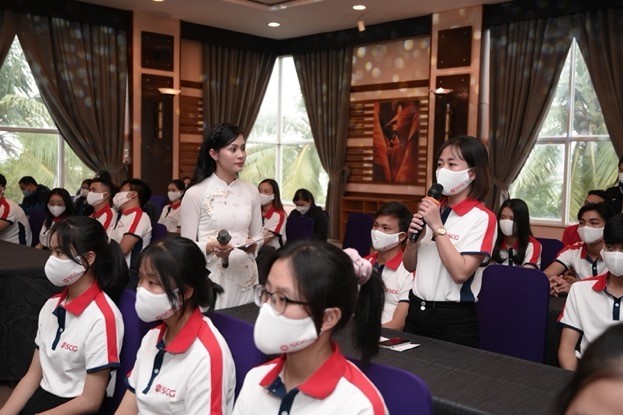 A prime example is Nguyen Phuc An, third-year student at the University of Medicine and Pharmacy in Ho Chi Minh City who has received this scholarship for three consecutive years. Having received the SCG Sharing The Dreams Scholarship since 2019, An was inspired to live up to his dreams. Not only did he get a GPA of 3.44/4 – a very high achievement for a student of General Medicine, An has also helped organize many competitions and social activities at his school. He is now in the core team of Saigon Medicine, a group of enthusiastic doctors with many years of experience in medical examination and treatment and lecturers at the University of Medicine and Pharmacy in Ho Chi Minh City, aiming to raise public health awareness.
Currently, Saigon Medicine is reaching 4,000 subscribers on YouTube and is expected to help thousands of people to take care of their health better. This year, the SCG Sharing The Dream Scholarship continued to accompany An, helping him to overcome the pandemic and keep contributing to the community.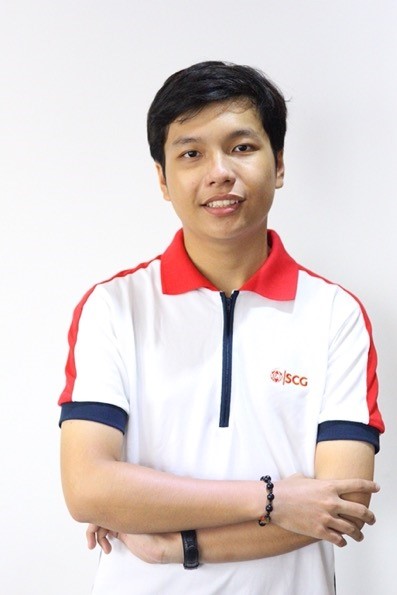 Strong motivation for new generations
Besides continuing to accompany the previous generations of students, the SCG Sharing The Dream Scholarship also welcomes young people and helps them overcome difficulties to look forward to a better future through education. This year, the program has rolled out to nine provinces including Ho Chi Minh City, Dong Nai, Binh Duong, Ba Ria Vung Tau, Long An, Quang Binh, Thai Binh, Nghe An, and Hai Duong, with a mix of scholarship beneficiaries ranging from high school to university students. Upon the qualification, there are 300 students receiving financial support and having opportunities to improve their soft skills in many areas via training.
Being a recipient of the scholarship in 2021, Dinh Le Minh Thang, freshman at the Ho Chi Minh City University of Technology, has seen his motivation lifted to pursue his career path. Realizing the opportunity from the growing cosmetic industry, Thang meticulously planned each year's goals to get closer to his dream.
"With the knowledge I have acquired at the university as well as the skills and experiences I have got during the internship, I believe I will be able to land my dream job. Aiming to work at a multinational company in the future, I plan to fulfill my dream through self-development and learning from others. In addition to pursuing the career path, I also want to create value for underprivileged students like me, through advising education enrollment. With the experience that I have accumulated, I hope I can help these students" Thang shared.
Sharing the common interest in community contribution with Thang, Thach Tran Dang Khoa, freshman at the International University of Ho Chi Minh City and recipient of the SCG Sharing The Dream Scholarship 2021, also wants to improve the quality of life of people around him. Khoa's dream is to open a shop offering organic food for malnourished children and patients and help people improve their health. SCG's companionship is the motivation for him to overcome difficult circumstances during the pandemic, and make even more effort for this noble dream. Khoa is now studying hard, grabbing chances to gain knowledge and broaden his skills as well as trying his best to be a good citizen.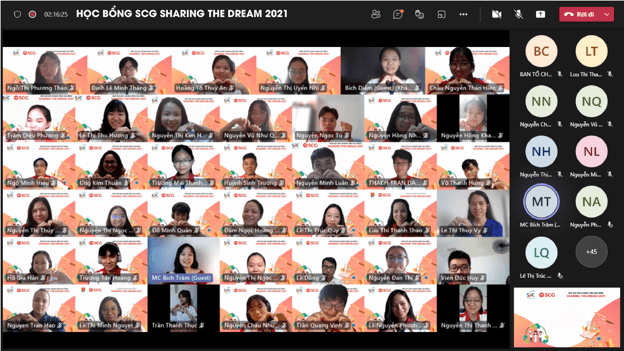 The pandemic has had great impacts on students, especially the disadvantaged ones. Despite the widening gap between themselves and their education path, the student's passion to overcome life obstacles is greater than ever. SCG, through the SCG Sharing The Dream Scholarship, has continuously empowered young generations to endeavor the pursuit of knowledge, to become a competent citizen and to assist the society in the future. This is also SCG's continuous commitment to contribute to the sustainable development of Vietnam.
With the belief that the young generation can seek a better life through education, SCG Sharing The Dream Scholarship is one of SCG's continuous efforts to contribute to the sustainable development of Vietnam. In the past 14 years, the program has fulfilled the dreams of more than 5,000 students nationwide, creating solid impacts on the human resources of Vietnam. In 2021, the scholarship aims to empower nationwide youth to overcome the challenges caused by the pandemic and pursue their education for a brighter future. Under the theme of "Dare to Dream", the program not only provides financial support to the in-need students but also inspires the youth to live up to their dreams despite difficulties. Accordingly, SCG hands over 300 scholarships – totaling more than VND2,1 billion to high school and university students across the country. Besides, the company partnered up with Hoa Hoc Tro Magazine to launch the "Dare to Dream" Contest, encouraging the young people to speak up their voices, thrive against the adversity in life and look up to a bright future ahead.