En Cave Cascade, also known as K50 Cascade, in Kon Chu Rang Nature Reserve in Gia Lai Province, is an ideal destination for nature lovers and explorers
The 17-kilometer route to En Cave Cascade is not just a challenge to the enthusiastic trekker but also an opportunity to immerse oneself in the majesty of nature.
The trekking tour to the cascade takes two days. From HCMC, travelers can take a coach to Gia Lai. As it takes around 12 hours to reach the Central Highlands province, trekkers should begin their journey at 5 p.m.
On reaching Kbang village in the early morning, trekkers can experience a cooler climate as well as the serenity offered by vast forests and mountain ranges.
Trekkers commence their journey to En Cave Cascade from Kbang village. The trek traverses through Dong Truong Son Road which is lined with forests and rice fields. From this road, trekkers will also be able to view a field airport atop a hill.
On reaching the Kon Chu Rang Nature Reserve, trekkers will then take a 17-kilometer route to get to the cascade. This part of the trek is the ultimate test of endurance as trekkers have to negotiate with marshes, streams peppered with rocks and high slopes.  To raise the stakes of grit and courage, trekkers have to also cross a very narrow path sandwiched between moss-covered rocks on one side and an abyss on the other side!
But all will be worth it as finally, trekkers get to witness the gorgeous En Cave Cascade. The unhindered view of the cascade will dispel all fatigue and tiredness. And, if the trekking group is lucky enough, they will get to see a beautiful rainbow when the sun shines through the flowing cascade.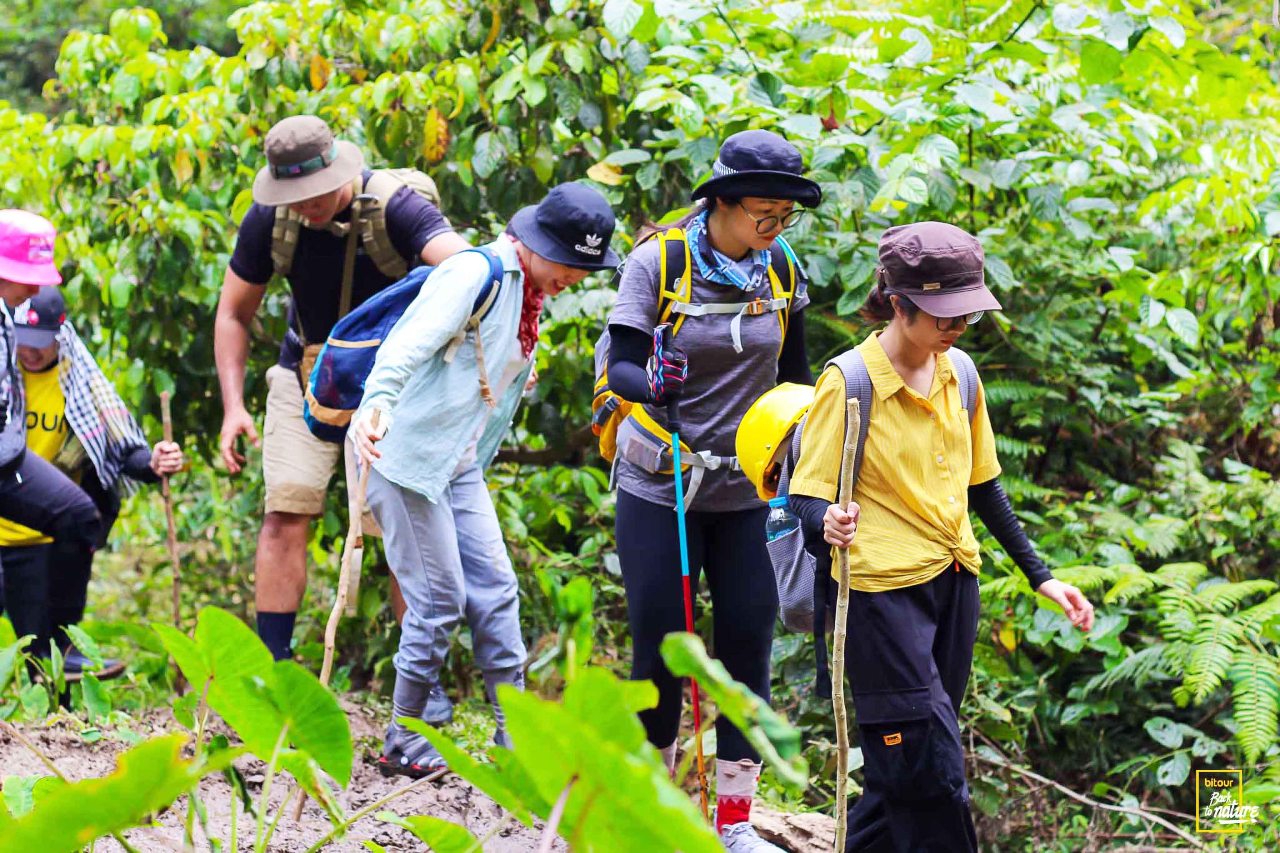 There is also a natural cave shaped by the cascade where trekkers can get closer to the water flow. Moreover, the interior of the cave seems to be a different world that is worth discovering.
As a further incentive, trekkers, who manage to get to the top of the cascade, will find a big stream which is a good place to swim whilst surrounded by charming scenery and the sound of birds singing. Camping on top of the cascade and having local specialties for dinner by a camp fire is also a great experience.
Trekkers say goodbye to the cascade the next morning. For the return journey, the walk is through an easier route of just seven kilometers to exit the forest, from where a special vehicle will take them to Kbang village.