Thousands of individuals congregated at Phap Hoa Pagoda in District 3, HCMC, to take part in the lantern floating ceremony and offer prayers on the auspicious occasion of Buddha's Birthday in 2023.
Phap Hoa Pagoda organizes this annual event, which serves as the largest festival of its kind in HCMC, to commemorate Buddha's Birthday.
Originally scheduled for 6:30 p.m., the lantern floating event on the Nhieu Loc-Thi Nghe Canal witnessed an influx of residents and Buddhist devotees from as early as 4 p.m. Eagerly queuing up, they awaited the moment to release their lanterns along the waterfront.
"I'm amazed by the enchanting sight of lanterns floating on the canal. I feel compelled to be there and release my own lantern, accompanied by heartfelt wishes," a participant told thanhnien.vn.
According to Buddhist followers, releasing lanterns during the grand celebration of Buddha's Birthday is a way to seek good fortune and blessings for oneself and their loved ones.
A coffee shop served by disabled children
Thuong Café in Nha Trang City, Khanh Hoa Province, is a place for disabled kids to practice their hospitality skills to overcome their inferiority complex and thus can integrate well to the community.
Before working at Thuong Café, these disadvantaged kids learned hospitality services at a class opened from February to May in 2022 by the Association of Supporters of Dr. Alexandre Yersin. Most of these children suffer from mental retardation or deafness and hearing loss.
Tran Thi My Ai, who has worked for years at the Rehabilitation-Education Center for Disabled Children in Khanh Hoa Province, and is now in charge of training the children at Thuong Café, told tuoitre.vn that the progress of the kids is a boundless joy for her and all the members of the Association of Supporters of Dr. Alexandre Yersin.
A dedicated class for children with cancer
Le Thi Mai, the chairwoman of the Net Chu Xinh Club, has established a special class for children with cancer at Children's Hospital No. 1 in HCMC, with the support of the hospital's leaders and relevant departments.
The classes are held every Tuesday and Thursday afternoon, providing children with the opportunity to review and practice various subjects, including mathematics, Vietnamese, and English. On Saturdays, they can enjoy free playtime, engaging in suitable activities.
"It is incredibly challenging for children undergoing cancer treatment to attend regular school. I hope that this class will uplift their spirits and bring joy during their time at the hospital," said Vu Thi Huong, acting head of the Social Work Department, to thanhnien.vn.
Prior to this, Mai established the first class for children undergoing cancer treatment at Children's Hospital No. 2 in HCMC.
A moving reunion after 17 years
Bui Van Dat, 54, a carpenter, married Mac Thi Mai, a farmer, in 1990. The couple lived in Hop Thanh Commune, Thuy Nguyen District, Haiphong City. They had three children. In 1995, three months after giving birth to the third child, Mai was hit by a motorbike that injured her head. Fortunately, she could still live a normal life with her family.
On November 6, 2006, Mai rode a bicycle out of her house and disappeared. Dat and his children tried to find Mai anywhere when someone told them anything about her, but to no avail.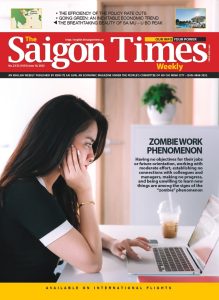 In early May this year, an old, homeless woman was seen in Thanh Hoa City (Thanh Hoa Province). She was then transferred to the city's Mental Hospital for treatment. Tran Thi Ly, a nurse at the Mental Hospital, told vnexpress.net that 10 days after being hospitalized, the woman began to recover part of her memory: she could tell the hospital her name and her home address.
The Department of Labor, Invalids and Social Affairs of Thanh Hoa City and the hospital contacted the authorities of Hop Thanh Commune. The latter informed Dat of the information and showed him a photo of the woman, whom he recognized to be his wife despite 17 years of separation.
On May 20 this year, Dat and his children went to Thanh Hoa to take Mai back home in Hop Thanh Commune on the same day. After 17 years apart, Mai could finally reunite with her husband, her children and her old parents to the joy and happiness of all family members, relatives and neighbors.