To secure enough capital for business operations, a wooden product exporter to the U.S. and the EU had to agree to secure a loan of VND10 billion with an annual interest rate of over 9%, instead of 5-6% as in previous years, said its director. The firm applied for the loan last year, but only now has it been disbursed.
According to the firm's director, not only did importers of Vietnamese goods place fewer orders, but they were also late in their payments. They attributed the delays to inflationary pressures, sluggish sales and huge inventory. In the past six months, new orders have plunged to 40-50% amidst a financial crunch, forcing businesses to take out loans, despite high interest rates, as they need capital to maintain business and pay employees' salaries.
However, not all firms were willing to take risks and apply for bank loans, or were fortunate enough to receive a loan with interest rates lower than 10%, as did the wooden products company.
High interest rates impede enterprises' operations
In contrast to wooden products, footwear and apparel exporters who have seen a steep decline in new orders, businesses in supporting industries saw new orders coming in steadily. However, high interest rates still prevented them from taking out loans to expand production.
As an example, consider a spare parts factory of Nhat Long Mechanical Company in Thu Duc City. Though the factory was running at full capacity due to increasing market demand, its chairman, Nguyen Ngo Long, was still hesitant to increase the factory's capacity, because doing so would requires him to seek loans.
"I was looking into the market demand and lending policies before making a decision", Long said.
Meanwhile, Nguyen Van Tri, general director of Lap Phuc Company in District 7, HCMC, said that although he was confident due to the firm's steady new orders from overseas partners and was planning to boost sales in the U.S. market, the high interest rate forced him to halt the plan and find ways to keep the business running.
As the profit margin of a mechanical firm, such as Lap Phuc, was low, the firm's production expansion and investment in technology has long relied on low-interest loans from HCMC's investment stimulus program. "The company's preferential loan would expire soon, yet we could not afford to apply for new loans, as they have a floating rate of over 12%." Tri said, adding that he was considering selling his home to service the loan.
According to Do Phuoc Tong, chairman of the HCMC Mechanical and Electrical Enterprise Association (HAMEE), some business owners had to sell their houses to pay off loans for their companies, to avoid bad debt. Also, some businesses have resorted to mergers and acquisitions with foreign-invested firms to keep their companies from going bankrupt. To help supporting businesses tackle financial difficulties, HAMEE's chairman has proposed that the city's government re-launch the capital investment incentivization program, which has been interrupted for the past two years.
Agricultural product exporters, such as coffee and cocoa, also grapple with difficulties caused by high interest rates. To remove the credit bottleneck plaguing agribusinesses, Thai Nhu Hiep, vice chairman of the Vietnam Coffee Cocoa Association, suggested that banks slash interest rates and authorities develop credit policies that are suitable to the development of the agricultural sector.
Firms crave for deeper interest-rate cuts
Currently, long-term lending rates at domestic banks have jumped as high to as 12% per year, while the figures remain low in other countries, such as Japan (1.5%) and Korea (2%). High interest rates have made life difficult for local enterprises, as they must pay off their debts every month.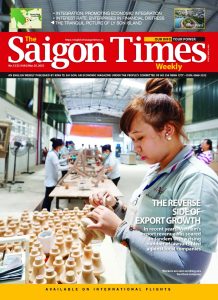 Surveys conducted by the HCMC Union of Business Associations (HUBA) of business operating conditions showed that 83 out of 100 enterprises faced difficulties in their businesses and production operations due to limited access to bank loans amid high interest rates.
Nguyen Phuoc Hung, vice chairman of HUBA, said that high interest rates have become a significant hindrance to local firms, as they now affected their business performance. At present, lending rates at banks reached over 10% per year, which prevented enterprises from operating at their full potential and expanding investment and production this year. Meanwhile, food businesses need capital to supply food for customers and maintain their market shares.
Recently, banks have guaranteed that they would cut deposit and lending rates to help corporate and individual clients take out loans with a lower interest rate and ease the financial burden amid an economic downturn. However, borrowers still asked bankers to slash interest rates further, as the rates remain high under the current circumstances.