Sheraton Hai Phong emerges as an ideal business and leisure destination for travelers from around the world at the center of Vietnam's bustling port city.
Soaring above the city's skyline, Sheraton Hai Phong's illuminated facade embodies the modern elegance that awaits guests making a visit for business, pleasure, and especially, a bit of both. As traveler expectations evolve alongside changing relationships between work and play, people increasingly seek accommodations that foster both productivity and relaxation. Located in the heart of the city, the five-star hotel's elegant rooms, state-of-the-art business facilities, featured activities and culinary explorations are setting the standards for this type of bleisure travel, thanks to its signature services and experiences.
Regardless of one's purpose for traveling, convenience is of utmost importance and Sheraton Hai Phong is less than 10 km from the Cat Bi International Airport. Located within Vinhomes Imperia Metropolitan Area and in proximity of the city's best shopping outlets, Du Hang Pagoda and Hai Phong Museum, staying at the hotel makes experiencing Vietnam's fourth largest city easy. Yet, it would be understandable if visitors to the hotel rarely left the premises considering all it has on offer.
Productivity Made Convenient
Long before entering one of the 45-story hotel's 362 rooms and suites, guests will recognize the attentive touches and lavish details that set the hotel apart. The Welcoming Team establishes a friendly atmosphere in the Public Square, where visitors can relax and recharge their minds and electronic devices comfortably on the multifunctional sofas. Modern travelers desire options, so the Marriott's mobile app allows for a seamless, digital check-in process while a Community Manager is on hand for those that prefer a personal touch or a more detailed introduction to the property and city. The Public Square exemplifies how people nowadays are blending business and pleasure in the same space. The private nooks are ideal for focusing without interruption while the quiet corners allow for meeting with peers and chatting with friends over coffee, drinks and snacks.
At the same time, everyone can use a little extra stimulation from time to time and that shouldn't require leaving the hotel premises. Daily coffee or fruit-based energy shots in the mornings and non-alcoholic herb, spice and fruit aperitifs in the afternoons energize one's mind for the workday ahead and prepare the appetite in the evening. The concept of thoughtful morsels extends to Sheraton Hai Phong's private rooms as well, with nightly jello shots made with teas and fruits provided at turndown, helping to ease one into a deep, rejuvenating sleep. Mood-lifting booster shots offered by a Welcome Host are also an important part of small business gatherings held at the property.
Catering to Conferences and Weddings Alike
As the first person that attendees to a meeting or conference will encounter, these Welcome Hosts have the important role of offering warm greetings and attentively responding to any questions or requests. They also ensure that the boardrooms are kept at comfortable temperatures to complement the conducive ambient music and mood lighting. These details, combined with the inviting décor, foster productive and creative collaboration.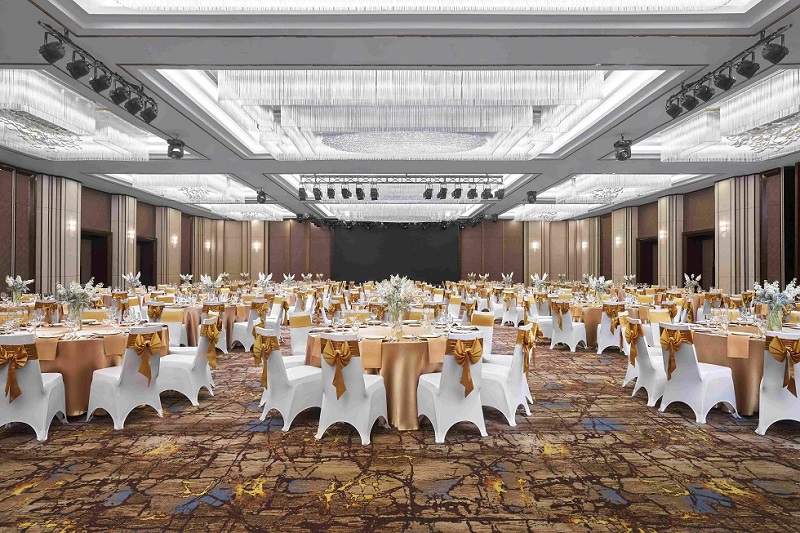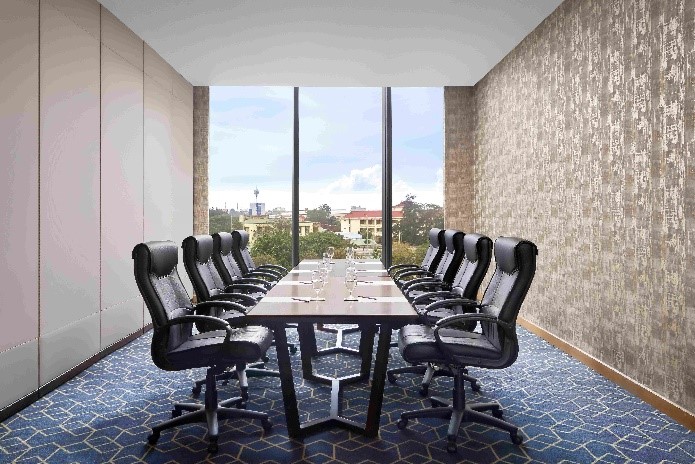 Sheraton Hai Phong is ideal for social events just as much as business ones. It is a highly sought-after wedding venue, thanks to the hotel's team of experts who are well-versed in crafting one-of-a-kind experiences. The Grand Ballroom with state-of-the-art lighting and audio system can accommodate up to 900 guests while smaller boardrooms host more intimate parties and celebrations. The hotel's expertise is on full display during the annual bridal showroom event which invites globally renowned suppliers and brands to highlight the latest fashion trends, décor, floral arrangements and F&B products alongside the introduction of the hotel's special event packages.
Family-Friendly Activities Every Day of the Week
On the other hand, one doesn't need to attend a meeting or wedding to find something special to do while being at Sheraton Hai Phong. Families, in particular, can look forward to a wealth of activities designed for their interests. Hands-on workshops invite parents and children to enjoy quality time together with a variety of activities, baking and cooking courses, art projects and reading opportunities. Meanwhile, musical performances, puppet shows and magic acts keep people of all ages entertained without the need to coordinate trips into the city. The hotel's experience with curating memorable events also makes it an ideal place to host a birthday party.
Whether stopping in as part of a quick work trip or savoring an extended leisure vacation, there is likely to be something going on during one's stay. Simply looking at the hotel's calendar reveals a wide range of events for locals and tourists alike. Living up to its positioning as "The World's Gathering Place," Sheraton Hai Phong hosts weekly meet-ups, happy hours, and regular, intimate live music performances. The Public Square and meeting spaces are also home to monthly arts and crafts and street food festivals while international and local holidays are embraced via imaginative hotel décor, expansive special menus and festive parties. Experts from a variety of fields including visual, culinary and traditional arts and professional development also give regular workshops for those thirsting for new knowledge.
Relaxation Prioritized in Private Rooms and Amenities
Not all travelers are interested in events or activities, however; some simply want to rest and recharge, and Sheraton Hai Phong makes their experience a memorable one as well. Each room has stunning views of the city's skyline, and the metropolis' busy spill of lights is juxtaposed by the timeless furnishings. The modern, luxurious design with touches of neutral color helps guests unclutter their minds. Private bathrooms with separate baths and showers with high-speed Wi-Fi and a large television make relaxation easy. Guests will also find everything they need with 24/7 room services, such as same-day laundry and the provision of commonly forgotten items, such as phone chargers.
Meanwhile, a 225-sqm heated indoor pool is perfect for a refreshing dip and the 24-hour exercise room has everything one needs to work up a sweat. Those looking for a more immersive rejuvenating experience can visit Sheraton Spa, which boasts private massage rooms, steam and sauna rooms and a whirlpool tub. Guests who upgrade to a Club Room or Suite can access the 43rd-floor Sheraton Club and enjoy benefits such as complimentary breakfast, daily hor d'oeuvres and drinks.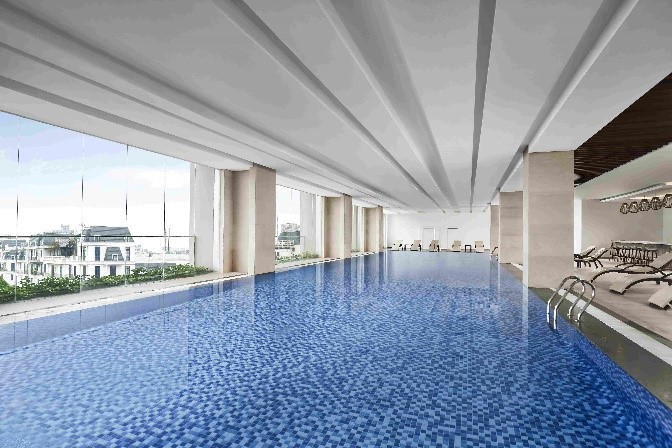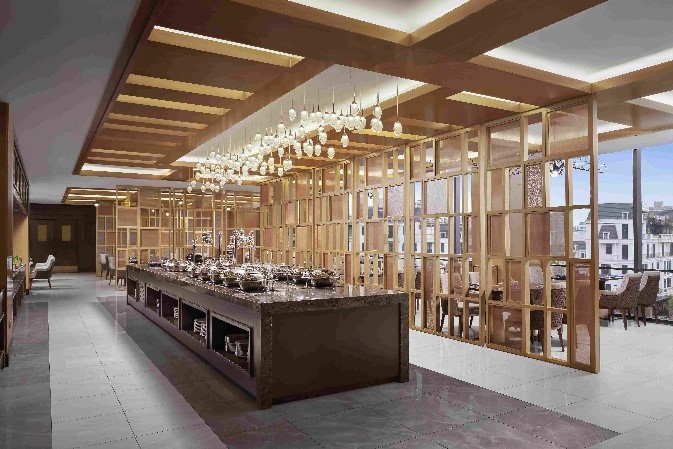 Dining Options Offering Something for Everyone
Perhaps nothing unites people with different travel needs and interests more than food. Everyone must eat, after all, and Sheraton Hai Phong has something for everyone. Accompanied with amazing views of the city, Asian, European and other international dishes are served a la carte and as a buffet at the all-day dining Harbor restaurant. Selection of fresh pastries, snacks and beverages are available at Lobby Café while coffee and cakes can be taken "Grab and Go" for those rushing off to important business. Freshly-squeezed juices or exquisite cocktails and al fresco gourmet delights can be found at Aqua Bar, a peaceful oasis beside the shimmering pool. At the same time, Yi Ling Ling serves modern interpretations of traditional Cantonese fare for lunch and dinner. To further elevate the venues, renowned local chefs frequently create forward-thinking special menus that rely on both local and international flavors.
The familiar question: "Are you traveling for business or pleasure?" is increasingly being answered with a simple "both." With this in mind, hotels are adjusting their offerings to appeal to guests that prefer to combine work with play while being away from home. Sheraton Hai Phong provides an industry-leading example of how this can be done with novel experiences, carefully designed spaces and world-class service.
For more information on Sheraton Hai Phong or to make a reservation, please visit http://sheratonhaiphong.com, send an email to hp.reservation@sheraton.com or contact hotline (+84) 225 3266 888.