The Japanese Festival, from April 8 to 23 at the Saigon Centre shopping center in downtown HCMC, is being held in celebration of the 50th anniversary of diplomatic relations between Vietnam and Japan.
Joseph Low, President at Keppel Land Vietnam, said that one of the Japan Festival's highlights was the Kabuki cat mascot with Kabuki-style makeup and a Kai-un gold ingot, symbolizing luck and prosperity.
The theme of this year's festival was inspired by the ancient villages of Japan and the image of a train passing under cherry blossom trees.
The Japan Festival presents a wonderful opportunity for HCMC residents to gain greater insight into the culture of the land of the rising sun through a variety of artistic performances featuring kimonos, Kendo swordplay, Japanese drums and Yosakoi dance.
Moreover, visitors could join a series of activities such as workshops on making sushi and wagashi cakes and cooking delicious food with culinary experts, all in a colorful space full of cherry blossoms.
An eatery for cancer patients in Hanoi
Adjacent to K Hospital-Tan Trieu in Thanh Tri District, Hanoi, Nu cuoi Shinbi (Shinbi Smile) eatery is open from 4:30 p.m. every day from Monday to Friday to provide meals for cancer patients and their relatives and poor people.
The eatery serves 120-200 meals a day, with 30 of them sent to the Pediatrics Ward of K Hospital-Tan Trieu, at only VND2,000 (about nine U.S. cents) per meal. The meal is nutritious with rice, vegetables, fish or meat, and dessert. The menu changes every day.
Vo Tien Lam, a Hanoi native and the owner of Shinbi Smile, told thanhnien.vn that the eatery was opened on March 9 this year, and it was formerly a charitable eatery opened from June 2021 by the Bong Sen Fund, where Lam used to work as a volunteer.
After the charity fund stopped funding and the eatery had to halt operation, Lam and his wife decided to take over the eatery and run it with the help of many philanthropists and friends, who have contributed food and money to the charitable eatery.
Lam and his wife, friends and volunteers have to prepare the meals from early in the morning to be able to serve cancer patients and their relatives, and poor workers and street vendors.
Old artisans preserve centuries-old mat weaving craft
Surrounded by the Thu Bon, Ly Ly and Truong Giang rivers, the mat weaving craft village of Ban Thach in Duy Vinh Commune, Duy Xuyen District, Quang Nam Province, was formed in the 16th century. In the 1980s, the heyday of the craft, mats made in the village were exported to many Eastern European countries. In 2004, there were more than 350 mat-weaving households in the traditional craft village.
However, given the presence of plastic and bamboo mats, Ban Thach sedge mats have no longer been favored, and many households have quit the traditional craft. To date, about 35 households are still doing this job, mainly by old artisans.
To make a mat, the artisans have to cut sedges from the fields, slice the stems and dry them under the sun for a few days. Dried sedges are then dyed and dried under the sun again before being woven into mats following exclusive designs of each household or upon request.
Nguyen Thi Truoc, 62, who has woven mats for 50 years, told vnexpress.net that she can make two mats a day. Truoc's neighbors, Huynh Thi Xuyen, 68, and her husband can turn out three mats a day. Although this is just enough to earn a living modestly, it enables them to preserve the five-century-old craft of their ancestors.
Sixth grader saves two from drowning
On April 10, hearing cries for help from the beach in Pho Thanh Ward, Duc Pho Town, Quang Ngai Province, Vo Tan De, 12, a grade-six student at Pho Thanh Junior High School, jumped into the sea just in time to bring two victims, one by one, from the rough sea to the shore safe and sound.
As De and the two victims, one is 19 years old and the other 14 years old, were exhausted, they were hospitalized and were sent home later when all of them recovered.
Truong Minh Linh, deputy secretary of the Youth Union of Duc Pho Town, told thanhnien.vn that Vo Tan De would be rewarded for his bravery.
Asian Book of Records recognizes nine Vietnamese dishes
The Vietnam Book of Records (VietKings) has announced that nine Vietnamese delicacies have been recognized for setting Asian record values.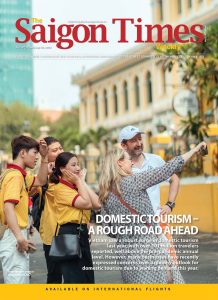 These comprise the traditional cakes of Can Tho, broken rice in Long Xuyen of An Giang Province, pineapple-based dishes in Hau Giang Province, crispy fried sticky rice in Dong Nai Province, dragon fruit in Binh Thuan Province, Con Ca Vang fish sauce of Phan Thiet of Binh Thuan Province, artichokes in Lam Dong Province, tapioca and mung bean cakes in Dinh Bang of Bac Ninh Province and Luc Ngan lychees in Bac Giang Province.
As scheduled, the Asian records certificates will be awarded to the localities at a meeting in June in HCMC, according to tuoitre.vn.
VietKings announced 41 Vietnamese dishes that set Asian records in 2012, 2013, 2022, and 2023. Until now, Vietnam has achieved 50 Asian records for its cuisine.