Boasting a breathtaking natural stalactite system with a variety of shapes and a vast, magnificent expanse, Nguom Ngao Cave is a rare natural masterpiece that beckons travelers on a magical journey to explore the pristine world of caves.
Nguom Ngao Cave is tucked away within a majestic mountain in Gun Village, Dam Thuy Commune, Trung Khanh District, Cao Bang Province. Discovered in 1921 and opened for tourism in 1996, it was officially recognized as a national scenic spot in 1998. What sets this cave apart is its enduring beauty, preserved much later than other caves. Nguom Ngao Cave is situated nearly five kilometers from the breathtaking Ban Gioc Waterfall, allowing tourists to enjoy a one-day tour visiting both of these famous natural wonders.
According to researchers, the cave formed approximately 400 years ago. It boasts an expansive area with a total length of nearly 3,000 meters and three main entrances in different directions: Nguom Ngao, Nguom Lom, and Nguom Ban Thon. Currently, tourists can explore only one kilometer of the cave, requiring 40-50 minutes of walking.
In the Tay ethnic language, "Nguom Ngao" translates to "tiger cave." Legends tell tales of the cave being home to many fierce tigers. Another legend suggests that the echoing sound of a subterranean stream flowing through the cave, which resembles a tiger's roar, led to the cave's name "Nguom Ngao."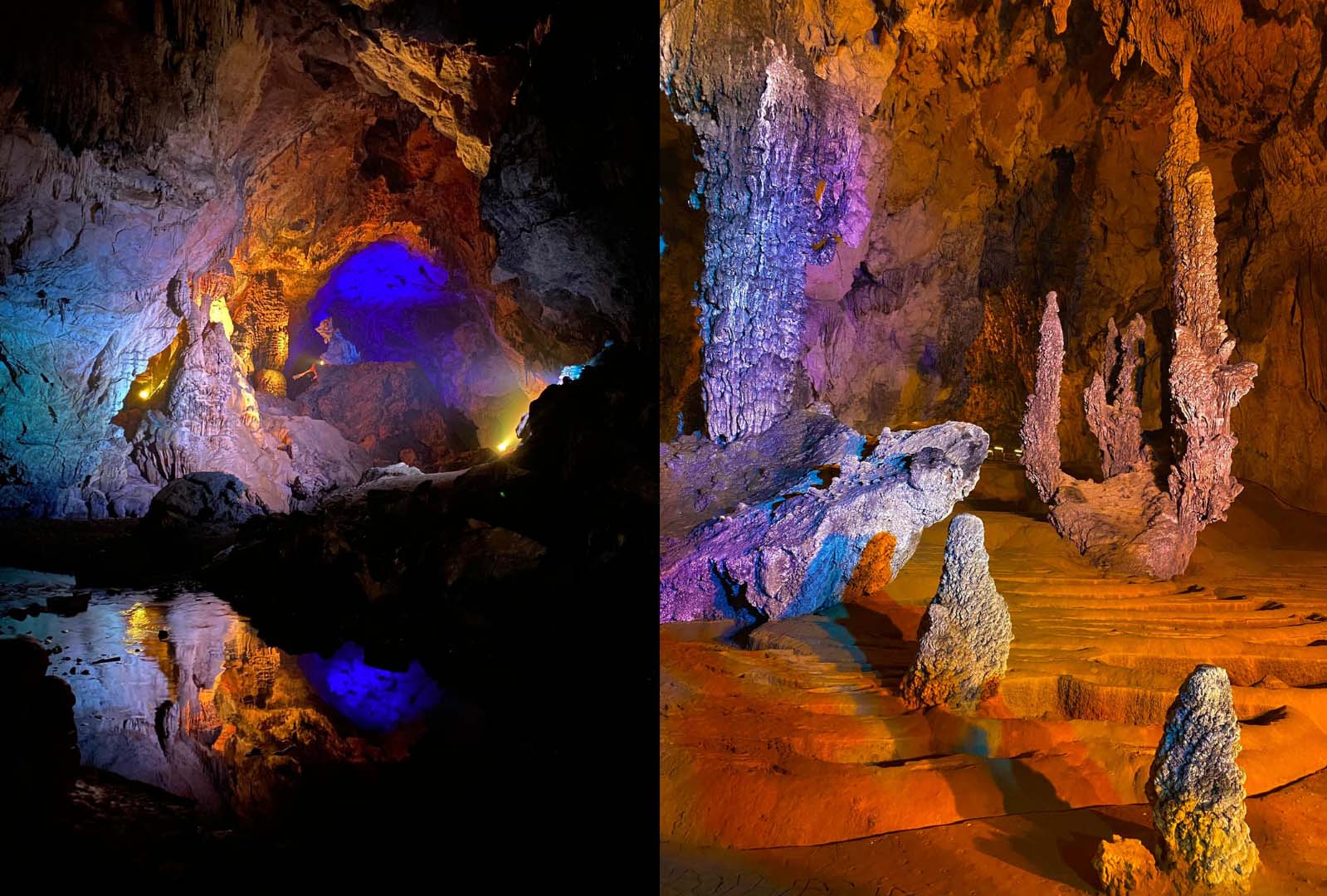 As visitors take their first steps into the cave, they are captivated by the stalactites and stalagmites in various, peculiar shapes. These formations resemble jellyfish swimming in the sea, coral reefs, waterfalls, enormous upside-down lotus blossoms, solitary stone pillars, and terraced fields. What sets the stalactites in Nguom Ngao Cave apart from those in other local caves is the presence of calcium mixed with other substances, casting a shimmering and magical glow of light. The deeper one ventures into the cave, the more it sparkles and enchants. There are numerous nooks and crannies where only a single person can pass, and stalactites hanging tightly from the ceiling often force visitors to crouch as they make their way through.
Nguom Ngao Cave welcomes tourists year-round. However, the dry season, spanning from October to April when there is no rain and the weather is cool, is the best time to visit. This season offers greater convenience for travel and a chance to fully appreciate the cave's beauty. It is also the period when most tourists flock to Cao Bang Province. Along the way to Nguom Ngao Cave, visitors can admire tree marigold (scientifically known as Tithonia diversifolia) and buckwheat flowers. Additionally, tourists can immerse themselves in the daily life of Dao and H'Mong ethnic minorities, gaining deep insights into their cultures, traditions, and the art of hand weaving.