In June, textile, leather and wood businesses were concerned the shortage of labor could make it hard to fulfill export orders. But in August, the situation has changed as Europe and the U.S. – Vietnam's two largest export markets – have faced a demand slump.
Just two weeks ago, textile, leather and wood enterprises were reassured as they were not affected by the euro falling to parity with the U.S. dollar. A number of textile enterprises reported a decrease in export orders.
Nonetheless, there was no major impact as most transactions were made in the U.S. dollar. Some small and medium enterprises were even pleased with the news as there would be more opportunities to penetrate further into the European market. However, the world market has constantly been fluctuating downward for the past two months, putting exporters at a disadvantage.
Decrying the "shortage of orders"
Export orders came in bulk after the Lunar New Year till June. However, markets have abruptly changed in August. Enterprises in textile, leather and wood all decried the shortage of orders and reportedly rearranged manufacturing activities to adapt.
Pham Van Viet, chairman of Viet Thang Jeans Co., Ltd., was concerned that the euro-dollar parity would lead to European consumers tightening their spending. Consequently, international exporters, including Vietnam, would suffer damages due to the weakening import demand. Until now, Viet Thang Jeans has lost nearly 20% of their export orders to Europe.
Chairman of the Vietnam National Textile and Garment Group (VINATEX) Vu Duc Giang is worried that foreign textile exporters would lower prices to compete in the European market.
Leather and wood exporters to Europe are also on pins and needles as European consumers are gradually tightening spending. Nguyen Van Sang, director of Viet Products Import-Export Joint Stock Company (Viet Products), believed that runaway inflation would lead to consumers spending only on essentials. The consumption of wood products would stagnate, while importers would ask for lower prices.
Similarly, the U.S. – Vietnam's largest export market – is dealing with rising inflation. Consumers are cutting down on non-essential products such as garments, footwear, and wooden furniture.
According to Than Duc Viet, general director of May 10 Corporation, May 10 will see a lot of difficulties in the second half of the year due to the rising inflation. The U.S. economy is predicted to slow down in the third and fourth quarters, resulting in a drop in demand for garment products.
"New export orders stagnated in the third and fourth quarters due to the low inventory turnover ratio in the U.S. market. Importers will not place orders for the next seasons," said Viet.
It is a warning, no longer a forecast
The decline in export orders is no longer a forecast or a warning; it is actually happening. According to the Vietnam Timber and Forest Product Association (Viforest), after the first half of the year, which saw positive economic growth, wood and forest products had an export value of only US$1.41 billion in July, 5.5% lower than the previous month and 1.6% lower than the same period of last year.
As per the results of a survey conducted by Viforest among 52 wood exporters, 33 out of 45 exporters to the U.S. market revealed that their current revenue was nearly 40% lower than the previous months. There were only 10 enterprises that reported a rise in revenue. Nonetheless, the growth ratio was low (11%).
Exporters to the European market also experienced the same. Some 24 out of 38 enterprises recorded revenue that was 41% lower than the previous months. Only four enterprises reported a rise in revenue (14%). Some 17 out of 25 exporters to the British market revealed a decrease in revenue, which was 41% lower. Significantly, 71% of these enterprises predicted a drop in export orders from now until the end of the year. With the current market situation, 44% of enterprises forecast a 44% decrease in revenue in 2022.
"These numbers show a dull market. Enterprises are facing difficulties in capital, labour cost and input materials," said Lap. He also added that a number of enterprises are adopting several solutions, including descaling, switching products and markets.
Vo Quang Ha, vice chairman of the Handicraft and Wood Industry Association of Dong Nai Province, revealed a shortage of wood product export orders. In July, the price of export wood products was 30% lower, while domestic wood products also witnessed a price decrease. Some enterprises' revenue dropped by 50%, while others shut permanently.
In the textile industry, the CEO of the Vietnam National Textile and Garment Group (Vinatex), Pham Xuan Trinh, confirmed that the Group has achieved the goal it set for the first half of 2022. However, since July, demand and orders have declined as their customers are focusing on inventory clearance. "Inflation has become a global problem. Due to the Russia-Ukraine war, material prices have increased and demand for garment products has decreased. This has hindered the export performance of enterprises in the second half of the year," said Trinh.
Pham Van Viet also shared a gloomy forecast for the Japanese market as its export value would drop dramatically in the first quarter of 2023. In this situation, many textile enterprises would have to scale down production.
A recent report by SSI Research has predicted that the revenue and profit margin of textile enterprises are likely to be affected as a consequence of the U.S. economy's recession or soaring inflation in the second half of 2022 and 2023. The sales growth of Vietnamese textile enterprises will decline due to the shortage of orders. On the other hand, as the Russia-Ukraine conflict continues, the price of fuel and the cost of sea freight will continue to rise. As a result, the rising cost of manufacturing will continue to challenge Vietnamese enterprises.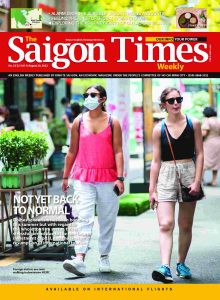 Need for change to adapt
In this pessimistic scenario, enterprises are planning to adapt on a short-term basis, flexibly. Initially, enterprises will focus on cost management, productivity management, flexibility in operations, build-to-order and timely delivery. In case there are no confirmed orders, employees can take compensatory leave.
"We always try to expand the market and look for new customers. Instead of mass production, we challenge ourselves to produce at a higher level, of a higher value, to a higher segment and with more fashionable designs. With this, we can get more orders," said Viet.
In addition, the fact that the textile export turnover is high but the added value is low is also a misery for the textile industry. Therefore, to solve the problem, the industry must develop intensively by accessing the global apparel supply chain, especially by combining the sections that bring higher added value such as designing, manufacturing input materials and distributing. By doing so, enterprises can gradually upgrade themselves in the production chain.
Meanwhile, Nguyen Chanh Phuong, deputy chairman of the Handicraft and Wood Industry Association of HCMC, on behalf of wood enterprises, has asked banks to lower interest rates, reschedule debts, and declare charge-offs to support enterprises in this difficult situation.