During 15 years since the establishment of Binh Son Refining and Petrochemical Joint Stock Company (BSR), executives and workers of the operator of Dung Quat Oil Refinery have gone to great lengths in their humanitarian mission to help the needy. Whether it is the northernmost, out-of-the-way mountainou region or the Central Highlands or down to the Mekong Delta's poverty-stricken areas, their charity footprints have been seen.
Khau Pha in the Thai language means the Sky Horn, as the terrain resembles a horn pointing to the sky. From Khau Pha Pass 2,000 meters above sea level down along National Highway 32 for some 30km to De Xu Phinh Commune, a name unknown to most people. If Mu Cang Chai is the poorest district of Yen Bai Province, then De Xu Phinh, home to the mostly Thai ethnic people, is one of the most backward, remote, and inaccessible communes in this district.
And BSR footprints have been seen there. They went there, not for any industry-related work. They came to build a school, to shed light on the future of children there.
It took BSR seven months to build a kindergarten named Sao Mai. In 2021, BSR got the greenlight from PetroVietnam to spend VND5 billion building this school, which was inaugurated on November 29, 2011. That was a huge gift donated by BSR to one of the poorest areas of the country. Le Trong Khang, chairman of Mu Cang Chai District, was stricken with joy at the company's donation. "The new, decent school will help improve the district's education sector. Teachers and pre-school students will have good conditions to learn and play and grow, to become better citizens in the future," he said.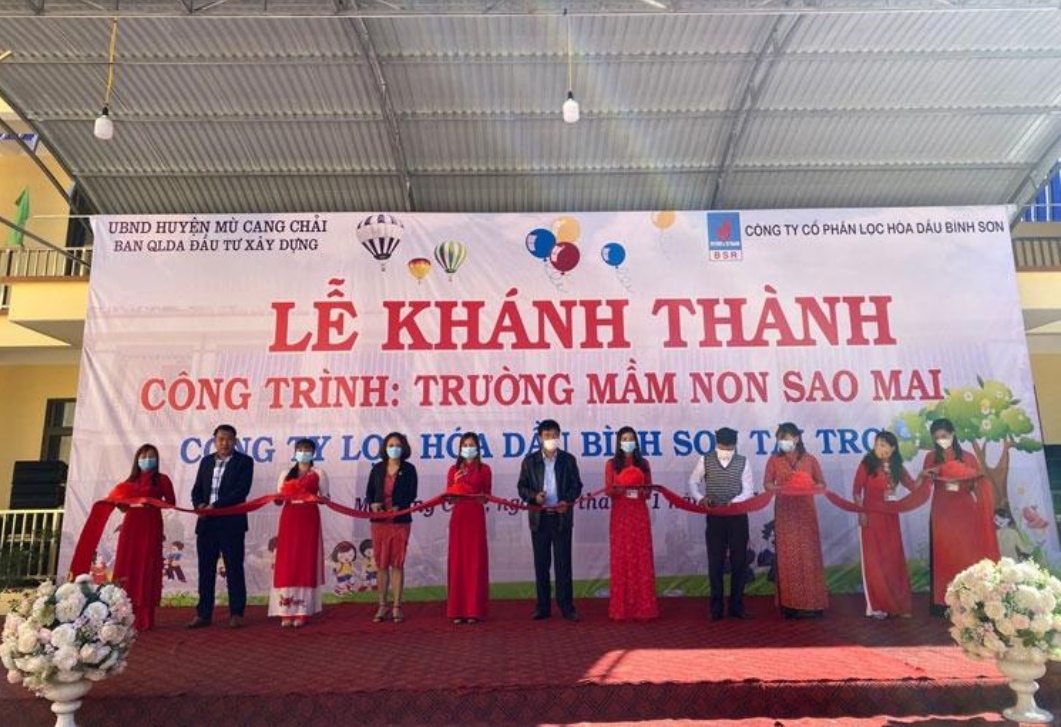 The following year, BSR builders arrived in another poverty-stricken area, this time in the Central Highlands. They went there to build Luong The Vinh Primary School in Ia To Commune in Gia Lai Province's Ia Grai District. The two-story school building with eight classrooms and a total floor space of 636 square meters was completed after six months, meeting national standards for education facilities.
With this school, many dreams of students will be realized, said Do Van Dong, vice chairman of the district. Ia Grai remains a poor district, so the local governments, teachers and students are very happy with the new school donated by BSR, he said.
And this year, on the occasion of the company's 15th anniversary in May, BSR rolled up its sleeves for another community project, sending its charity builders to the Mekong Delta province of Vinh Long to start work on a rural bridge there. 
In fact, BSR this year set aside funds for building two rural bridges in Vinh Long Province, one in Vung Liem District and the other in Mang Thit District, making it easier for residents and students to travel back and forth and facilitating household businesses and socio-economic development in the localities, said BSR General Director Bui Ngoc Duong.
"Alongside business development, BSR always seeks to perform good deeds for the community and society. In 2013, BSR set aside over VND110 billion for community projects," he said.
Apart from construction works benefiting the community in the long term, BSR has regularly conducted corporate social responsibility (CSR) activities, from environmental protection to donations in cash and in kind to underprivileged people nationwide. 
The company has launched a program to plant one million trees in 2021-2025 inside the Dung Quat Oil Refinery complex, in urban areas, heritage sites, schools and in protective forests. It also donated seedlings for residents in reforestation projects.
Ahead of the Lunar New Year, BSR always works with local authorities to donate gifts to poor people, especially in Quang Ngai Province where the oil refinery is located. 
"BSR has donated billions of Vietnam dong to support people in Quang Ngai via the provincial Vietnam Fatherland Front Committee. People living close to the refinery are prioritized in receiving Tet gifts from BSR annually," said the company. 
Since the establishment of the country's first oil refinery, BSR has expended more than VND750 billion on social welfare projects and activities. 
From this generosity, numerous students have enjoyed much better learning conditions, many poor people have been given healthcare services at decent facilities, a big number of poor households have been donated new houses, and innumerable people can safely travel via new concrete bridges.
The image of BSR builders going far and wide to develop social projects, from schools in upland regions to bridges in the delta, reflects the strong community spirit of BSR, which is also a top corporate taxpayer of the country. Over the past 15 years, BSR has supplied over 89.2 million tons of oil products and paid taxes totalling VND216 trillion.