Improving the business environment and planning land use for industrial production are needed to attract foreign capital.
Enhancing industrial land use policy
In 2022, the southern province of Dong Nai emerged as one of Vietnam's top five destinations for foreign direct investment (FDI), the first time in years. Though international businesses are already eyeing opportunities for expansion in the province, which borders HCMC and has well-developed traffic infrastructure, many of them have decided to leave. The situation, however, has been attributed to a shortage of available industrial land.
Pham Van Cuong, deputy head of the management board of the Dong Nai industrial zones, said the province's manufacturing area is 86% full. The remaining 300 hectares are split into several smaller lots, making them less attractive to manufacturers in need of huge production space.
An additional eight industrial zones with a total area of 8,200 hectares would be built in Dong Nai Province. But administrative procedures, such as investment requirements and bid setting systems, have remained tough for investors. However, it is not up to the provincial administration but, rather, the Government agencies to eliminate these roadblocks. So far, most of them are still on paper.
In HCMC, the situation is not better. Given small locations for the manufacturing sector, the city no longer emphasizes conventional industrial projects, which need a large workforce and much land. HCMC is currently focusing on high-tech, high-value projects that generate significant revenues for the city.
But challenges arise when it comes to the city's current infrastructure for industrial development, which has made HCMC less appealing to foreign businesses. The city saw a major fall in newly-registered capital in the first quarter of the year, with no big foreign-invested projects that may bring significant benefits to the city's industrial production, according to the HCMC Export Processing Zone and Industrial Park Authority (HEPZA). Many foreign-invested firms in the city are in the manufacturing and processing sectors, and all of them use ready-built facilities for lease in local industrial parks.
But it should be noted that limited land lots remain one of the most challenging issues for the development of industrial zones in HCMC.
The city has 351 hectares of land planned for leasing to industrial producers but many of the lots have not been adequately prepared, nor have they had enough improvements to the technical system. In other words, infrastructure conditions have fallen short of expectations. Recent data showed that by 2023, just 41 hectares of industrial property would be available for leasing. According to a recent HEPZA statement, most of them have been subdivided into several smaller parts, each of which is between 5,000 and 10,000 square meters.
Improving business environment
Dr. Tran Du Lich, member of the National Financial and Monetary Policy Advisory Council, said Vietnam has relied on tax and land price incentives to attract investment capital. A low income tax in Vietnam, according to Dr. Lich, who is also vice president of the Vietnam International Arbitration Centre, has been an impetus for investors over the years.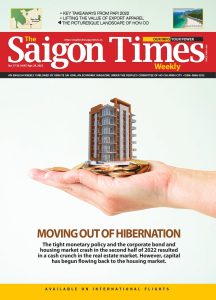 Nevertheless, concerns have been raised as the income tax incentive policy for foreign-invested enterprises would cease in 2024 when the global minimum corporate tax comes into force in Vietnam and 139 other countries and territories. The change will adversely impact most multinational companies, including at least 1,015 foreign direct investment enterprises in Vietnam. Lich said it is necessary to update investment policies and attract more potential foreign investors.
According to a survey by Vietnam's Association of Foreign Invested Enterprises, all FDI businesses advocate for the Vietnamese Government to update policies to better adapt to market developments and investment preferences.
Nguyen Minh Cuong, chief economist of the Asian Development Bank, said that the minimum business tax rate of 15% will fundamentally impact Vietnam's approach to luring foreign direct investment. More importantly, foreign direct investment enterprises in Vietnam will adjust their tax rates to comply with the policy, prompting subsequent changes in investment location and business operations.
It is high time for Vietnam to adjust the regulatory framework for more strategic capital inflows, according to Do Thien Anh Tuan, lecturer at Fulbright School of Public Policy and Management. Tuan said creating a favorable business environment that ensures fair competition plays a vital role in the policy-making process. The effort involves enhancing human resources, improving infrastructure and pursuing sustainable development, added Tuan.
To a certain extent, businesses focus more on the business environment than on incentives when considering investment opportunities, according to Phan Vu Hoang, a tax partner at Deloitte Vietnam.
In the eyes of local businesses, fostering the domestic logistics sector, including port services and transportation capabilities, could help Vietnam stay on its high growth path. The country should also seek ways to diversify trading partners as its dependence on China's market may put local manufacturers at risk when supply chain disruptions happen.
ADB's Chief Economist Cuong noted that Vietnam should accelerate its pace to get to the higher rungs of the global supply chain ladder. He warned of the risk of falling behind if Vietnam fails to keep up with the development of high-tech industries, especially as investment portfolios are restructuring in the ever-changing market.
Strengthening local enterprises
Improving the capabilities of the local business community remains a top priority, according to Cuong. The initiative is expected to support Vietnamese companies in establishing mutually beneficial partnerships with multinational corporations.
"Ideally, the two sectors will grow together, with local firms in supporting industries possessing the required expertise for the manufacturing phases of foreign-invested companies," added Cuong.